CNN's Jim Acosta Was Just Banned From Setting Foot In The White House — For Now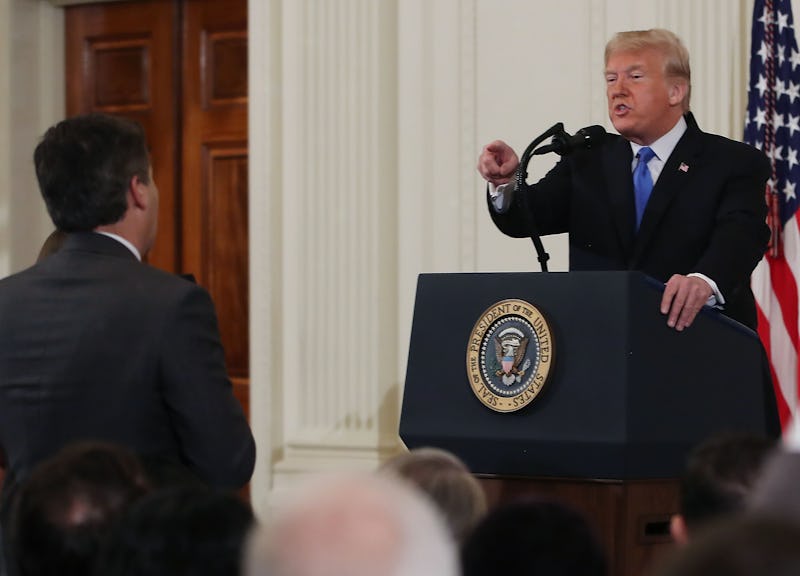 Mark Wilson/Getty Images News/Getty Images
In what appeared to be their most heated exchange yet, POTUS and a CNN White House correspondent argued during a press conference on Wednesday, and consequences came soon after. Reporter Jim Acosta's White House press pass was suspended indefinitely, according to a statement by Sarah Sanders which cited that he "placed his hands" on a White House intern who tried to take the microphone away from him. Acosta called it an outright lie. You can watch the scenario unfold yourself in an NBC video clip posted to Twitter.
In a series of tweets, Sanders wrote,
President Trump believes in a free press and expects and welcomes tough questions of him and his Administration. We will, however, never tolerate a reporter placing his hands on a young woman just trying to do her job as a White House intern. ...As a result of today's incident, the White House is suspending the hard pass of the reporter involved until further notice.
Acosta's response to her statement was simple. In a tweet that quoted her statement, he wrote, "This is a lie."
At the end of the exchange during the press conference, Trump had released a torrent of fury on Acosta, saying in part, "CNN should be ashamed of itself having you working for them. You are a rude, terrible person. ... The way you treat Sarah Huckabee is horrible. And the way you treat people are horrible. You shouldn't treat people that way."
On Wednesday evening, CNN Communications released a statement regarding Acosta's suspension: "In an explanation of [the White House's decision], Press Secretary Sarah Sanders lied. She provided fraudulent accusations and cited an incident that never happened. This unprecedented decision is a threat to our democracy and the country deserves better. Jim Acosta has our full support."
In response to Sanders' allegations against Acosta, several journalists immediately recalled when GOP Congressman Greg Gianforte body slammed a reporter in 2017 and was later lauded by POTUS for the act. At a rally in Montana in October, Trump said, "Any guy that can do a body slam ... he's my guy."
Several journalists immediately jumped to support Acosta, including Reuters correspondent Jeff Mason, who tweeted that he was sitting next to Acosta at the press conference and "did not witness him" doing anything like Sanders described to the White House intern.
Surprisingly enough, Trump's altercation with Acosta was nowhere near the only contentious moment of the press conference. Trump also accused PBS NewsHour's Yamiche Alcindor of being "racist" when she asked a question about his recent proclamation of being a nationalist.
Then, during Trump's altercation with Acosta, when reporter Peter Alexander stood up for Acosta and called him a "diligent reporter," Trump replied, "Well, I'm not a big fan of yours, either."
Trump has not yet tweeted anything about Acosta. For those wondering whether it's even legal to ban a reporter from the White House, the simple answer is that it's not explicitly addressed within the First Amendment. This isn't the first time POTUS has stopped a reporter from attending an event, either way: He notably excluded CNN's Kaitlan Collins from a press event in July.