What To Know About The Former NFL Player Joining Trump & Kanye's Meeting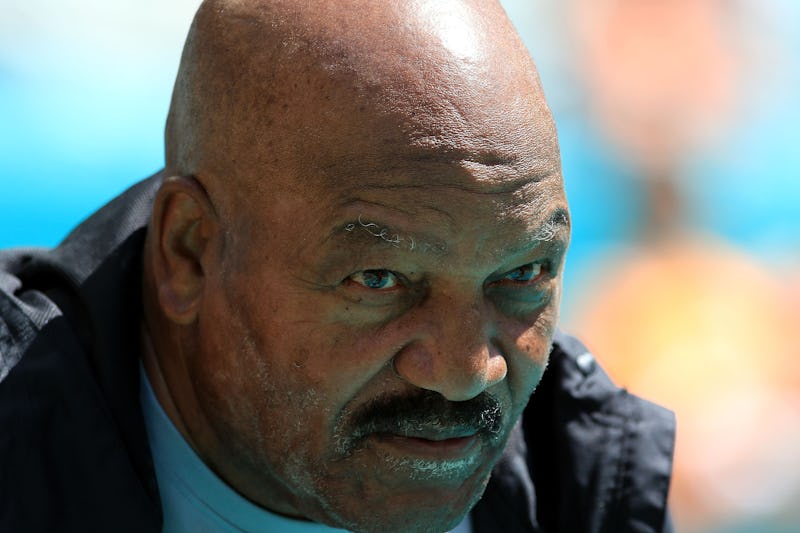 Marc Serota/Getty Images Sport/Getty Images
A forthcoming meeting among the president of the United States, a famous rapper, and a former NFL player is getting quite a bit of attention. On Thursday, Jim Brown will join Kanye West and Trump's meeting to discuss a host of policy topics. While Brown has recently made news by publicly expressing his support for Trump, there is also a lot more to know about the former NFL running back.
Brown is regarded as one of the greatest football players in history. He played for the Cleveland Browns for his entire National Football League career (from 1957-1965) and helped lead the Browns to an NFL championship in 1964. During his career, Brown was invited to the Pro Bowl, the all-star game of the National Football League, every year. He also set a host of league records at the time, some of which have since been broken (though others have not).
Following his retirement from football, the athlete became heavily involved in acting. He shot a variety of movies with MGM in the 1960s and 70s, first as a supporting actor and then in a leading role. From the 1980s onward, Brown's acting portfolio mostly consisted of appearances on television shows.
Brown is now 82 years old and recently made news when he expressed his support for Trump during a radio interview in August. On the JT The Brick Show on Fox Sports Radio, Brown asserted that he finds himself "pulling for the president," saying:
I should be criticizing Trump on every level because he does certain things that call for criticism but when I look at television I see all these announcers become experts and they're pointing the fingers and they're not doing a doggone thing but pointing their fingers, I find myself really pulling for the president ... That would make me very unpopular in the black community, very unpopular with a lot of Americans [...] but I think that there are certain good things that are coming out of this Presidency because we've never seen anything like it.
Considering Brown's support for Trump, it is perhaps not a huge surprise that the former NFL star will be accompanying West to his meeting at the White House on Thursday. As the Washington Post reported, West will spend the morning meeting with Jared Kushner, Trump's son-in-law and senior advisor, and will then have lunch with the president. The paper reported that White House Press Secretary Sarah Huckabee Sanders said that "manufacturing resurgence in America, prison reform, how to prevent gang violence, and what can be done to reduce violence in Chicago" are all topics that the trio may discuss on Thursday.
As the Sydney Morning Herald reported on Tuesday, the president recently offered words of praise for Brown while speaking to reporters on the White House Lawn. The president indicated that Brown would be coming to Thursday's meeting and then said, "Big Jim Brown ... He was unstoppable. And he's been a friend of mine ..."
Thursday's meeting brings together a perhaps rather unexpected group of individuals. It remains to be seen what, if any, objectives are achieved after West and Brown meet with the president and his son-in-law.