Jimmy Carter Says The Stormy Daniels & Trump Situation May Not Play Out How You'd Think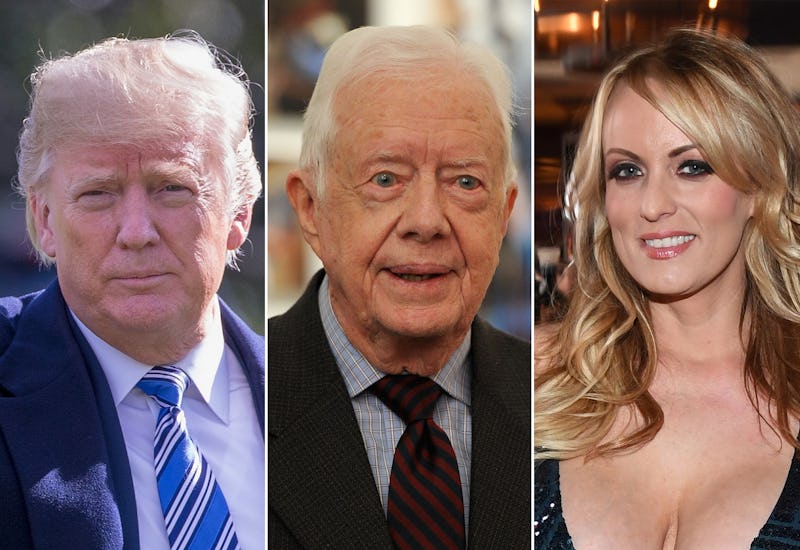 Tasos Katopodis/Getty Images News/Getty Images / Ethan Miller/Getty Images Entertainment/Getty Images / Andrew Toth/Getty Images Entertainment/Getty Images
At least one person thinks recent news detailing President Trump's alleged affair with a porn star will hurt him. That would be former President Jimmy Carter, who says Trump & Stormy Daniels' alleged affair means Americans will side with Melania — and that would have consequences for the current POTUS at the ballot box.
In an interview with CBS News' Norah O'Donnell, Carter said the alleged affair with Daniels would be "damaging."
I think most people want a president — whom they trust to tell the truth always, and who has some basic moral values, including loyalty to his own wife.
Carter predicted that the tryst with Daniels would hurt Trump — and Republicans generally — in the midterm elections, and perhaps even in the 2020 presidential election. However, Carter also noted, "I don't think it's gonna have nearly as much effect as it would've had, say, 20 years ago."
While it's too soon to know if Carter is right, a recent poll suggests the Daniels story has had an impact on voter approval of the president, albeit a small one. A Morning Consult poll done in conjunction with POLITICO found a four point net negative swing for Trump's approval ratings following the media coverage of his alleged affair.
Carter is on tour promoting his 32nd (that's right — 32nd) book, Faith: A Journey for All. As Jonathan Merritt points for Religion News Service, Carter is regarded as the first "born-again" president, one who taught Baptist Sunday school classes not just before he became POTUS, but also after he left the Oval Office. Merritt includes Carter on his list of the five most religious presidents, along with George W. Bush, William McKinley, James Madison, and Abraham Lincoln.
But Carter thinks the disdain for Trump's extramarital activities extends beyond his own personal views. He predicted to USA Today there will be a voter fallout from Trump's "violation of his sacred oath before God to be loyal to his wife."
Daniels began dropping her real name — Stephanie Clifford — in high school, according to New York. Dual loves of Mötley Crüe and Jack Daniels eventually led her to her current stage name, Stormy Daniels, now ubiquitous in the news for the affair she alleges occurred between her and Trump place 12 years ago during a celebrity golf event.
News of the affair first started circulating in early 2018, after the Wall Street Journal reported that Trump's personal lawyer, Michael Cohen, had paid $130,000 to Daniels in so-called "hush money" to buy her silence about their relationship during the presidential election.
In a recent interview with Anderson Cooper on 60 Minutes, Daniels revealed new details about how events unfolded in the months leading up to Trump's election. According to Daniels, she was offered money from a number of media outlets wanting the inside story of her rumored affair with Trump. But she says her lawyer told her the best deal came from Cohen — $130,000 for her silence. She also says a man approached her in a parking lot and told her to stop talking about Trump in 2011, after doing an interview focused on her relationship to Trump with InTouch Weekly — a story the magazine held for years and only published recently.
And now, even the attorney has an attorney. Brent Blakely, a lawyer for Cohen, has asserted Daniels' wrongfully defamed his client by implicating Cohen in threats Blakely says he had no part of.
Daniels' lawyer has argued she is free to speak about the affair, since Trump never signed their non-disclosure agreement. There are a lot of lawyer back-and-forths in this story already, with more almost certainly to come.
And in Jimmy Carter's view, the voters will punish Trump for this very public testimony that he allegedly broke his marriage vows to Melania.