Jimmy Kimmel Made An Emotional Appeal For Affordable Healthcare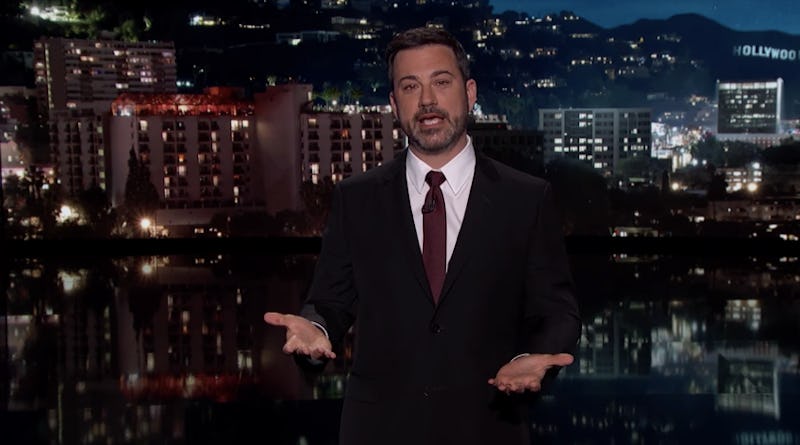 Every parent's worst nightmare almost came true for one celebrity this week, who turned the scary experience into an opportunity to humanize the fight for affordable healthcare. After almost losing his newborn baby this week, Jimmy Kimmel appealed to Republicans for better national healthcare, so that all parents, even those who aren't multi-millionaires, don't have to worry about how to save their baby's life.
Kimmel opened his May 1st episode of Jimmy Kimmel Live by announcing that he and his wife, Molly McNearney, had welcomed a baby boy, Billy, on April 21. Kimmel described the delivery as "easy" and said that Billy seemed totally healthy until just a few hours after his birth when a "very attentive nurse" noticed that he had signs of a heart defect.
It turned out that Billy had a hole in his heart that required immediate surgery to save his life, which he was able to receive at the Children's Hospital of Los Angeles. Luckily, the baby came through the surgery healthy and strong, but his dad saw the significance of the event in the context of the larger political climate.
"If your baby is going to die, and it doesn't have to, it should not matter how much money you make," Kimmel said through a choked voice. "I saw a lot of families there. And no parent should ever have to decide if can afford to save their child's life. It just shouldn't happen. Not here. I think that's something that whether you're a Republican or a Democrat or something else, we all agree on that, right?"
Kimmel's comments are especially relevant this week as Congressional Republicans prepare to introduce another version of their healthcare bill to replace Obamacare. The bill is already facing trouble on the Hill, and Kimmel's widely shared video (it already has nearly four million views on Facebook and almost a million YouTube views) isn't going to help garner any public support. Kimmel specifically called out coverage for preexisting conditions as a necessity in any just healthcare plan — otherwise, people like his son could have lifelong issues getting insurance coverage if the new version of the AHCA passes through Congress. If Kimmel works to maintain a real public awareness campaign instead of a one-off address, he could have a legitimate impact on public opinion, and perhaps later, the bill's passage in Congress.
Making sure healthcare is accessible and affordable for all Americans is a central challenge of the current political climate. With celebrities advocating for the majority of Americans who support Obamacare patient protections, that goal seems a lot more achievable. Kimmel has a real chance to influence policy for the better, and help save a lot more children in the process.