Supermodel Joan Smalls Has Her Own Swim Line — And It's Sold At Wal-Mart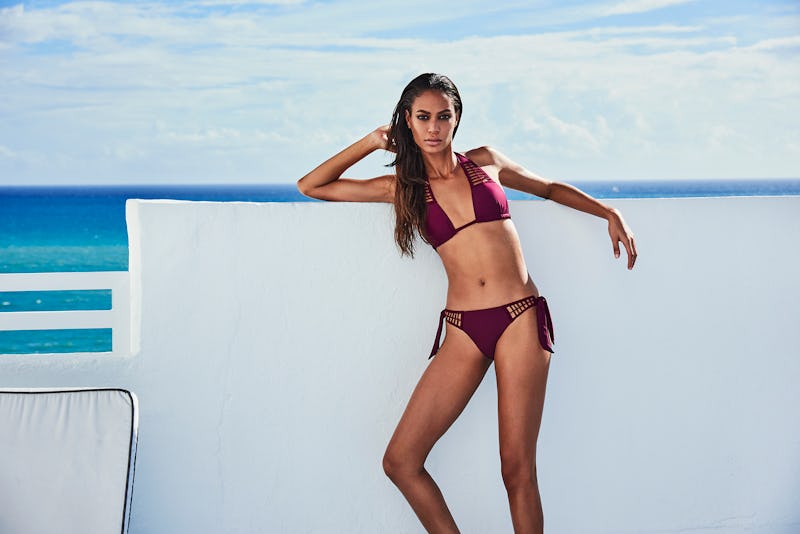 Courtesy of Smart & Sexy
"Supermodel" and "Wal-Mart" aren't two words you often hear together, but Joan Smalls is changing that. The former Victoria's Secret model and actor is adding another impressive credit to her resume: designer. The Joan Smalls x Smart & Sexy swimwear and lingerie collection is a diverse, inclusive, and gorgeous set of designs from the model. And honestly, if anyone knows about swimwear and lingerie, it's a former Victoria's Secret model.
Smalls' line with Smart & Sexy is a vibrant, eclectic blend of sexy and sporty that's sold online via their website but also at mass market retailer Wal-Mart which makes it incredibly accessible. As a bonus, it's affordable with prices starting at just $10 and maxing out at only $24. While Smalls could probably have her pick of brands to work with, it's the female owned and affordable brand Smart & Sexy that caught her eye. That's no accident. Smalls explains in an interview with Bustle that accessibility was a major part of why she chose to partner with a brand sold at Wal-Mart.
For Smalls', it's all about making beautiful, quality garments that a multitude of women can afford and access without splurging. She shares wise words from her mother that, "It's not the outfit. It's the model."
Confidence is key, and Smalls' goal was to provide a diversity of designs and options so that all women can feel that confidence.
Affordability and accessibility, however, are just two of the way that Smalls and Smart & Sexy are committed to making their collaboration inclusive. The brand has always been size inclusive, and that hasn't changed with Small's designs. They come in sizes XS-3XL with bra sizes from 32B-40DDD.
Smalls says that her desire for an inclusive range comes from her own experiences. She explains that the women in her life are different shapes and sizes. Throughout her life, she saw her mother struggle to find stylish pieces that fit. She was determined to remedy this with her Smart & Sexy line.
"I know women want to feel beautiful regardless of their size, and I know that not everyone's built like me, and they're not meant to be," she says, "I celebrate women when they're confident in their own skin, in whatever size they are, whatever shape they are. That, to me, is beautiful. Just because that's, you know, that's my world."
One look at the range, and you'll see that size isn't the only way that Smalls and the brand crafted a diverse range. With her designs, the model and actor (and, now, designer) thought of all ways to embrace women including skin tone. She explains that color choices were influenced by what shades would look best on a multitude of skin tones, not just hues that fit a specific tone. When choosing fabrics and colors in the Smart & Sexy office, Smalls says that she would find people with different skin tones and use their arms as references.
"That just comes from growing up in a household where it was multicultural," she says, "That's my world. So, when I design, I take that into mind, because I want something that my mother can wear, that my sister can wear, that my friends can wear. It just comes from the heart and being thoughtful and mindful of everyone."
Yes, supermodel and Wal-Mart may not be two worlds that converge often, but Smalls' decision to work with Smart & Sexy is a thoughtful choice driven by a desire to create inclusive pieces for every woman. So who's up for a trip to Wal-Mart?