Jodie Whittaker's Reasoning Behind Her 'Doctor Who' Costume Is SO Meaningful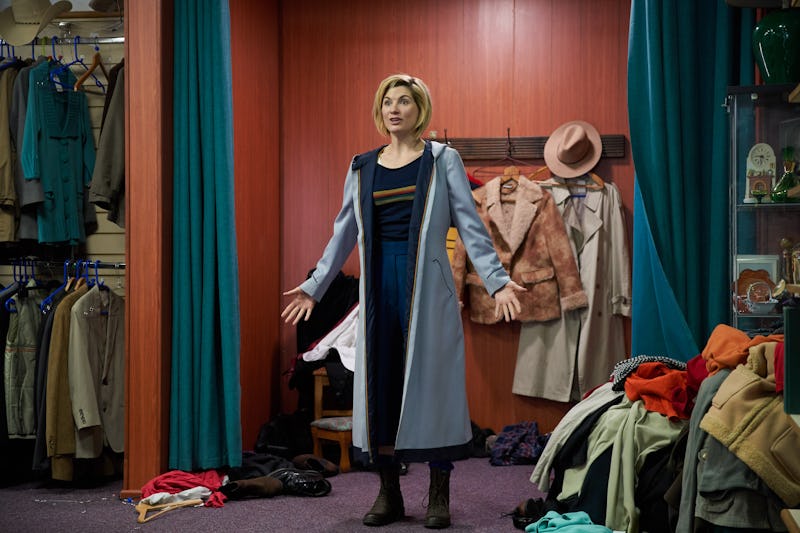 Simon Ridgeway/BBC/BBC Studios
Towards the end of Jodie Whittaker's first full episode of Doctor Who, the Time Lord spends some time in a charity shop. And after flinging half the shop's wares out the dressing room (someone's got to put those back on the hangers, Doctor!), she emerges with a brand new look: rainbow striped t-shirt, blue culottes, a pastel mac and some excellent yellow braces. It turns out that Jodie Whittaker's Doctor Who costume was created in part by the actor herself, as she explains in the Radio Times — and she designed it to suit everyone.
Whittaker worked with Broadchurch costume designer Ray Holman to put together the Doctor's new look, and she drew on a disparate range of influences. She picked out a black-and-white photo from Google ("I don't know what era that picture is from," she said at San Diego Comic-Con), depicting a woman "walking with purpose in crop trousers, boots, braces and a t-shirt." The image appealed to Whittaker, she writes in the Radio Times, because "she just looks so comfortable and non-gender specific."
Here's another unexpected source of inspiration for the Doctor's costume: Coldplay. "I needed it to have colour because I respond to colour," Whittaker says. "I really love the use of colour on Coldplay album covers, which I also showed to Ray." You'll notice that the colours of the rainbow feature on multiple Coldplay covers, from 2005's X&Y to 2015's A Head Full of Dreams. And they translated directly into Whittaker's rainbow shirt. "Nothing evokes a sense of hope in me more than hundreds of rainbows!" she says.
The colours of the Doctor's outfit also represent the environment around her. "I loved referencing the worlds that you're coming from into the costume," Whittaker said on BBC Radio 6 Music, as Digital Spy reports. Her coat, for instance, isn't blue by coincidence. "The inside lining of the coat is like space and the outside is like [daytime] sky," she said.
And it had to be practical, too. "Often with heroic characters, I just think, 'That looks really sweaty!' Do you know what I mean? 'I bet it takes you like an hour to get in that!'" Whittaker said. "Whereas mine is really comfy, and comfy for anyone — boy or girl. Shock, horror!"
Whittaker took the outfit to the catwalk during San Diego Comic-Con in July 2018 — and spotted quite a few doubles wearing her costume while she was there. "I've seen boys, girls, men, women, everyone wearing it — and it looks so ace!" she says in the Radio Times.
Every aspect of the Doctor's new outfit, Whittaker says, is imbued with meaning. "Every single thing about it is a choice that Ray and I made," she says. But she's not about to reveal it all just yet. "One day, I might be able to tell you what it all means," Whittaker writes, "but for now everything is a secret between me and Ray, so I'm not allowed to say." Jodie! Must you tease us like this?