Joe Biden Hopes Democrats Don't Try Impeaching Trump — At Least Until This Happens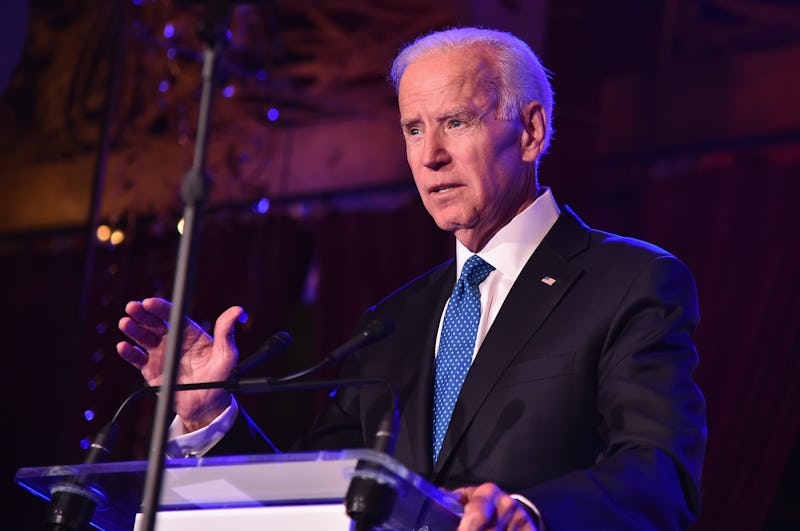 Theo Wargo/Getty Images Entertainment/Getty Images
He might not be a fan of Donald Trump, but that doesn't mean he thinks impeachment is a good idea right now: Joe Biden revealed he doesn't want Trump impeached, at least not yet. The remarks came during a conversation with CBS This Morning. At one point, the potential 2020 presidential candidate said he hoped that Democrats don't choose to impeach, if the opportunity arises. "I don't think there's a basis for doing that right now," he explained.
By that, Biden was referencing the Russia investigation, which Special Counsel Robert Mueller is currently carrying out. He continued, "I think we should focus on all the terrible things that are happening now in terms of interest of the middle class people and working class people. There are so many things to attend to immediately. Let's see where the [Russia] investigation takes us."
Of course, impeachment doesn't guarantee Trump would be ousted, but rather that the House of Representatives formally press charges against the president. Bill Clinton, for example, was impeached during his presidency but did not lose the position. What's more, Democrats will have to gain 23 seats in the House in order to flip it. And although they currently are predicted to have a high chance of accomplishing this, nothing is set in stone.
Later on in the interview, Biden also talked about Trump's seeming "love affair" with autocrats. When asked about the disappearance of Saudi journalist (and American resident) Jamal Khashoggi, Biden said, "I'm very worried that the president seems to have a love affair with autocrats, and the idea that he's already making excuses [for Saudi Arabia] before the facts are known is typical, but it hurts us internationally."
He continued, "I just don't know why this administration seems to feel the need to coddle autocrats and dictators, from Putin to Kim Jong Un ... you know, I don't understand. ... Either he doesn't know what he's doing, or he has an absolutely convoluted notion of what allows America to lead the world."
Biden's concern about the Trump administration might be so strong that it's leading him to seriously consider another run for president. Earlier in the week, Biden talked about his potential candidacy for president while speaking at the Economic Club of Southwestern Michigan's Speaker Series on Tuesday. When asked if "age" was a legitimate concern for him, the 75-year-old said, "I think age is a totally legitimate thing to raise."
He added, "I think it's totally appropriate for people to look at me and say if I were to run for office again, 'Well God darn you're old.' Well chronologically I am old. Every voter is entitled to know exactly what kind of shape you're in. You owe it to them. It's a legitimate question and so I think age is relevant."
Though Biden has not officially said whether or not he plans to run for president in 2020, a CNN poll conducted in early October revealed that he is the favorite among Democratic contenders to run against Trump for the presidency. In fact, with 33 percent of voters choosing him as their preferred candidate, he was the favorite by 20 percent over the next possible contender, Bernie Sanders.