Two More Prominent Democrats — Including Joe Biden — Were Sent Suspicious Packages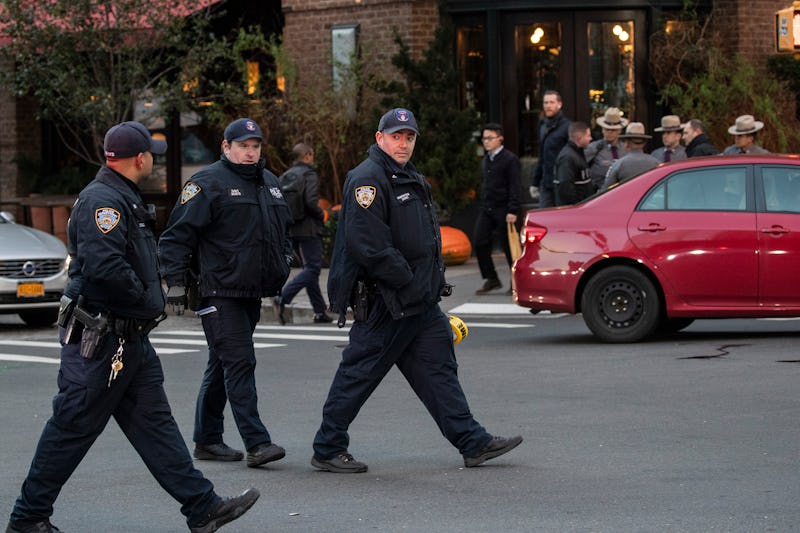 Drew Angerer/Getty Images News/Getty Images
After a chilling day on Wednesday with pipe bombs found in the mail of several high-profile Democrats, Thursday has started with reports of further intercepted mail that was potentially dangerous. Former Vice President Joe Biden and Robert De Niro were sent suspicious packages as well. Neither man was injured, as the packages did not reach their intended targets.
Bustle reached out to the Secret Service and the Biden Foundation for comment.
"A suspicious package was received. We called the police. They took it out and went through all safety procedures. It was addressed to Robert De Niro and is similar packaging to the others. It is an open investigation. Everyone is safe and the building is open," De Niro's film production company, Tribeca Enterprises/Tribeca Film Center, tells Bustle in a statement.
Security personnel for Tribeca Productions found the pipe bomb addressed to De Niro on Thursday morning in the Tribeca neighborhood of Manhattan, The Washington Post reported. When X-rayed, the package containing the bomb showed a similar contraption to the ones intercepted in previous days, which were addressed to the Clintons, the Obamas, liberal philanthropist George Soros, and others.
The package that seems to have been meant for Biden, then, was likely picked up by authorities at a postal facility in Delaware, where Biden lives, CNN reported.
"The #FBI has confirmed three additional packages, similar in appearance to the others – one in New York addressed to Robert DeNiro, and two in Delaware addressed to former Vice President Joseph Biden," the FBI said in a tweet on Thursday morning.
As CNN laid out, most of the packages have been packed similarly and had similar contents. While none has so far gone off, they noted that the rudimentary pipe bombs inside the packages were not stable, and they could have gone off even just because of normal handling.
The package to De Niro, NBC News reported, has the same return address as the Wednesday packages, which name Florida Rep. Debbie Wasserman Schultz. There is no evidence that Wasserman Schultz is at all connected to the bombs.
The authorities have not yet publicly released any information about the identity of the person or group behind the bombs, but NBC News reported that the FBI is currently analyzing everything that has been intercepted so far. While it's impossible to definitively pin down any motive without knowing more about who is sending the bombs, the facts so far are quite clear, and quite striking: Numerous prominent Democrats — including two former presidents — have been the named targets of attacks from an unknown source. As The Guardian pointed out, several of these people are also frequent targets of verbal attacks from President Donald Trump.
So far, the White House has come out condemning the "cowards" who sent the bombs, according to CNN, and both Trump and Vice President Mike Pence have personally denounced the attempted attacks.
"I agree wholeheartedly!" Trump wrote on Twitter, retweeting Pence's tweet on the subject, which called the actions "despicable."
Sen. Chuck Schumer and Rep. Nancy Pelosi released a statement on behalf of the Congressional Democratic leadership, though, saying that "President Trump's words ring hollow until he reverses his statements that condone acts of violence," according to CNN.
"Time and time again, the President has condoned physical violence and divided Americans with his words and his actions," the statement read. Politico also noted that Schumer aren't the only critics of Trump to point out his penchant for making statements that can be understood as supportive of violence, even if he himself denies it. CNN, which had to evacuate on Wednesday after a suspicious package addressed to former CIA Director John Brennan was sent to their offices, took an especially strong stance.
"There is a total and complete lack of understanding at the White House about the seriousness of their continued attacks on the media," wrote CNN President Jeff Zucker in a statement. "The president, and especially the White House press secretary, should understand their words matter. Thus far, they have shown no comprehension of that."