Biden Accused Trump Of "Coddling" The Saudi Government After A Journalist Went Missing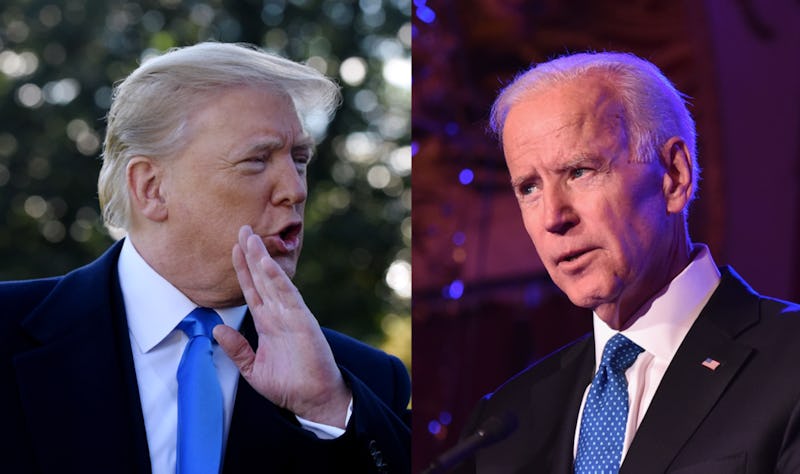 Theo Wargo/Getty Images Entertainment/Getty Images and Pool/Getty Images News/Getty Images
The apparent murder of Saudi Arabian journalist Jamal Khashoggi has reverberated around the world, but President Donald Trump has refused to condemn Crown Prince Mohammad Bin Salman (MBS). Now the former vice president is speaking out. In a CBS interview with journalist Norah O'Donnell that aired on Thursday, Joe Biden said Trump is "coddling" the Saudi government.
"I'm very worried that the president seems to have a love affair with autocrats," he told O'Donnell. Biden heavily criticized MBS in the interview and said that he has "doubts" about the prince's rule: "My doubts are that there's very little sense of rule of law, respect for human rights, dignity."
Khashoggi entered the Saudi consulate in Istanbul, Turkey earlier this month and was never seen leaving. Turkish authorities reported that they believed he had been murdered by a Saudi assassination team, and are threatening to release audio that proves it. On Wednesday, The New York Times reported that U.S. intelligence agencies have become "increasingly convinced" that the Saudi government was involved in Khashoggi's killing, though they are reportedly relying on circumstantial, not direct, evidence.
Despite this, Trump has refrained from speaking harshly of MBS, who denies having any role in Khashoggi's death. The president has even compared the prince to Brett Kavanaugh, who nearly missed confirmation to the Supreme Court after Dr. Christine Blasey Ford accused him of sexual assault (which he has denied). "Here we go again with, you know, you're guilty until proven innocent," Trump said of MBS on Tuesday. "I don't like that."
Biden leveled a similar critique against Trump in the CBS interview, saying that he's the one who's jumping to conclusions. The president "is already making excuses before the facts are known," Biden argued, which is "typical [for him], but it hurts us internationally."
O'Donnell asked Biden why he thinks Trump has been seemingly giving MBS impunity. "I don't want to speculate on my worst fears," Biden said. "But either he doesn't know what he is doing, or he has an absolutely convoluted notion of what allows America to lead the world."
He continued to say, "I just don't know why this administration seems to feel the need to coddle autocrats and dictators from Putin to Kim Jong Un to, you know, Duterte." Biden added, "I don't understand it."
In moves that mirrors his current stance on MBS, Trump has repeatedly refused to condemn Russian President Vladimir Putin for interfering in the 2016 election. He's also spoken well of North Korea's Kim Jong Un (last month he said he "fell in love" with the leader) and the Philippines' Rodrigo Duterte, with whom he says he has a "great relationship." Trump declined to bring up Duterte's extrajudicial killings — which Human Rights Watch reports have involved over 12,000 deaths — when he met with the Philippine president last November.
Of course, it's also true that all recent administrations could credibly be accused of acting too permissively toward dictators. Former President Barack Obama ordered U.S. support for the Saudi-led invasion of Yemen, which has led to a catastrophe that's being called the world's worst humanitarian crisis by the European Union.
But as Biden sees it, Trump's rhetoric and actions have been particularly lenient. And he might respond by challenging the president with an election bid in 2020, as he confirmed again in the CBS interview.