Joe Biden Is Speaking To College Men About Sexual Assault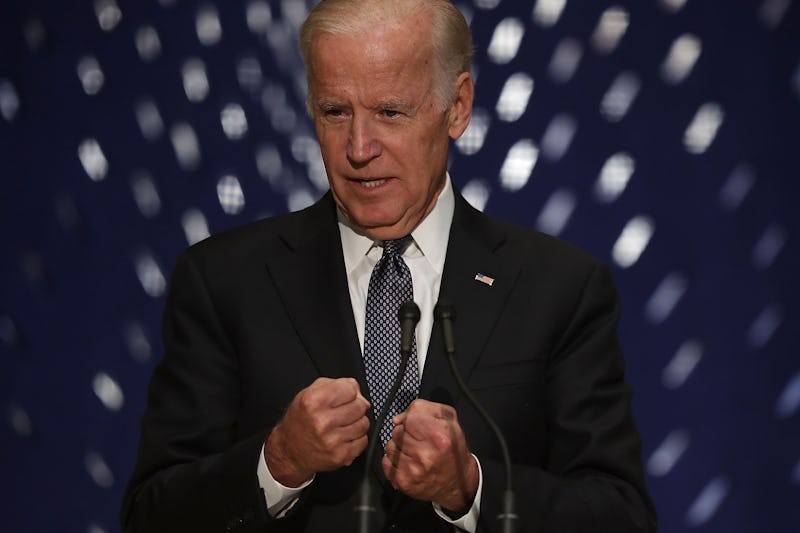 Alex Wong/Getty Images News/Getty Images
Vice President Joe Biden may no longer be in the White House, but the longtime advocate for women's rights continues to travel to college campuses across the country to educate students about consent and bystander intervention. On Wednesday, Biden had some strong advice for college men when he spoke at George Mason University in Virginia for an event organized by the sexual assault awareness campaign "It's On Us."
"Guys, a woman who's dead drunk cannot consent. You are raping her," Biden said to an auditorium of students. "We've got to talk about this."
Biden founded the "It's On Us" program in 2014 with the White House Task Force to Prevent Students from Sexual Assault. Though he spent decades creating legislation that protects women from physical and sexual abuse, his most recent initiative focuses on changing the culture surrounding sexual assault on college campuses, according to the "It's On Us" website.
"College campuses are communities," Biden told the college audience. "And the place where people's attitudes are affected, changed, altered, impacted, are within communities. You've got to speak up."
Although Biden said that both women and men have a duty to support survivors of sexual assault, a portion of his message was specifically geared towards men. While both genders are affected by sexual assault, statistics show that women are more likely to be sexual assaulted than men. A study conducted in 2015 found that as many as 25 percent of women and seven percent of men who have attended college have at one point experienced sexual assault.
During his speech, Biden stressed the importance of bystander intervention, and encouraged men in the audience to speak out against potential instances of sexual activity where "affirmative consent" is absent.
When you see something, if you're a fraternity brother and you see a young freshman co-ed in the second week dead drunk, and him walking her up the stairs, you gotta go up to him and say, "Hey, not in my house, Jack. Not in my house." Because if you don't, you are an accomplice.
Biden provided a hopeful message about the power of advocacy and the impact that even small actions can make in changing the culture of college campuses and decreasing the number of sexual assaults that occur each year.
"Our society is going to be judged by future generations about our civility and our decency," Biden said. "One of the measures we're going to be looked at is how did we deal with this issue?"
Since Donald Trump was elected to the presidency in November, despite the release of explicit audio tapes that record him bragging about grabbing women's genitals without consent (he denies ever acting on his remarks), many women across the country have been apprehensive about what Trump's administration may mean for women's rights. But Biden has proven that he will continue working towards sexual assault prevention, even after his term in office has ended.