Joe Kennedy Spoke Spanish In His SOTU Response & Twitter Is Losing It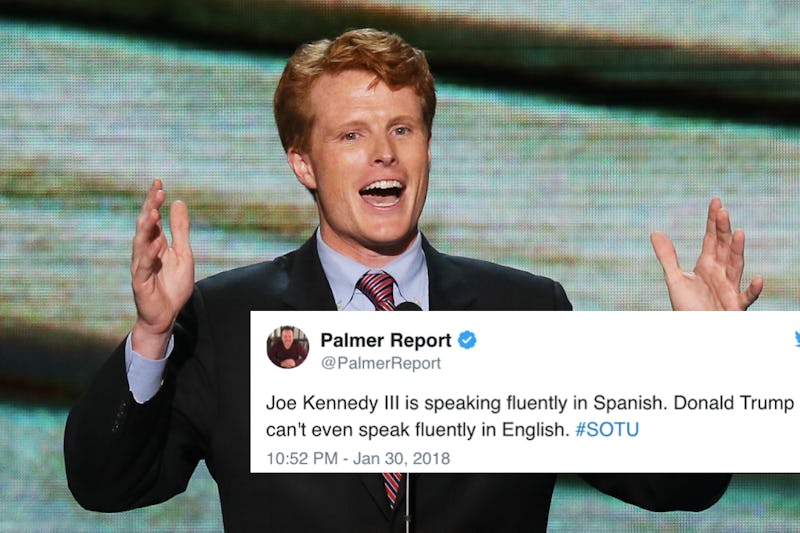 Alex Wong/Getty Images News/Getty Images
Toward the end of the official Democratic rebuttal to Donald Trump's State of the Union (SOTU), Rep. Joe Kennedy spoke to Dreamers in Spanish, telling them, in translation, "You are a part of our story." Taken aback but totally thrilled, Twitter immediately erupted into applause.
The only member of the legacy family to currently hold office, Kennedy delivered a down-to-earth address entirely in character with what the Kennedys are known for. The only thing that might have been missing was a strong Boston accent.
But when he paused to address young undocumented immigrants brought to the United States as children, he exceeded expectations. "And to all the Dreamers watching tonight, let me be clear: Ustedes son parte de nuestra historia. Vamos a luchar por ustedes y no nos vamos alejar," Kennedy Said. In translation: "You are a part of our story. We will fight for you. We will not walk away. America, we carry that story on our shoulders."
On Twitter, the young Representative was praised for his well-delivered Spanish accent, and also for acknowledging directly an issue which has been in the headlines consistently since September of 2017, when President Donald Trump announced he was ending DACA.
In sum, Twitter was overjoyed with Kennedy's Spanish, and didn't users didn't withhold their praise.
Kennedy Vs Trump
One user praised Kennedy's eloquence.
Triggering Stephen Miller
One user speculated that Trump's point-person on immigration policy, Stephen Miller, might have been unsettled by such a show of solidarity.
A Nuanced Review
Kennedy's Spanish took many viewers by surprise.
A Great Contrast
Trump did not directly address Dreamers or DACA, and viewers took note.
Accent On Point
Kennedy was praised for his precise pronunciation.
Breaking It Down
Kennedy 2020?
Some users questioned whether Kennedy should run in the next presidential election.
A Rainbow Topped With Sprinkles
Kennedy's ease of speech, coupled with his Spanish diction, was a welcome reprieve.
A Gif-Worthy Speech
Virtually no one expected Kennedy to break into another language.
Young, especially by political standards, this was one of the first times that Kennedy took the national spotlight. To have that moment also represent a pivot toward unity was a refreshing symbol of hope.