John Boyega Just Totally Shut Down Fans Who Were Harassing His 'Star Wars' Co-Star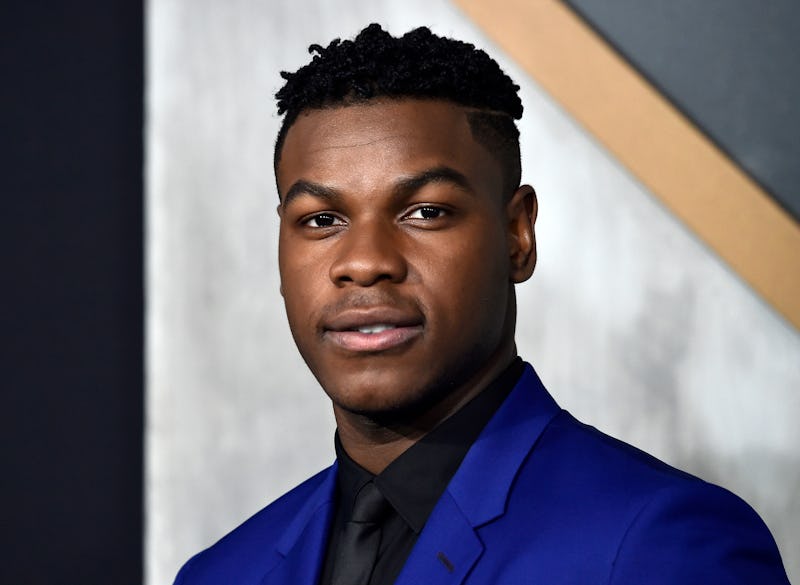 Frazer Harrison/Getty Images Entertainment/Getty Images
You may have heard that one of the most recent additions to the Star Wars cast of actors has been forced off social media after facing racist and sexist trolling. Yes, Kelly Marie Tran quit Instagram due to a wave of harassment from "fans" of the franchise unhappy at her casting as Rose Tico in The Last Jedi. But John Boyega has defended Star Wars' Kelly Marie Tran, urging trolls to leave her alone in a step that surely shouldn't even be necessary.
On Twitter, Boyega, who plays Finn in the films, told fans that harassing Tran wouldn't change the films, and made it clear that even if they had paid for a ticket it didn't give them the right to be rude. "If you don't like Star Wars or the characters, understand that there are decisions makers [sic] and harassing the actors/actresses will do nothing. You're not entitled to politeness when your approach is rude. Even if you paid for a ticket!" he tweeted.
While the actions of some of the social media users calling themselves fans has been deeply disappointing, a follow up tweet from Boyega suggested that at least some had supported the film. "To the majority of Star Wars fans thank you for supporting and putting yourselves in our shoes. You understand that there is a process so much appreciated!" he wrote.
This tweet elicited an amusing response from fellow Star Wars actor Mark Hamill who joked: "Be careful there son- the last time I let a fan put themself in my shoes, they just took off running & sold them on Ebay. #FatherlyAdvice #FoolMeOnce."
Boyega was quick to call Hamill out on his dad humour, laughing: "Don't worry dad! I got spares!"
Hamill might have taken a lighthearted approach to Boyega's comments, but that doesn't mean he finds fans' treatment of Tran funny. He spoke out against the harassment in his own way, by posting a picture of himself and his colleague, captioned: "What's not to love? #GetALifeNerds."
Meanwhile director of The Last Jedi Rian Johnson had some strong words for those harassing Tran when asked about the issue on Twitter. "Done with this disingenuous bulls**t," he wrote to a fan attempting to defend the criticism. "You know the difference between not liking a movie and hatefully harassing a woman so bad she has to get off social media. And you know which of those two we're talking about here."
"You're conflating critiquing a movie with being an abusive a**hole to people online," he continued, "when it's clear as day they are two seperate [sic] things and we're condemning the latter and not the former."
While Boyega's sentiment is admirable, I'd be more inclined to agree with Johnson. Some Star Wars fans may have been attempting to share legitimate criticism but they were a minority. And you know why? Because no criticism is legitimate if it involves racist or sexist abuse. Anyone with an an ounce of sense could establish that going after the actors in a film about how their character is portrayed is unlikely to have an impact, especially as the film is out so there's nothing they can do about it now, even if they wanted to.
As the tone of the comments prove, I think the problem these so-called fans have with the film is not how Tran's character is portrayed but more the fact that it's portrayed by a woman of colour. Changing Kelly Marie Tran's name on Wikipedia to a racist slur isn't criticism, it's racism and those who can't criticise without resorting to it shouldn't criticise at all.
So, while I'm heartened to see Boyega, Hamill, and Johnson standing up for their female colleague, I desperately wish they didn't need to. It's also telling that they still feel able to stay on the social media sites that give them the platform to do so, and Tran does not. And so the trolls go on to tweet and share another day while an actress who just did nothing except her job has been silenced. How is that fair?