This Ex-FBI Head Has A Chilling Warning After Trump Trashed His Security Clearance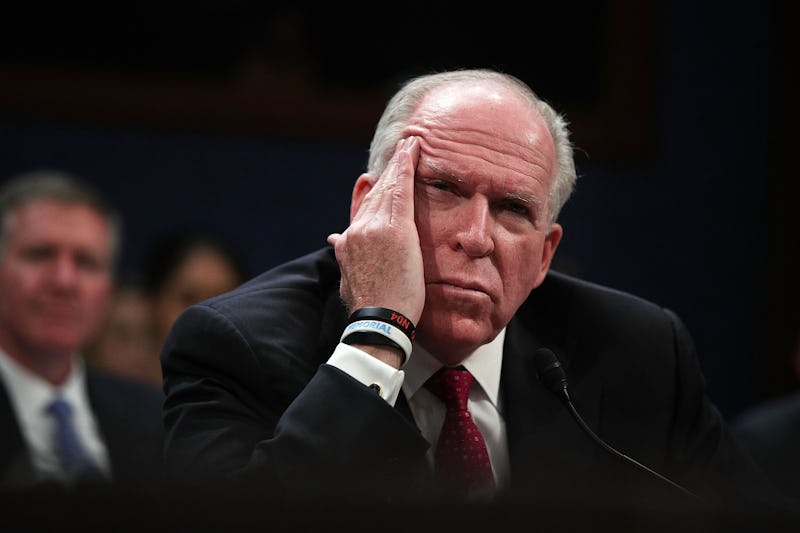 Alex Wong/Getty Images News/Getty Images
On Wednesday, Trump announced via a statement read by Sarah Sanders that he had decided to revoke the security clearance of the former CIA director. Amid the shock and confusion that followed, John Brennan's response to Trump pulling his security clearance was a sobering warning to all Americans. Though Brennan and Trump have been at odds for several months now, Brennan's comments reflected a new level of transparency about how he views the Trump administration.
While attaching an NBC News tweet that announced his clearance being revoked, Brennan tweeted, "This action is part of a broader effort by Mr. Trump to suppress freedom of speech & punish critics. It should gravely worry all Americans, including intelligence professionals, about the cost of speaking out. My principles are worth far more than clearances. I will not relent."
In the statement read by Sanders, Trump alleged that the courtesy of allowing Brennan, a former government official, his continued clearance had been "outweighed by the risk posed by his erratic conduct and behavior." Trump also claimed that "Mr. Brennan has a history that calls into question his objectivity and credibility...[and] has recently leveraged his status ... to make a series of unfounded and outrageous allegations, wild outbursts on the internet and on television, about this administration."
The decision to revoke Brennan's security clearance comes in the wake of several damning tweets Brennan posted in regards to Trump's treatment of Omarosa Manigault, among other things.
A day ago, Brennan tweeted at Trump, "If you were 'presidential,' you would focus on healing the rifts within our Nation, being truthful about the challenges we face, & showing the world that America is still that shining beacon of freedom, liberty, prosperity, & goodness that welcomes all."
Brennan added in a subsequent tweet, "It's astounding how often you fail to live up to minimum standards of decency, civility, & probity. Seems like you will never understand what it means to be president, nor what it takes to be a good, decent, & honest person. So disheartening, so dangerous for our Nation."
Brennan has been tweeting at and about Trump for several months now, but the argument that these tweets call into question "his credibility and objectivity" has been criticized by many.
"Pod Save America" host Tommy Vietor tweeted of the event, "Trump didn't just strip @JohnBrennan of his clearance, he had @PressSec read a 566 word statement assassinating John's character. A political attack delivered at the podium written by government staff. Yes, Trump is trying to distract us, but that's a remarkable new low."
Similarly, Rep. Don Beyer (D-VA) suggested that Trump's decision was personally motivated, tweeting, "That Trump didn't even ask his own Director of National Intelligence before revoking John Brennan's security clearance tells you everything you need to know. This was political retribution, pure and simple."
Joe Biden summarized the whole situation as "unbecoming of a president," tweeting, "In the time I have known him, John Brennan has never been afraid to speak up and give it to you straight. Revoking his security clearance is an act unbecoming of a President. If you think it will silence John, then you just don't know the man."
Perhaps most significantly, the ACLU released a statement designating Trump's decision as "unconstitutional retaliation," writing, "The First Amendment does not permit the president to revoke security clearances to punish his critics...[Trump's actions] are also part of a broader pattern of seeking to silence or marginalize critics."
Trump has yet to comment publicly on his decision.