Ohio Gov. John Kasich Says He's Considering Running For President Again In 2020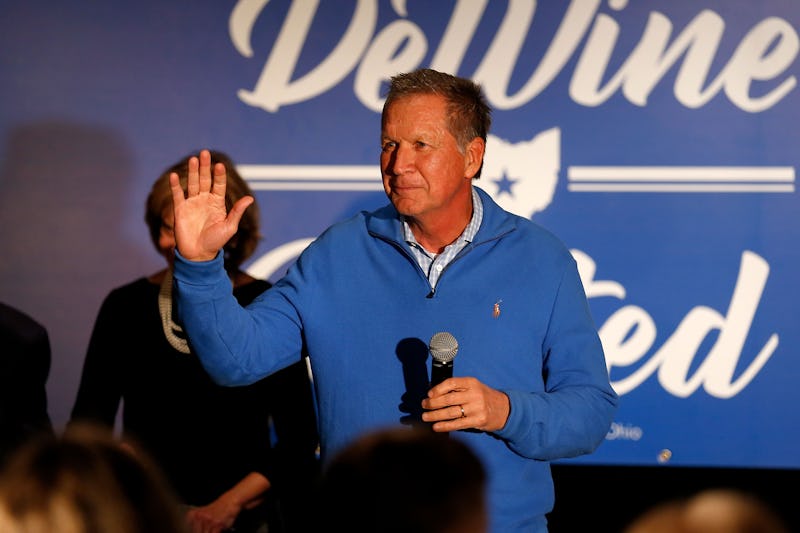 Kirk Irwin/Getty Images News/Getty Images
After two failed presidential campaigns, Ohio Republican Gov. John Kasich is "very seriously" considering running for president in 2020, according to a Sunday interview with ABC's This Week. When asked by host George Stephanopoulos how he's considering his presidential ambitions, Kasich said, "I'm considering it George, these are earnest conversations that go on virtually every day with some of my friends, with my family."
Kasich — who ran for president famously in 2016 against Donald Trump and less famously in 2000 — has served two terms as Ohio governor and is barred by term limits from seeking a third consecutive term. This hasn't stopped Kasich from being a vocal critic of the Trump administration, even as he signed bills supported by the administration.
"We need different leadership, there isn't any question about it. And I'm not only just worried about the tone and the name calling and the division in our country and the partisanship, but I also worry about the policies," Kasich told ABC's This Week. "You know, rising debt, the problem and inability to deal with immigration, the problems that we have as America alone in the world."
Kasich said another attempt at the White House is one possible way to alleviate his worries about the country's direction. "I mean these are things that, George, I'm worried about our country and not just in the short term, but I'm worried about our country in the long term," Kasich said. "So the question for me is what—what do I do about this?"
Kasich said he still travels to different parts of the country as a governor, and that his consideration of a run isn't part of a ploy or game. He told ABC's This Week, "I don't know when I will have to make a decision, but let's not, let's be clear, I'm not being coy, I'm not trying to do this for some kind of a game. This is really, really serious to me."
The two-term governor has perviously said he's unhappy with the direction the Republican Party has taken thanks to Trump. "I'm very, very unhappy with the division we see in the country. I'm also equally unhappy with the fact that it seems as though that the Republican Party has been hijacked," Kasich told Fox News in mid-November.
However, Trump's approval rating remains high among Republican voters. Gallup's Presidential Job Approval Center found that while only 43 percent of all Americans approve of Trump, 89 percent of Republicans approve of the job Trump is doing. Kasich could have an uphill battle if he does choose to run, but he seems undeterred.
"At what point does somebody work and stand on principle, to say that the direction we're going is wrong?" Kasich asked Stephanopoulos. He continued:
I, obviously, want to have some sort of a practical opportunity, but you want to be able to make a statement. Now maybe I do that by running again or, you know, and frankly in the last election I was the last man standing with very little money and very little name recognition.
Kasich said politics are no longer predictable. "No one thought a guy like Donald Trump would be elected president. No one thought we'd have electric cars," he said. "No one thought we could talk on phones and see the person we're talking to. I mean, this is a time of change, dynamic change."