John Kelly Reportedly Complained That Elizabeth Warren Was An "Impolite, Arrogant Woman"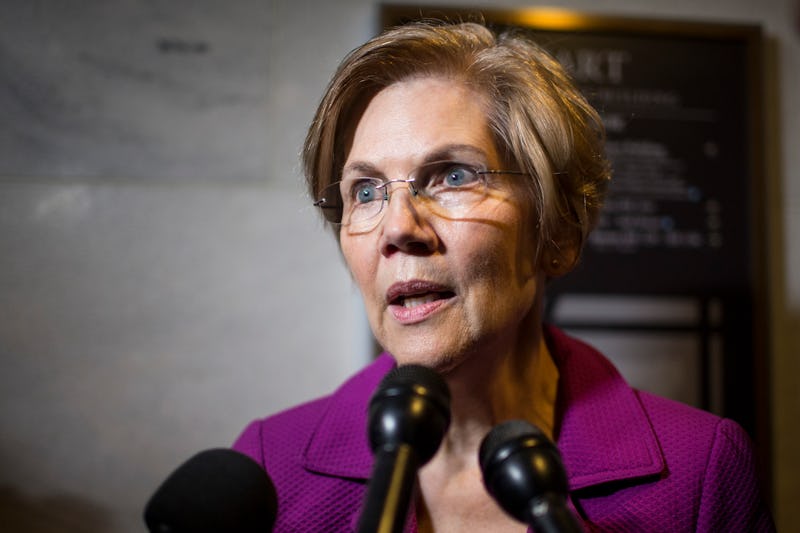 Zach Gibson/Getty Images News/Getty Images
In an email exchange with a top aide last year, White House chief of staff John Kelly called Elizabeth Warren an "impolite arrogant woman," BuzzFeed News reported. The insult reportedly came after he had had a telephone conversation with Warren about the administration's travel ban. At the time, Kelly was serving as the secretary of Homeland Security.
According to BuzzFeed News, Kelly wrote, "Absolutely most insulting conversation I have ever had with anyone. ... She immediately began insulting our people accusing them of not following the court order, insulting and abusive behavior towards those covered by the pause, blah blah blah."
Kelly's email was obtained by BuzzFeed News via a Freedom of Information Act lawsuit, along with thousands of other emails sent and received by him. This whole situation took place in early 2017, which was when immigrants were being detained at airports across the country.
Kelly had claimed Warren accused the Department of Homeland Security (DHS) of not following was a temporary restraining order by federal judges that blocked Trump's executive order to ban citizens from majority-Muslim countries from entering the United States. A spokesperson for Warren told BuzzFeed News that the conversation in question between Warren and Kelly occurred when Warren tried to obtain information from the DHS about some of her constituents who had been detained at Logan International Airport despite having visas.
Bustle has reached out to the White House and Elizabeth Warren's office for comment.
But that's not the only email that was sent in regard to Warren. Kevin Carroll, who was Kelly's senior counselor at the time, sent another email the next day: "Too bad Senate Majority Leader McConnell couldn't order her to be quiet again! Warren is running for president so early, trying too hard, and chasing bad pitches."
The release of Kelly's emails come at the same time as another attack on Warren from the Trump administration. On Thursday, Trump claimed that he has more "Indian blood" than Warren, repeating an insult about her heritage claim that he's used before. In conversation with Fox News about his potential Democratic challengers for 2020, he said, "How about Elizabeth Warren, [she] faked her heritage for years [and] can't prove anything. I have more Indian blood than she does, and I have none, unfortunately."
Trump has repeatedly challenged Warren's assertion of her Native American heritage. In July, at a campaign rally, Trump told the crowd that he would donate $1 million to Warren's favorite charity if she would take an ancestry test to prove she was an "Indian." Trump said, "I have a feeling she will say no. She's based her life on being a minority."
In the past few days, Warren and Trump's son, Donald Trump Jr., have made visits to Georgia to weigh in on the contentious gubernatorial race between Republican Brian Kemp and Democratic challenger Stacey Abrams. At an event in Athens, Trump Jr. said, "For the first time in a long time we see actual progress. And what do the Democrats want to do? They want to reverse all of that."
Meanwhile, Warren said at another event on behalf of Abrams, "We're going to return power to the people and call out what's going on in Washington. It's corruption, pure and simple, and it's going to stop."