John Kelly's Cell Phone May Have Been Hacked — REPORT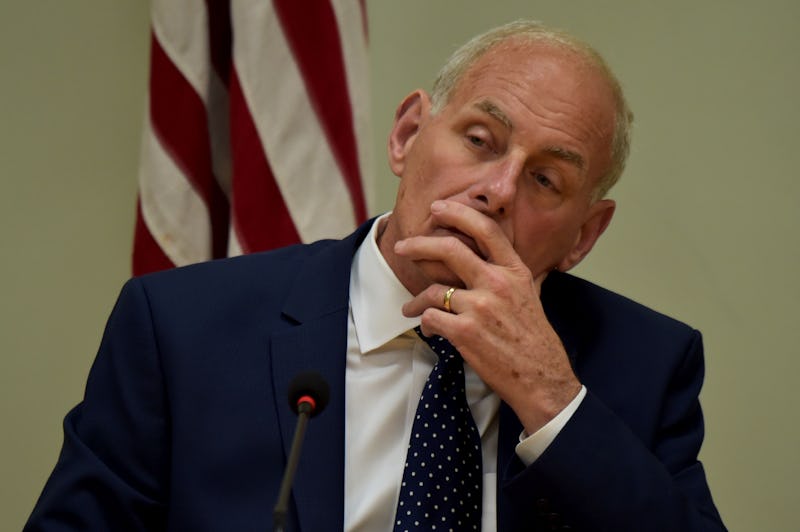 HECTOR RETAMAL/AFP/Getty Images
According to Politico, the White House believes that Chief of Staff John Kelly's personal cell phone has been compromised. The breach was reportedly discovered over the summer but may have occurred as far back as December, Politico reported, raising the possibility that hackers or foreign governments may have had access to sensitive information on Kelly's phone.
Kelly, who joined the Trump administration in January as secretary of homeland security, told White House tech support in September that his phone hadn't been working properly for months, Politico reported. Upon examination, technicians discovered that the phone had been compromised, and told Kelly to stop using it.
The incident was detailed in a one-page memo that circulated the White House in September, according to Politico. A White House official told Politico that, while they didn't dispute any of the details of the report, Kelly hasn't used the personal phone since he joined the administration. They added that he doesn't currently possess the phone. The nature of the reported breach — how it happened, when it happened, and who was responsible for it — is unclear.
Kelly now has something in common with Hillary Clinton's former campaign manager John Podesta, whose email was hacked during the presidential election. At the time, Trump accused Podesta and Democrats of being "so careless" with cybersecurity, and asked why they didn't have "hacking defense" (quotation marks his) to guard against such security breaches.
Trump originally brought on Kelly, a retired four-star general, as secretary of homeland security before naming him White House chief of staff in July. Initially viewed as a steady hand who could stabilize the chaotic Trump administration, Kelly himself been in the news a bit lately, and some have questioned how much longer he'll stay on the job.
According to Bloomberg reporter Jennifer Jacobs, Kelly was supposed to be on Air Force One to accompany Trump on a visit to Las Vegas Wednesday before being pulled off of the flight last-minute for undisclosed reasons. The same day, longtime Democratic operative Scott Dworkin claimed that Kelly may leave the administration by the end of the week; that claim, however, should be taken with a grain of salt, given that Dworkin isn't a journalist but rather an openly partisan Democrat.
White House spokesperson Raj Shah had little to say about the potential security breach, telling CBS News only that "last December, Gen. Kelly's personal phone stopped working, and he discontinued its use." Importantly, he didn't specify when precisely Kelly stopped using his phone. Politico, meanwhile, reported that Kelly only turned the device in to White House tech support in September. If both the White House statement and the Politico report are accurate, then, it's possible that Kelly's cell phone was compromised for as many as nine months before he stopped using it.
It was reported in September that Trump's son-in-law and top adviser Jared Kushner, as well as his daughter Ivanka, had both used personal email accounts on private servers to conduct government business from their positions in the White House. Politico later reported the existence of a third private email account, reportedly used jointly by Ivanka and Kushner, that has now become the subject of an internal White House investigation. That email account, according to Politico, contained "hundreds" of emails, some of which contained official government documents, internal schedules and "nonpublic travel documents."
An unnamed White House official, however, told Politico that Kelly hasn't used his personal cell phone to conduct government business, and in fact that he stopped using that phone altogether after he joined the Trump administration. It's unclear why, if that is the case, Kelly reportedly only turned his phone in to tech support in September, after he'd been in the administration for approximately nine months.