John Krasinski's Just Called Emily Blunt His "Secret Ingredient" & No, You're Crying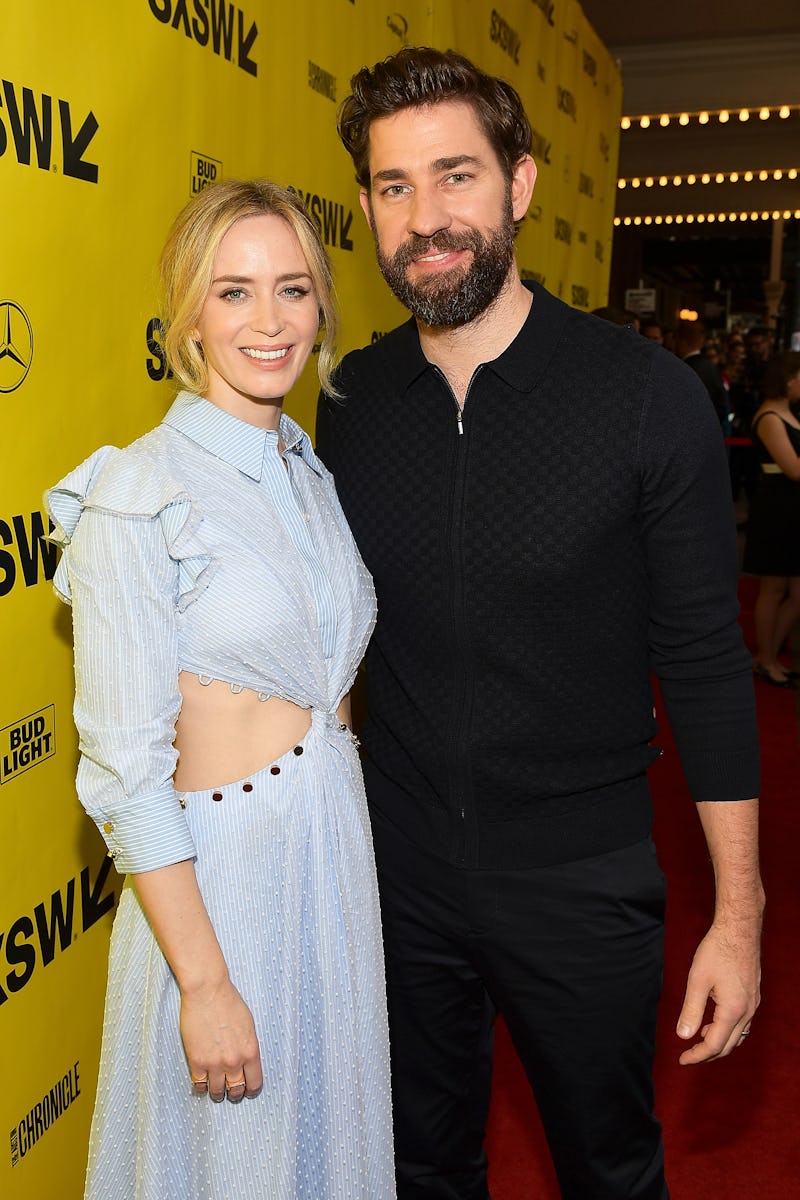 Matt Winkelmeyer/Getty Images Entertainment/Getty Images
Here's what sustained me throughout the unrelenting tension and abject horror of this year's astonishing thriller A Quiet Place: the knowledge that behind the camera, stars John Krasinski and Emily Blunt are the most adorable of celebrity couples, and are by all accounts not consistently stalked by vicious predators with hyper-sensitive hearing. And Krasinski's only gone and reinforced that adorable status in a new interview with the Independent, crediting his wife for the success of his career. It's undeniable, friends: John Krasinski and Emily Blunt are couple goals.
Krasinski spoke to the Independent ahead of the release of Jack Ryan, an upcoming Amazon Prime thriller based on the famed Tom Clancy character. But it was when conversation turned to A Quiet Place, which Krasinski also co-wrote and directed, that things got especially cute. He told the newspaper that Emily Blunt insisted he direct the movie, explaining, "I honestly feel I wouldn't have this career if I hadn't met her, because she's taught me so much about how to go about the business." He added, "She's been my secret ingredient." And with that, I succumbed to the sweetness and promptly died.
Krasinski's friends, inexplicably, were not so convinced of the strength of the marriage — they told him he'd "probably get divorced" from Blunt if they worked together on A Quiet Place. Oh, ye of little faith, how wrong you were! "It without a doubt made our marriage stronger," he told the Independent. "I think we were both surprised by that. Not that I thought it would get worse but we were much more in love after the movie. We leaned on each other in a way we never had."
Another interesting tidbit? Krasinski also revealed that Blunt (whose performance, in my opinion, was the standout element of the film) wasn't initially cast as lead character Evelyn Abbott; instead, a "famous name" had already secured the role. But after reading the script, Blunt had to be involved. "I can't say who," Krasinski said, "but essentially, yes — Emily had someone fired."
This is, of course, far from the first time John Krasinski and Emily Blunt have been outright adorable about each other. In April 2018, Blunt told People that she knew "disarmingly soon" that Krasinski was the one, revealing that the pair got engaged within ten months of meeting. Seth Meyers asked Blunt, during an appearance on his show the same month, whether she knew right away that they were fated to be together — and her response? "I kind of did!"
Back in December 2016, Krasinski told Entertainment Tonight, "Emily, through any lens, is someone that you just pinch yourself that you even get to be around her, let alone married to her." And in February 2018, he said of her acting skills, "The air changes in the room when she starts doing what she does." Speaking to Vanity Fair, Krasinski explained, "It's so honest and so pure and so powerful. It's like a superpower that she can just unlock and do so specifically with not many attempts."
Jack Ryan launches on Amazon Prime on August 31, while Emily Blunt will appear as the iconic nanny in Mary Poppins Returns, alongside Lin-Manuel Miranda, when the film premieres in December. And while I'm absolutely looking forward to seeing the classic reinvented, I'll admit to being equally excited for the accompanying press tour. Why? The inevitable Blunt-Krasinski moments, of course.