John Legend Will Perform At The 2017 Grammys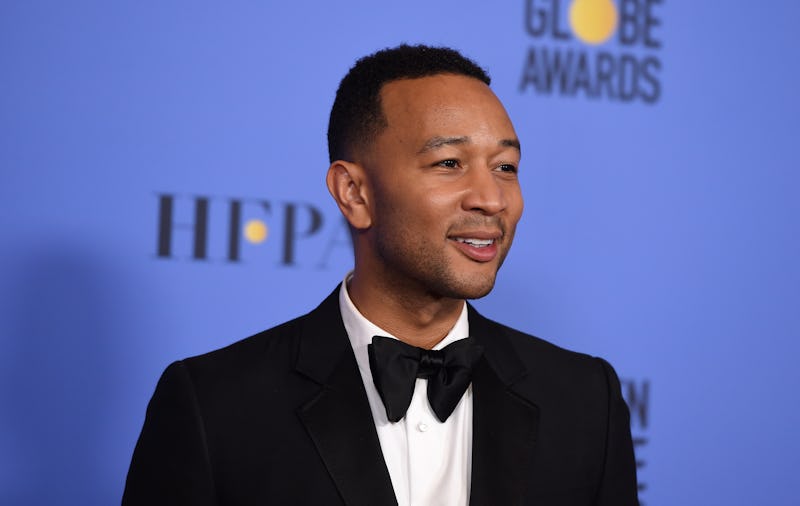 ROBYN BECK/AFP/Getty Images
Wednesdays sucked until this one, because every other Wednesday was just a boring middle-of-the-week non occasion. At least until the Wednesday that you find out that John Legend is performing at the 2017 Grammys alongside the likes of Metallica, Carrie Underwood, and Keith Urban. Let's not be coy, this is wonderful, because, following your cinema trip to see La La Land, you've caught the bug, had him on a Spotify loop ever since, and you need all the Legend you can get in your life. It does, however, pose one vital question: what songs will Legend play at the Grammys?
This will presumably be contingent on whether he is asked to perform a medley — like Kendrick Lamar at the 2016 Grammys, who did a five minute medley of some of his biggest hits — or just one recent single — like Taylor Swift who, at the same ceremony, performed just one song, 1989's "Out Of The Woods." It's hard to argue that Lamar is a bigger star than Swift, so perhaps the answer as to whether an artist is given the opportunity to perform a medley or a single is found in how recent their last release is. In this example, Lamar had released To Pimp A Butterfly in March 2015 and would go on to release untitled unmastered. a month after the Grammys, while Swift had dropped 1989 in October 2014.
If this is the case, then Legend would be a shoo-in for a medley, since his latest album, DARKNESS AND LIGHT, dropped in December 2016. Traditionally, medley performances tend to encompass an artist's biggest hits in one fluid mix. So, if this was the case, I reckon we'd be looking at "Ordinary People," which won Legend a Best Male R&B Vocal Performance Grammy in 2005 and his (as of the time of writing) most popular track of the most recent album "Love Me Now." And given that we're still basking in the Golden Globes buzz surrounding La La Land, I wouldn't be surprised if we got a Legend performance of his tracks from the record-breaking film, "Start A Fire" to end the mix.
However, in recent years, aside from the inevitable big-deal musician tribute (as with the star-studded tribute to Lionel Richie's music last year), medleys tend to be thin on the ground at the Grammys. Perhaps it's more likely that Legend will perform just one or two songs. If we take the 2016 Grammys as a blueprint, where Adele played "All I Ask" (as part of 25, released November 2015) and The Weeknd performed "Can't Feel My Face" (released June 2015) and then "In The Night" (released August 2015), artists tend to perform recent works that the audiences are already familiar with rather than debuting new work. So I'd argue that there'd be one clear pick for this: the toe-tapping "Love Me Now." With over 98 million hits on Spotify, it's clearly going to have enough audience recognition and is, perhaps, his most popular song even if he played a second hit, "All Of Me" (which boasts over half a billion hits on Spotify).
Still, whatever Legend plays, he's a charismatic enough performer to make it more or less guaranteed that his music will to bring the audience to their feet, whether at the show or in their living rooms at home. So make sure you tune in on February 12: you won't want to miss this.