When Kanye Tweeted Texts From John Legend, He Did More Than Just Over-share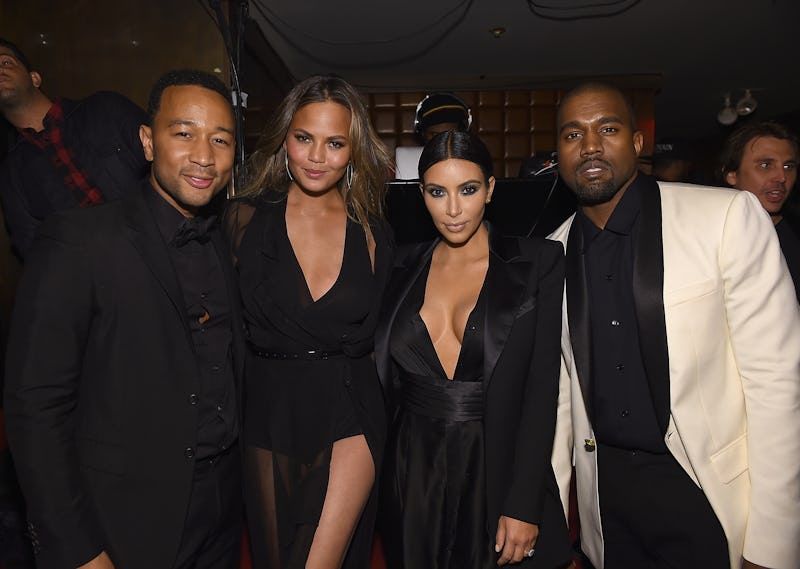 Dimitrios Kambouris/Getty Images Entertainment/Getty Images
In case you missed it, Kanye West has been on a tweeting storm lately. In one of those tweets, the musician shared a text convo he had with friend John Legend in which the "All Of Me" singer urged West to reconsider his public support of President Donald Trump. Now, for some celebrity fans out there, it was interesting to see such a private conversation. But beyond that, Kanye West posting John Legend's texts offered a jarring amount of access into celebrity culture; an amount of accessibility that no one is usually privy to and which challenges a celebrity's public persona. By posting the texts so publicly, West also took away Legend's ability to present his own narrative and image to the masses.
The pair's text convo is something that fans rarely ever see from one of their favorite celebs, and with good reason. This form of communication is incredibly personal and should be limited to the parties involved unless they both agree to it, which clearly wasn't the case with West and Legend. Later in the conversation — after West posted the first text, but before their conversation ended — Legend commented, "since you're posting texts now." On top of that, his wife Chrissy Teigen's comments indicate that West posted the comments by his own volition.
West showcasing their texts gave fans a level of transparency that no other form of classic celebrity communication (a tweet, an Instagram post, Snapchat vid, etc.) can really provide. These forms of communication can be more controlled. A celebrity can promote their music, a new fragrance, or a TV appearance. Of course, they can also get quite personal, if they wish, but if they do, it is their choice to do so on their platform and they choose everything they say or do knowing that millions of people could see it.
Legend did previously seem to speak out on West's support for Trump, albeit indirectly. In one particular tweet, which was posted around the same time as West's tweet flurry, he called out "great, brilliant artists" and the responsibility that comes with their large platforms. He said, "I love that great, brilliant artists have the power to imagine a better future. But artists can't be blind to the truth." His tweets aligned with the thoughts he expressed to West personally through text. Yet, in this case, the singer obviously chose to express this particular message on his platform and have it relate back to how his fans view him.
Texts can show the celebs involved in a more vulnerable place, especially Legend, since he didn't post the texts nor did he know they were going to be posted. Instead of the typical icon status that celebrity culture may grant them, we can see the celebrity as they truly interact with a peer or friend. Through Legend's texts, one can see that he was trying to look out for West — and any future things he might post — by explaining exactly why the rapper's public support of Trump could be seen as harmful to many of his fans.
He texted, "So many people who love you feel so betrayed right now because they know the harm that Trump's policies cause, especially to people of color. Don't let this be part of your legacy." Again, while this message aligns with his public one that he tweeted about, he chose to text this personal note in private to his friend.
As for West, posting the text was in line with another one of the controversial star's previous high-profile moves. It's hard to forget West's saga with Taylor Swift. One interaction with her in particular showed that the rapper is unafraid to peel back the layers of celebrity by presenting a private interaction with a fellow public icon to the masses. While West didn't publish the now-famous conversation with the pop star himself directly and his wife, Kim Kardashian, did, he was still involved in the matter.
The feud started over West's "Famous," in which he raps, "For all my Southside n*ggas that know me best / I feel like me and Taylor might still have sex." Per People, according to her rep, Swift warned him that she thought the message was misogynistic. West related, in a now-deleted tweet that the "...Ready For It?" singer approved of his song, "she thought it was funny and gave her blessings," according to Glamour UK.
However, Snapchat videos published by Kardashian gave even more information and showed that West called Swift and that she approved of at least some of the song. Swift posted a statement that the rapper had not touched base with her regarding the lyric that referred to her as "that bitch" and that she did not give that particular line her approval. She also wrote in her now-deleted post on Instagram that she wished to be "excluded from this narrative."
In both of these cases, with Legend and Swift, West was involved in the sharing of private conversations and subsequently opened up his acquaintances to an analysis of their private selves in the public landscape. Like Swift at the time, Legend is now faced with people dissecting his carefully thought-out and personal message to one of his friend's. Unlike Swift though, his private correspondence has been received rather favorably. So, while the texts never should have been shared, the outcome ended up aiding Legend's overall public persona in a positive manner.
Teigen's tweets about the situation also highlighted how private these interactions are meant to be. She wrote that she was not going to be giving a statement on anything regarding her husband's conversation with West. If she or her husband were going to comment, they would comment in a direct way to the person, just like Legend did (although, he did also indirectly discuss the West situation before, on Twitter). Teigen said, "When it comes to people we know, we DO speak up. To THEM. not on Twitter. And sometimes, I guess it makes it to Twitter."
Later, she joked around about the situation with Kardashian when she asked if dinner was still on at her house:
As West and Legend's public text convo showed, it can be incredibly jarring to masses to get such a strong insider look into a high-profile figure's personal life, and that's simply because it's so rare. The outcome — whether the person is afterward viewed favorably or unfavorably — depends on the situation, but either way, if the information is shared without their knowledge, things become totally out of their hands.
Correction: This article has been updated to more accurately express information about Taylor Swift and Kanye West's disagreement over "Famous".