John Oliver Just Poked Some Glaring Holes In Trump's Executive Order On Family Separation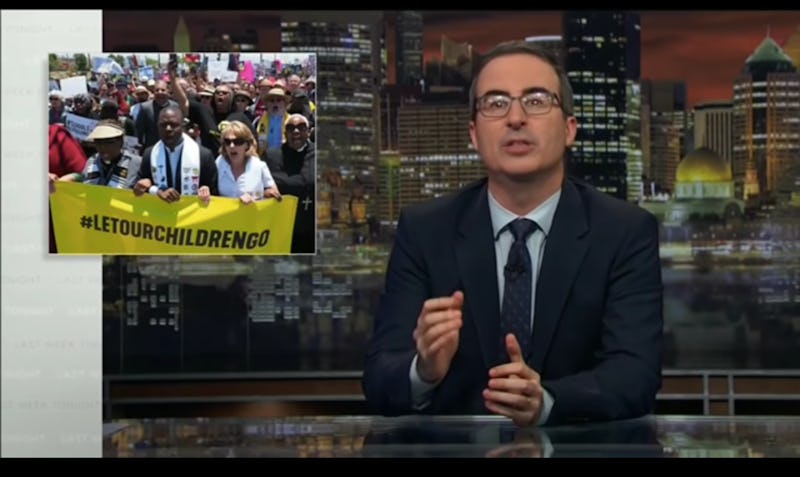 Last Week Tonight with John Oliver/HBO
The most recent episode of Last Week Tonight began by taking a further look at the Trump administration's immigration policies — particularly the recent executive order designed to stop family separations. In his opening clip, host John Oliver called out Trump's family separation executive order for not solving one very critical problem. As Oliver noted, under current law children can't be detained with their parents for more than 20 days, so kids stand to face separation all over again if their parents are detained for a longer period of time.
Oliver opened his immigration segment by taking Trump to task for initially saying that he could not do anything to end the separation of undocumented migrant families as they cross into the United States. As the host noted, despite claiming to have no power to stop the highly controversial family separations, on June 20 Trump signed an executive order ending them. "Yes, Trump claimed he couldn't do a thing and then he did it," the host noted. "Which is a little strange because he usually claims he can do things and then doesn't do them, like draining the swamp or locking up Hillary or attending Tiffany's sweet 16."
However, as Oliver pointed out, Trump's executive order has some significant shortcomings — shortcomings that could again soon result in children being removed from their parents' custody. As Oliver explained:
While families will now not be separated, that's because they'll be detained together. And under current rules, the children can't be held in detention facilities for more than 20 days, which means that, less than three weeks from now, they could start splitting families up all over again.
The comedian then continued by asserting that, in addition to the executive order's shortcomings, the Trump administration is also facing another problem — how to successfully reunite immigrant children and parents who have already been separated. "Remember those 2,000 children who have already been separated from their parents?" Oliver asked. "What exactly is the plan to deal with them?"
The host then played a CNN clip in which a reporter revealed that the Trump administration has released an overall plan for reuniting separated families. However, notably, as the CNN clip indicated, "major pieces are still missing, including a clear timeline on just how long it would take and how it would get done."
Oliver appeared shocked at this report, saying:
Hold on, because those are some pretty major pieces to leave out. In fact, it's all the pieces. How long it will take and how it will get done are the whole plan. That's like a recipe for cake that just says, 'you're going to have cake.' How is this passed on from your grandmother?! I think this is nothing.
Oliver concluded his immigration segment by taking Trump supporters, particularly Fox Business Network's Stuart Varney, to task for seeking to defend the administration's family separation policy. Oliver played a clip of Varney suggesting that president's tax cut package and "what it's done for our economy" should be the news story dominating headlines, as opposed to ones about "children in cages."
The comedian proceeded to condemn Varney for his comments. As the host noted,
That deflection technique doesn't really work when the thing you're deflecting from is children in cages. If a realtor selling a house were to say, "Why are we talking about the children in cages? The kitchen has marble countertops," the only acceptable response would be, "Because they're children and they're in cages, someone needs to let them out you f*cking monster."
It's quite obvious that, despite Trump's executive order ending the family separation policy, there are still many issues to hammer out regarding long-term plans for migrant families and family reunification, as Oliver noted. In several weeks' time, Americans will find out what exactly the Trump administration plans to do when the 20-day detention limit for children expires — and whether or not officials will again move to pull children away from their parents.
Correction: A previous version of this story mischaracterized the network Stuart Varney is affiliated with. It has been updated.