John Oliver Has Lots Of Thoughts On The Mail Bomb Conspiracy Theories Going Around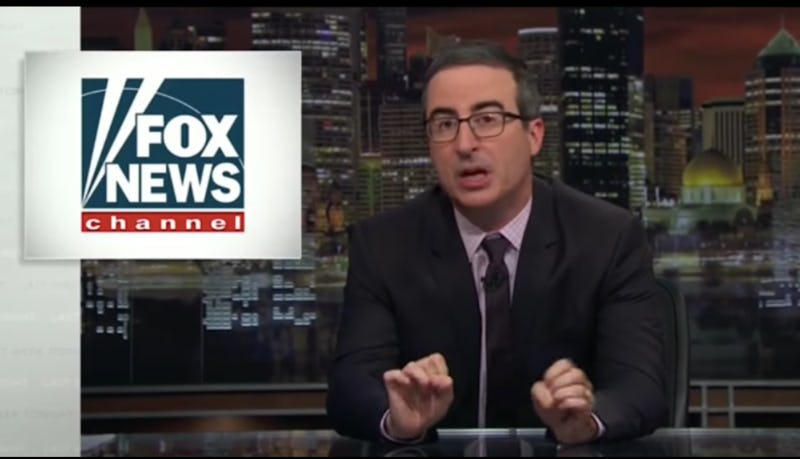 Last Week Tonight with John Oliver/HBO
Last week, at least fourteen packages containing pipe bombs were sent via mail to well-known critics of President Donald Trump. On Last Week Tonight on Sunday, host John Oliver mocked mail bomb conspiracy theories, readily critiquing those who tried to characterize the operation as a "false flag" attack perpetuated by liberals.
News about the mail bombs dominated headlines last week, as packages addressed to at least 14 different people, including former President Barack Obama and former Secretary of State Hillary Clinton, were found to contain explosive devices. While the packages contained real explosives, no one was injured as a result of the mailings. All of the packages were intercepted by law enforcement before they reached their targets, as CNN noted.
On Oct. 26, a Florida man named Cesar Altieri Sayoc Jr. was arrested in connection with the attempted bombings and charged with five federal crimes, as CBS reported. Sayoc lived in a van covered in pro-Trump and right-wing advocacy images and had also previously made threats against Democrats online. Neither Sayoc nor his lawyer have commented publicly on the allegations against him.
On his show, Oliver noted that, before Sayoc was arrested, several conservative pundits were espousing a theory that the mail bombings were being organized by the left as a way to garner sympathy and drum up votes ahead of the midterm elections. Oliver characterized these so-called "false flag" conspiracy theories as "wild speculation" and "truly ludicrous."
The late-night host then played a clip of Fox News correspondent-at-large Geraldo Rivera sharing some of these conspiracy theory sentiments. "At the risk of sounding like a far right-wing lunatic, I have to say that I believe this whole thing was an elaborate hoax," Rivera said.
Oliver appeared both amused and aghast at Rivera's comments, noting, "Yeah, but here's the thing about that: Sounding like a far-right-wing lunatic is not really a risk for the Fox News brand, is it? It's more of a guarantee."
The comedian then indicated that, after Sayoc's arrest, Rivera did take to Twitter to apologize for his theory about the mail bombing attempt, though he did so in a pretty unique way. "Never mind; outsmarted myself in conjuring false flag operation designed to hurt @realDonaldTrump & #GOP ..." Rivera wrote. Oliver found Rivera's use of the term "outsmarted myself" particularly amusing, with the late-night host saying:
Can I just say that "outsmarted myself" is a brilliant way to say that you did something incredibly stupid. ... Wow, I really outsmarted myself this morning when I accidentally ate kitty litter instead of Grape Nuts, I remember thinking as I chewed the clumps. I really am two steps ahead of me.
Oliver wrapped up his package bomb segment by revealing his astonishment that, even after the suspect's arrest, some Trump supporters still readily believe in the false flag theory. The comedian subsequently shared a clip of a Trump supporter suggesting that the suspect may have been paid by progressives to mail the bombs. The late-night then joked that, while he sees some "holes" in the Trump supporter's theory, "we can all agree he really outsmarted Geraldo Rivera."
Oliver clearly has some pretty strong opinions on the conspiracy theories about last week's mail bombing attempts. The comedian certainly made it known that he's not afraid to voice his opinion when it comes to denouncing those who perpetuated — and continue to perpetuate — these false flag theories.