John Podesta Knocks Trump For Tweeting About Him At The G20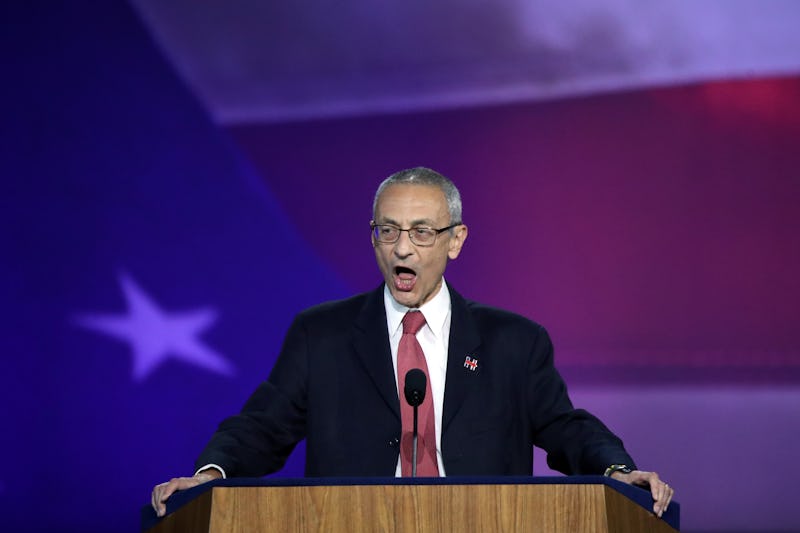 Drew Angerer/Getty Images News/Getty Images
At the annual G20 summit in Germany, President Trump took some time to tweet about John Podesta, Hillary Clinton's former campaign manager. In response, Podesta hit back at Trump in an opinion piece at the Washington Post, asking why Trump was sending tweets instead of, in Podesta's words, "doing his job" as president of the United States.
"Everyone [at the G20] is talking about why John Podesta refused to give the DNC server to the FBI and the CIA," Trump tweeted. "Disgraceful!"
The emails of both Podesta and the Democratic National Committee were hacked and leaked during the 2016 campaign. However, Podesta wasn't a DNC official, so there's no reason to think he had any internal DNC materials in his possession (or, likewise, that he'd be asked to turn such materials over the FBI or CIA).
Officials disputed Trump's claim. One White House aide told the Daily Beast that they "have no idea what he's talking about," while a senior official on the trip said that "Trump himself brought [the subject] up." Nevertheless, Podesta address Trump's claims later in the day Friday.
"On one level, the president's tweet is so obviously wrong and so evidently self-serving that the temptation is simply to ignore it," Podesta wrote at the Post. "But, because he is the president, his words warrant a response."
"First, I had nothing to do with the Democratic National Committee — I chaired Hillary Clinton's presidential campaign," Podesta continued. "So there was no DNC server for me to refuse to give and I was never asked for one. Second, the CIA has no role in domestic intelligence-gathering — in fact, it's prohibited. The CIA would never ask anyone at the DNC for a server. Whether the FBI asked the DNC for access to a server, I don't know, beyond what I've read."
Trump met with Russian President Vladimir Putin during the summit. Although attendees gave conflicting accounts of their discussion, officials from both countries agreed that Trump brought up alleged Russian interference in the U.S. election, and that Putin denied any Russian involvement.
But in his op-ed, Podesta claimed that "the Russians stole my emails," and that this is what Trump should have been focusing on at the summit.
"So the responsible thing for a U.S. president to do, in these circumstances, is to have the backbone to stand up against Russian interference in U.S. democracy — not to question, as Trump did on Thursday, the competence of our own intelligence community and to publicly doubt, once again, the conclusion that Russia was behind the hacking," Podesta said. "One can only hope that Trump made clear to Putin that the United States won't tolerate continued Russian interference in elections, as we've seen in the United States, France and now in Germany and across Europe."
Although U.S. intelligence agencies are in broad agreement that Russia did meddle in the 2016 election, Trump cast doubt on the reliability of that assessment at a press conference Thursday. Trump said that "I think it was Russia" who interfered, but added that "it could have been other people and other countries" as well, and referenced past failures on the part of U.S. intelligence.
"I remember when I was sitting back listening about Iraq, weapons of mass destruction," Trump said. "How everybody was 100% sure that Iraq had weapons of mass destruction. Guess what? That led to one big mess."
Podesta accused Trump of losing focus during the G20, and said that he should "get his head in the game."
"As president, Trump is supposed to be doing his job representing the United States in a respectable fashion to make sure we maintain and enhance our standing around the world," Podesta concluded. "Instead, he has his face glued to his phone. It's really sad that the U.S. president can't get his head in the game even at the G-20 summit of world leaders."