Johnny Galecki Wrote The Sweetest Message To Celebrate 'Big Bang' Costar Kaley Cuoco's Wedding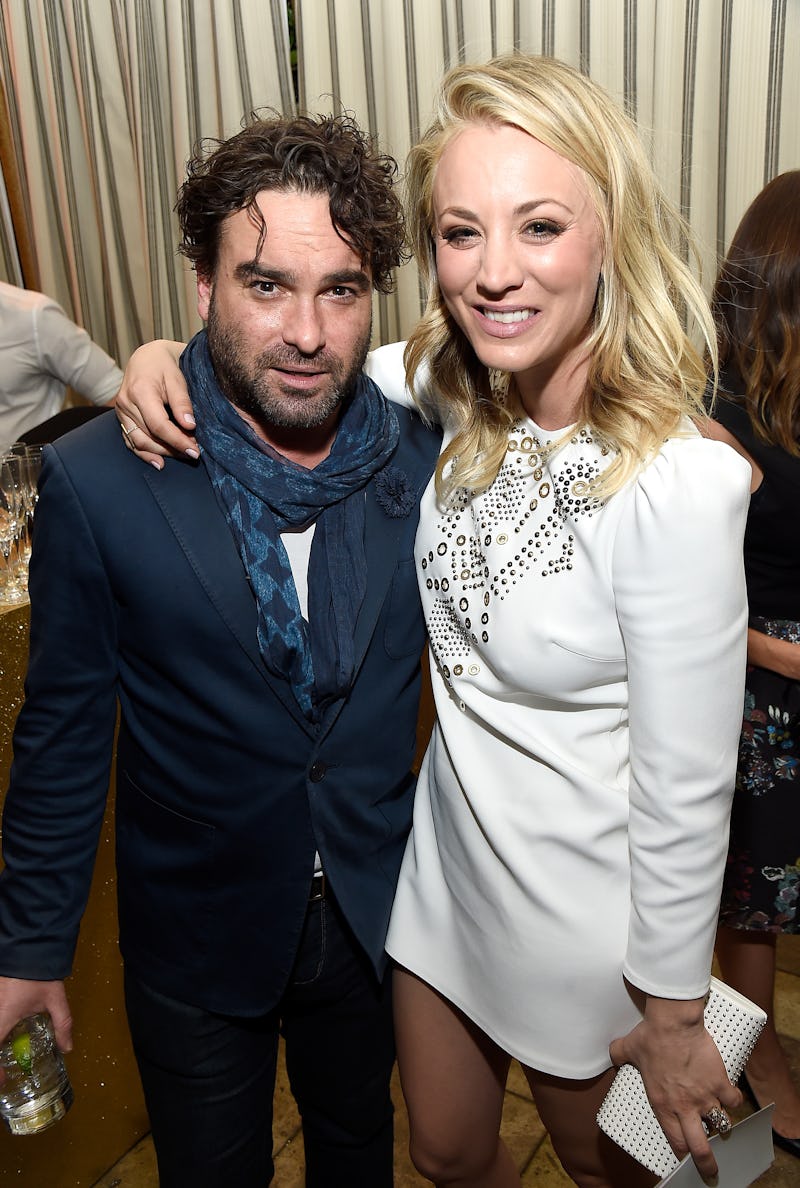 Matt Winkelmeyer/Getty Images Entertainment/Getty Images
On Saturday, Kaley Cuoco got married, and her costars showed up for the big day. Johnny Galecki's wedding message for Cuoco and new husband Karl Cook is sure to make fans of The Big Bang Theory happy. Galecki shared a picture with Cuoco from the reception to Instagram, and the caption of the photo is a nod to their character's stories have on the show.
Galecki wrote:
"Couldn't be happier for my fake wife, Norman Cook, and Karl Cook whose words brought us all to tears last night. So much love for you both."
On the Big Bang Theory, Cuoco plays Penny, who had a long running will-they-won't-they romance with Galecki's character, Leonard. The characters get together for the first time in the third season of the show, and get married in Season 9.
Galecki's message for his on-screen wife is so sweet, and Cuoco's IRL wedding looked just as beautiful as her fake one. According to People, Cuoco tied the knot with her longtime boyfriend, professional equestrian Karl Cook, at a small ceremony and reception at a horse stable in San Diego, California. The actor wore white lace dress with a dramatic cape designed by Reem Acra, and changed into a white jumpsuit by Tadashi Shoji for the reception. The whole day looked beautiful, and Galecki's photo shows him greeting the bride, and these two are clearly besties off screen.
Galecki and Cuoco dated briefly in the early years of filming The Big Bang Theory, but have remained close friends since splitting in 2010. Even though their off-screen relationship didn't work out, both believed their characters would end up together. In an interview with CBS, Cuoco said she felt confident Leonard and Penny were end game. "I do think they're meant to be, but it's gonna be a while from now," Cuoco said. "And I like that they're broken up. Penny needs some other dates."
Leonard and Penny's romance on The Big Bang Theory was one of the show's longest-running stories. While the potential romance was planted during early seasons, the two characters got together and broke up several times before the wedding. In the season where Leonard proposes, Galecki told Huffington Post that it was finally the right time for the characters. "I also love the moment when Leonard says, 'I know I propose a lot,' and then promises that he won't. It's one of my favorite Leonard lines to say," he told the publication. "To put his own desire aside and say, 'You tell me when you're ready, despite what I want in my life right now and with you right now.' That's unconditional, selfless love."
Cuoco's actual proposal was just as romantic. Cook proposed on Cuoco's birthday in November 2017 after two years of dating. Hours before popping the question, Cook teased his then-girlfriend with a fake ring at Target. "On my loves birthday I got her everything she has always wanted….now judging by her face maybe not, it's the thought that counts right," he wrote on Instagram. Of course, a couple hours later he gave an actual proposal, and a video of Cuoco's excited reaction was also posted to his Instagram.
The couple was just as candid about their wedding ceremony and reception, and shared plenty of videos and photos on social media. "Legally KCSQUARED 6-30-18," Cuoco captioned a photo of the couple kissing in the horse stables. She also shared a picture of herself getting ready to walk down the aisle, and warned that plenty more photos of the wedding would be would be posted throughout the week. She wrote:
"I'm apologizing in advance for all the wedding photos you will see in the upcoming week lol I love this shot of Brad Goreski & Daniela Viviana getting me ready in the feed room."
It's clear that Cuoco met her match, and Galecki wasn't the only Big Bang Theory costar to show their support. Simon Helberg, who plays Howard, was also reportedly in attendance. Mayim Bialik, who plays Amy Farrah Fowler, shared a slideshow of photos from the event on her Instagram as well. She wrote: "What a wedding! Hearty and beloved congrats to possibly the happiest couple ever ;) Kaley Cuoco and Karl Cook on their marriage, and for throwing a truly unique and EPIC party!! #kcsquared I know my table had a great time."
The Big Bang Theory has been on the air since 2007, so it's not a surprise that the cast members are close. It's clear they're going to show up to support one another through those major life milestones, and Galecki's message for Cuoco is so sweet. While fans love Leonard and Penny's on-screen romance, their off-screen friendship seems great too.