The Joint Chiefs Don't Take Orders From Twitter & Say All Soldiers Deserve "Respect"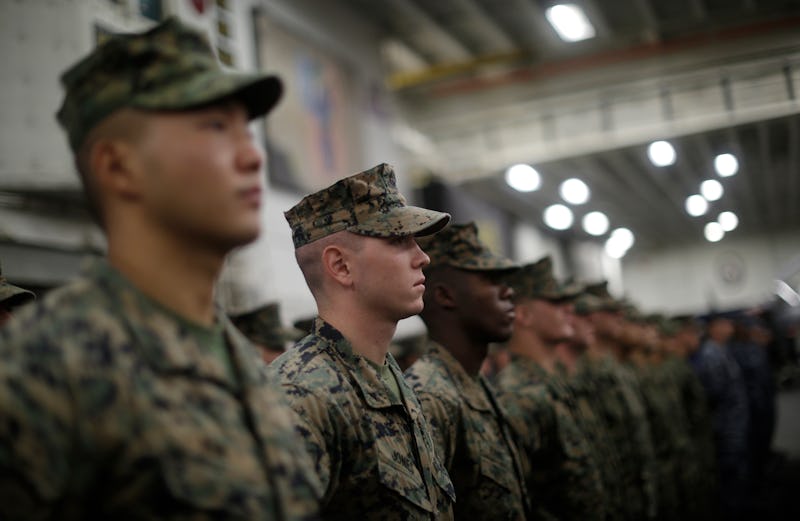 Pool/Getty Images News/Getty Images
Joint Chiefs of Staff Chair Gen. Joseph Dunford announced Thursday there would be "no modifications" to the military's current policy on transgender troops until the president provided a policy directive and Defense Secretary Jim Mattis issued guidance on implementation.
"In the meantime, we will continue to treat all of our personnel with respect," Dunford wrote in a letter to various military leaders, Reuters' foreign policy correspondent Idrees Ali reported. In what appeared to be a nod to the confusion and chaos Trump's tweets had instigated, Dunford also urged military service chiefs, commanders, and senior enlisted leaders to "remain focused on accomplishing our assigned missions."
In a series of tweets that appeared to take the Pentagon by surprise, President Donald Trump announced a ban on transgender people serving in the military Wednesday. In his tweets, Trump argued the military "cannot be burdened with the tremendous medical costs and disruption that transgender in the military would entail."
A study done last year by the RAND Corporation, however, found that the presence of openly transgender people in the military had "little or no impact on unit cohesion, operational effectiveness, or readiness" in the 18 countries that currently allow transgender individuals to serve openly in the military.
Although there is no complete data available regarding the number of transgender service members, in 2016 – before the Obama administration lifted the ban on transgenders serving openly in the military – RAND estimated that roughly 2,450 members of the military's 1.3 million active-component service members were transgender. According to the Associated Press, roughly 250 service members have applied to have their gender changed since the ban on transgenders in the military was lifted.
Chief of Naval Personnel, Vice Admiral Robert Burke, also released a memo Thursday in which he said the secretary of defense "is working to quickly discern the President's intent," adding that transgender service members would continue to receive medical treatment, NBC News reported Thursday. Burke also reportedly emphasized that, "treating service members with dignity and respect is something we expect from our Sailors at all times."
In announcing an end to the ban on transgender people in the U.S. military in June of last year, then-Secretary of Defense Ash Carter said the military needed "to avail ourselves of all talent possible" in order to remain "the finest fighting force" that the world had ever known. "Our mission is to defend this country and we don't want barriers unrelated to a person's qualification to serve preventing us from recruiting or retaining the soldier, sailor, airman or Marine who can best accomplish the mission," he said.
As of Thursday, it remained unclear whether — or when — the president would follow up his tweets with an actual policy directive banning transgender people from serving in the military. It was also unclear what that ban might look like and how it might be implemented in regard to the transgender individuals who already serve in the military.