An Instagram Troll Called Jonathan Van Ness "The Guy In The Dress" & His Response Was Epic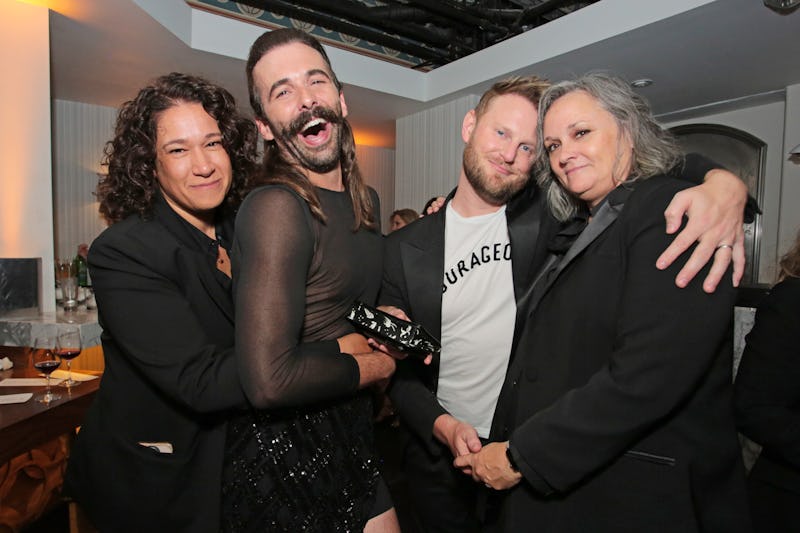 Rachel Murray/Getty Images Entertainment/Getty Images
Queer Eye's resident fashion expert fielded some distinctly hurtful comments on Instagram Sunday night after posting some photos from the Creative Arts Emmys red carpet, where he stunned in a floor-length gown. But, unsurprisingly, Jonathan Van Ness' response to an IG user who called him "the guy in the dress" was powerfully spot-on, and managed to advocate not only for himself, but also for folks in the trans community who likely deal with this sort of ignorance all the time.
Queer Eye snagged three awards at the Creative Arts Emmys Sunday, Sept. 9. And to commemorate the occasion, stars of the super-successful reality show reboot (Van Ness included) took to Instagram to share some photos from the evening's red carpet. "I got a date," wrote Van Ness, captioning a sweet photo of himself and boyfriend Wilco Froneman. In the picture, Froneman dons a dapper suit while Van Ness shines in a slinky, sheer-black gown that is truly to die for.
A quick scroll through the post's comments section reveals pretty plainly that most fans who caught a glimpse of Van Ness' searing red carpet look were rightfully supportive — of the outfit, the occasion, and the good-looking guy on his arm. Still, there were a handful of comments that seemed to take issue with Van Ness' style choice.
"The guy in the dress looks like the villain in despicable me 3," wrote one Instagram user, commenting on the snapshot of Van Ness posing alongside Froneman, as reported by BuzzFeed. In the aftermath of that user's rude comment and Van Ness' triumphant retort, their exchange was re-posted by the Instagram account, @commentsbycelebs. So, those who'd rather not scroll through the original post's increasingly lengthy comments thread still have an opportunity to witness Van Ness' empowering clapback elsewhere.
Now, any media consumer worth their salt could easily tell you that the pair's red carpet photo was pretty objectively stunning, courtesy of both Van Ness and Froneman's respectively swanky ensembles, as well as their exceedingly swoon-worthy couples demeanor. (They're holding hands! And smiling sweetly! On the Emmys red carpet!) So it must have been frustrating — and probably reasonably hurtful, too — for Van Ness and his beau to read such a surly, senseless critique, especially coming from a stranger on the internet.
Thankfully, if his extraordinary comeback is any indication, it sounds like Van Ness is duly aware of his own penchant for show-stopping, on the Emmys carpet and beyond. Van Ness fired back with a zinger that should go down in clapback history. "I look f*cking stunning and my name is Jonathan," he wrote in a direct reply to the user. He then referred to the user as a "snap chat filter using on your insta tiny circle private profile having self." Of course, the reality star — and fashion icon to boot — emerged from the exchange totally victorious.
Just for the record, Van Ness did look entirely stunning in each and every photo that made its way onto social media Sunday evening. And it's important that he knows it, too. That said, after the tense back-and-forth was reposted, Van Ness took to the new post's comments section to share some more serious thoughts on the negative responses to his Emmys outfit, and why they're so inappropriate.
Seemingly referring to the handful of IG users who continued to write insulting comments about his gown and his retort even after it was picked up by @commentsbycelebs, Van Ness didn't mince words. "Also, I love all these transphobic comments in here," he wrote sardonically in the repost's comments section. And, in case it was unclear before why exactly the "guy wearing a dress" comment felt so insulting, Van Ness set the record straight here. "'The guy in a dress' is insulting and ... anyone that doesn't see the implications is blind," he wrote.
Hopefully, folks on the internet will take note of Van Ness' comeback (and the more thorough explanation that followed), and think twice about what they're really saying — and who it might hurt — before posting an offensive comment in the future.