Jordan Doesn't Want 'Bachelor In Paradise' Fans To Bash Jenna Over The Cheating Allegations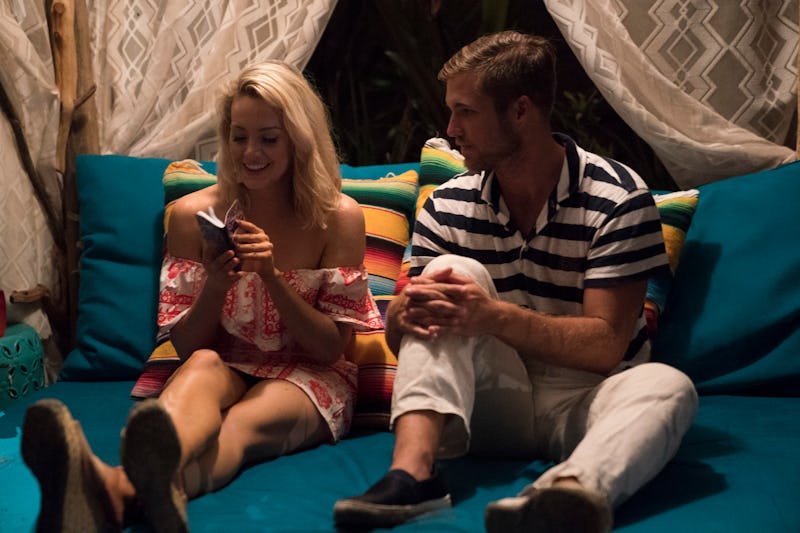 ABC/Paul Hebert
Bachelor Nation was rocked by news of Jordan and Jenna's split, which occurred on Wednesday, Sept. 12, just a day after their romantic proposal aired on Bachelor in Paradise on Tuesday, Sept. 11. Later on Wednesday night, Jordan appeared on Bachelor blogger Reality Steve's podcast to address the cheating allegations against his former fiancé and ask fans not to bash Jenna. (Bustle reached out to Jenna regarding Jordan's comments in the interview, but did not receive an immediate response.)
Reality Steve owner Stephen Carbone interviewed Jordan on the podcast; Carbone noted was recorded on Wednesday, Sept. 12, the same day it was posted on the reality TV show website. Jordan and Carbone discussed the cheating allegations at length, but Jordan emphasized most of all that he didn't want Jenna to be "attacked" over the situation.
"I want her to know that I'm not against her," Jordan told Carbone on the podcast episode during the 40-minute interview. "I think everyone should know I'm not against her. I think it's awful that she's getting attacked by America right now. I don't think anyone deserves that."
Throughout the podcast interview, Jordan discusses with Carbone the validity of the text messages, which were first posted about on Carbone's website. On Tuesday afternoon, Reality Steve published images of text messages that were allegedly between Jenna and another man who was not Jordan. According to the report, Jenna allegedly met the other man before Paradise and she resumed seeing him after her tenure on Paradise ended.
One of the text screenshots, which the man claimed was from Jenna, stated, "Me and Jordan aren't together for real. I don't even like him let alone love him."
Earlier on Sept. 12, Jenna denied the cheating allegations in a lengthy Instagram post, in which she claims the text messages posted by Reality Steve are fake. She wrote:
I want to start by saying those texts were completely fabricated, and I never sent them to anyone. I did not cheat on Jordan, and I have nothing to hide. I have been extremely open and vulnerable throughout this whole process. I was looking for love, and I found it. I was excited to share this journey with all of you. I am hurt by these fake texts, and that anyone would believe this story so quickly without proof. I have an attorney helping me investigate this hurtful and fraudulent attack on my character. We are evaluating all legal remedies available to punish those responsible.
At the time of the post, Bustle reached out to Jordan for comment on Jenna's claim that the texts were fake. On Sept. 11, Jordan told People that he believed the texts were real: "I know my Jenna, and I read those texts and in my heart, I know it's her. She was saying she didn't do it, but hinting towards the fact that there's a possibility that it happened. In all reality, I don't expect her to own it."
Jordan confirmed to Entertainment Weekly on earlier on Wednesday that he and Jenna had broken up. During the Reality Steve interview, Jordan said again that he did believe the text messages were real. He also emphasized several times that his decision to break up with Jenna went beyond just the three text messages that were posted on the website.
Carbone and Jordan also discussed an unnamed friend of Jenna who reportedly came forward to say the text messages were real — but so was Jordan's relationship with Jenna. Carbone explained that the unnamed friend claimed that Jenna's relationship with the other man may have had more to do with her business. (Bustle reached out to Jenna regarding the reported friend claims in the interview, but did not receive an immediate response.)
Carbone and Jordan also discussed that Jordan will be meeting up with Jenna in a few weeks — but according to Jordan's comments, a reconciliation may not happen. "I'm here for her, I'm definitely here for her," Jordan said during the podcast interview, before adding an audible sigh. "Knowing what I know and reading what I read and feeling what I feel, I mean, I can't say. It's not the most interesting thought to myself right now."
And sadly, it sounds like it just might be the end for this Bachelor Nation couple.