Josh Hutcherson's New Show Is Going To Shake 'Hunger Games' Fans To Their Core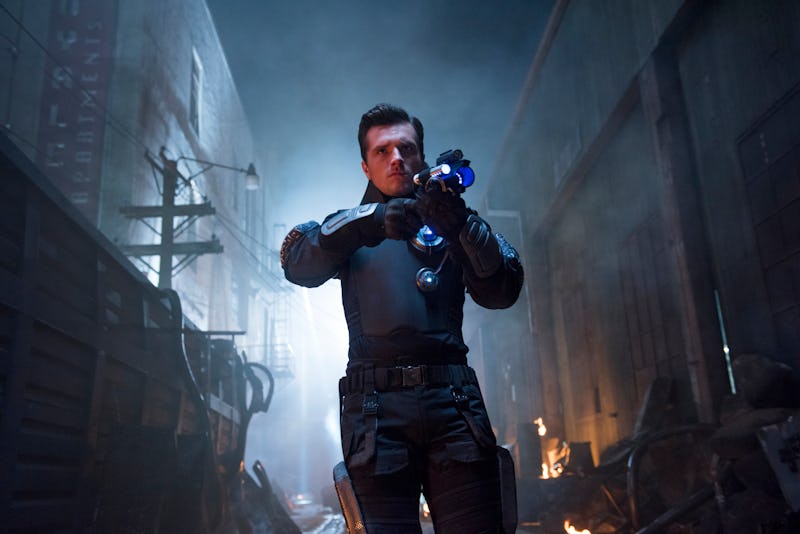 Brandon Hickman/Hulu
The one-time Peeta Malark has a new series, and it involves a whole lot more, um, let's just call it spunk than any of his past projects. Future Man stars Hutcherson as a janitor and big time gamer who gets roped into helping two video game-esque warriors save the future of the human race. And that's only the premise. The Hulu series comes from the minds of creators Kyle Hunter and Ariel Shaffir (the dudes who brought you Sausage Party) along with Executive Producer and director Seth Rogen, so things are also going to get super, super raunchy on Hutcherson's new Hulu show.
"I ejaculate. On camera," he says, trailing off with a hint of hesitation in his voice, during a roundtable interview at San Diego Comic-Con. It's shocking to see this actor, known for sweet, sincere characters, utter such a stark confession, but then again, he's working with the Sausage Party guys now. "And that's first in a slew of raunchy things that happen [in the show]," he warns with a laugh.
"The show is filthy — it's filthy in a way that's hard to describe," offers Executive Producer Ben Karlin (The Daily Show), during the same round of interviews. "It's upsetting."
And that description might be all too accurate. Shortly after Hutcherson shares his character's first raunchy moment, his co-star Derek Wilson shares some added detail: "It happens on me." As it turns out, he and Eliza Coupe's character both appear to Hutcherson mid, um, moment. This, my friends, is where Hunger Games fans will find Hutcherson next time they see him on the small screen.
But if you're shocked, just know that Hutcherson didn't see himself ending up here either. "It's weird, I always saw myself as a very serious actor," he says, offering that the series has been a good intro to the world of comedy. "I think that because my character is very earnest and humble, he's not trying to make jokes necessarily ... the humor comes from that and I just kind of play it as realistic. And it works out, and it's funny."
As it turns out, this way of playing a character as realistic to garner laughs is why Rogen wanted the former Hunger Games star. Hutcherson has a small role in The Disaster Artist (the Tommy Wiseau semi-biopic that James Franco and Rogen co-produced) and apparently, he wowed Rogen.
"We realized we needed someone who could convey the stakes of it and anchor it and ground it in a world where you felt like these were real people dealing with this situation," says Rogen. "We've made lot of these movies that have these ridiculous elements to them, but we found the thing that makes them funny, is that you treat them as seriously as humanly possible." (Of course, the fact that Hutcherson has what Rogen calls a "Michael J. Fox-ish quality" didn't hurt either.)
Still, for all its "upsetting" humor, Hutcherson is confident that he'll be able to carry his fans from his Hunger Games days along for the ride on this bonkers Hulu series.
"I never stopped and thought about it so I guess that means I'm not worried about it. Or I was just too blind to think that way or something," he says with a laugh. "It's very much a step in a different direction, it's very hard R comedy, and I do some things that I probably shouldn't have done. But regardless I think they'll enjoy it cause it's crazy and it's funny and it's out there."
He speaks confidently, then pauses briefly before adding, "So yeah, fingers crossed."