Jared Kushner's Brother Went To March For Our Lives & Posted A Photo To Prove It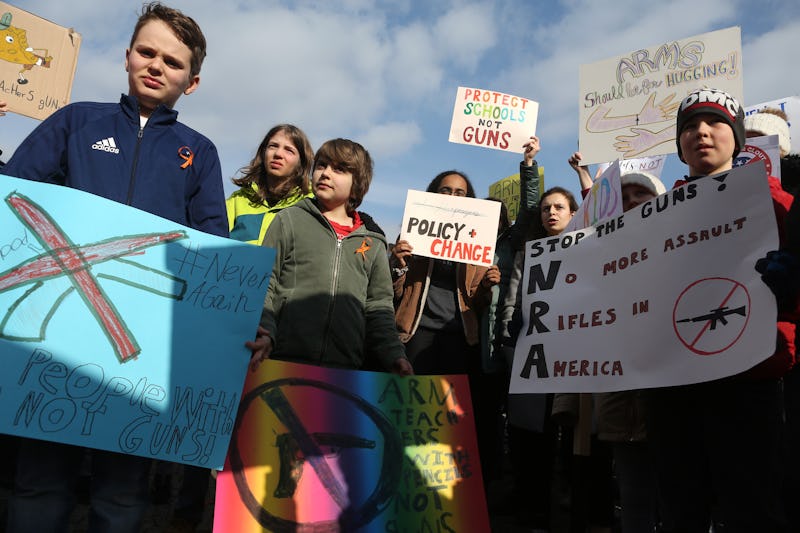 Adam Berry/Getty Images News/Getty Images
It's becoming clearer and clearer that, at least in the realm of politics, brothers Josh and Jared Kushner don't quite see things the same way. Jared Kushner is serving as a top advisor in the Trump White House — whereas his brother Josh Kushner was at the March For Our Lives event against gun violence. Once again, Josh seems to be proving he believes the administration should be doing something different in the fight to end gun violence.
The March For Our Lives, put on by the students of Marjory Stoneman Douglas High School in the aftermath of the shooting that took the lives of 17 people, was an event meant to stand up to a political leadership that has so far done almost nothing to prevent future deaths from gun violence.
It was reported earlier in March that Josh had quietly donated $50,000 to the March, which starkly contrasted with Jared's silence on the issue entirely. Josh then posted a March For Our Lives image on Instagram saying "#IWillMarch," using a caption with the same hashtag.
This made his intentions clear, but then photos at the actual event drove the point home. Josh posted a photo of his longtime girlfriend, model Karlie Kloss, with the hashtag #marchforourlives. Kloss also posted a photo of herself with organizer Delaney Tarr on Instagram, making it clear that she was there as well.
"@DelaneyTarr is one among millions whose lives have been irrevocably changed because of gun violence," Kloss wrote on Instagram, adding the hashtags "#notonemore" and "#marchforourlives".
While Josh apparently attempted to blend in with the crowd a bit more, he was spotted wearing a black jacket and black sunglasses at the March's flagship event in Washington, D.C.
This isn't the first time that Josh has used his presence at an event to subtly take a stand counter to his brother. He showed up at the Women's March right after Trump's inauguration, also in D.C. While he said at the time that he was only "observing" the proceedings, Josh also professes to be a lifelong Democrat and has donated to numerous Democratic causes — much like his brother Jared.
March For Our Lives, however, was explicitly set up as a nonpartisan movement meant only to make the nation's schools safer for the kids who attend them. As the organizers are calling for increased gun control in an effort to prevent gun violence, though, it has found much of its support on the left. The White House issued a statement on the March For Our Lives, saying
We applaud the many courageous young Americans exercising their First Amendment rights today. Keeping our children safe is a top priority of the President's, which is why he urged Congress to pass the Fix NICS and STOP School Violence Acts, and signed them into law. Additionally, on Friday, the Department of Justice issued the rule to ban bump stocks following through on the President's commitment to ban devices that turn legal weapons into illegal machine guns.
However, the March For Our Lives is calling for much stronger action than the White House has yet been willing to take. The March is trying to attach a stigma to the NRA, whereas the White House has still not broken with the NRA on major issues like expanding background checks or raising the minimum age to purchase a gun. Jared has not made his position on gun control clear, either in his capacity as a top White House advisor or as a personal citizen. However, his silence implies his agreement with the administration he serves under.
Josh, on the other hand, serves no such administration — and his presence at the March For Our Lives only reinforces that idea.