James Robart Cleverly Quotes Trump's Own Words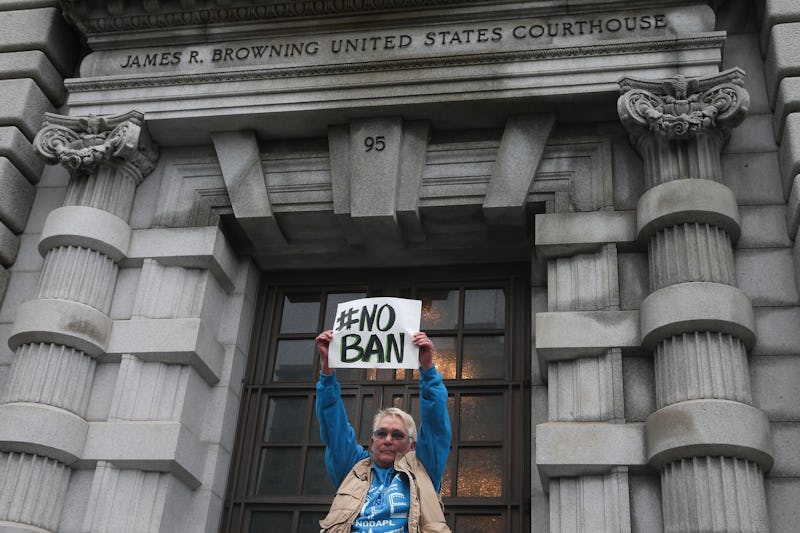 Elijah Nouvelage/Getty Images News/Getty Images
Seattle Federal District Court Judge James Robart already drew the ire of Donald Trump once when he issued one of multiple stays on Trump's executive order banning immigration from seven Muslim-majority countries. It looks like Robart is prepared to do it again with his brave decision to proceed with his hearing on Trump's immigration ban in spite of the new administration's request to postpone the hearing. On top of that, Robart even used Trump's own words against him in the process.
The Trump administration's Feb. 13 request for postponement came on the heels of a three-judge panel's refusal to reinstate the ban (which appears to be what prompted Trump's "SEE YOU IN COURT" tweet). Following that decision, however, an anonymous 9th Circuit Court judge requested an "en banc" review of the case, meaning all 11 judges in that court district must decide whether or not to hear the case again. It was after this anonymous "en banc" request that the Trump administration requested the delay from Robart until the 9th Circuit rehears the case.
During the Department of Justice's postponement argument, Robart pretty hilariously expressed his surprise at the government's request:
I'm a little surprised since the president said he wanted 'to see you in court.'
Robart's courtroom rhetoric during the DOJ's request for postponement and his decision to deny it are excellent: he asked DOJ attorney Michelle Bennett if she was "confident that's the argument you want to make" when she requested the delay in light of the president's "see you in court" tweet, and stated very frankly why he was refusing the administration's request:
I'm not persuaded that call for en banc review by one judge ... ought to interfere with moving this case forward.
Robart's defiant stance is as brave and principled as I would hope anyone who dedicates their life to upholding the law would be. Unfortunately, he may already be getting used to being targeted by the president — about a week after Robart issued his stay on the immigration ban that called the order "unconstitutional," Trump predictably lashed out on Twitter and called him a "so-called judge".
Robart is lambasted with half-baked calls for impeachment from the right and heralded as a hero on the left, and an interest in his life has swelled following his stay on Trump's immigration ban. Though his fifteen minutes will likely be up once the next Trumpian scandal comes along, his decisions to stay the immigration ban and resist the administration's efforts to delay it in court are welcome news in this political climate.