A Judge Has Thrown Out The Conviction Of The Woman Who Laughed At Jeff Sessions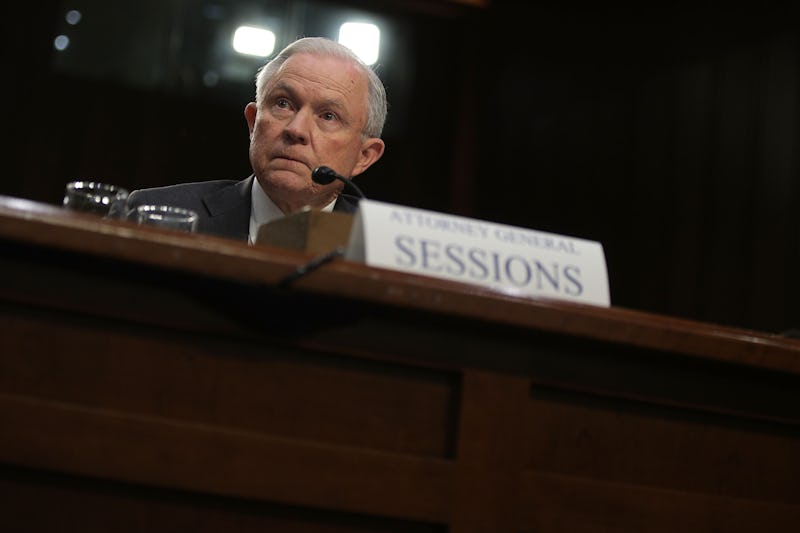 Alex Wong/Getty Images News/Getty Images
Rather than sentence a woman to jail time for laughing during Attorney General Jeff Sessions' Senate confirmation hearing, a D.C. Superior Court judge threw out the woman's jury conviction of disorderly, disruptive conduct and ordered a new trial Friday. In tossing out the jury's conviction, Chief Judge Robert E. Morin dismissed government prosecutors' argument that laughter was enough to justify criminal charges. A new court date has reportedly been set for Sept. 1.
Code Pink protester Desiree Fairooz, 61, was arrested in January after a rookie Capitol police officer forcibly removed her from a Senate Judiciary Committee hearing for laughing at Sen. Richard Shelby's claim Sessions' history of "treating all Americans equally under the law is clear and well-documented." In May, a jury convicted Fairooz of disorderly, disruptive conduct and obstructing passage on U.S. Capitol grounds, charges that can carry a sentence of up to a year of jail time and a maximum fine of $2,000, according to NPR.
In a statement released through Code Pink shortly after her conviction, Fairooz called her arrest "petty, provocative and a wasteful use of citizen tax dollars." She went on to say both Capitol Police and the Department of Justice never should have pursued their case against her.
Unsurprisingly, Kimberly Paschall, an attorney representing the government, pushed for the jury's conviction to be upheld Friday. In court documents that the Huffington Post reports were filed ahead of Fairooz's sentencing, Paschall had argued "the defendant engaged in disorderly or disruptive conduct when she loudly laughed at Senator Shelby's comments" and the jury's guilty conviction should be upheld as jurors "could reasonably infer that the laugh was a deliberate disruption."
In the end, Judge Morin sided with Fairooz and tossed out the jury's guilt conviction on the grounds the government had wrongly argued a laugh was sufficient enough to not only warrant criminal charges but see the case put before a jury. "The court is concerned about the government's theory," Judge Morin said, per Huffington Post reporter Ryan J. Reilly. Morin also reportedly said laughter "would not be sufficient" to have the case brought before a jury.
But Fairooz reportedly appeared unsatisfied with Judge Morin's decision to order a new trial. "It's absurd," Fairooz said as she left the courthouse Friday, acording to Code Pink. "This is a waste of everyone's time and a waste of tens of thousands of dollars in taxpayers money. The only thing more ridiculous than being tried for laughing, is being tried twice for laughing."
Fairooz is scheduled to return to court on Sept. 1.