Julia Louis-Dreyfus Is The Proudest Mom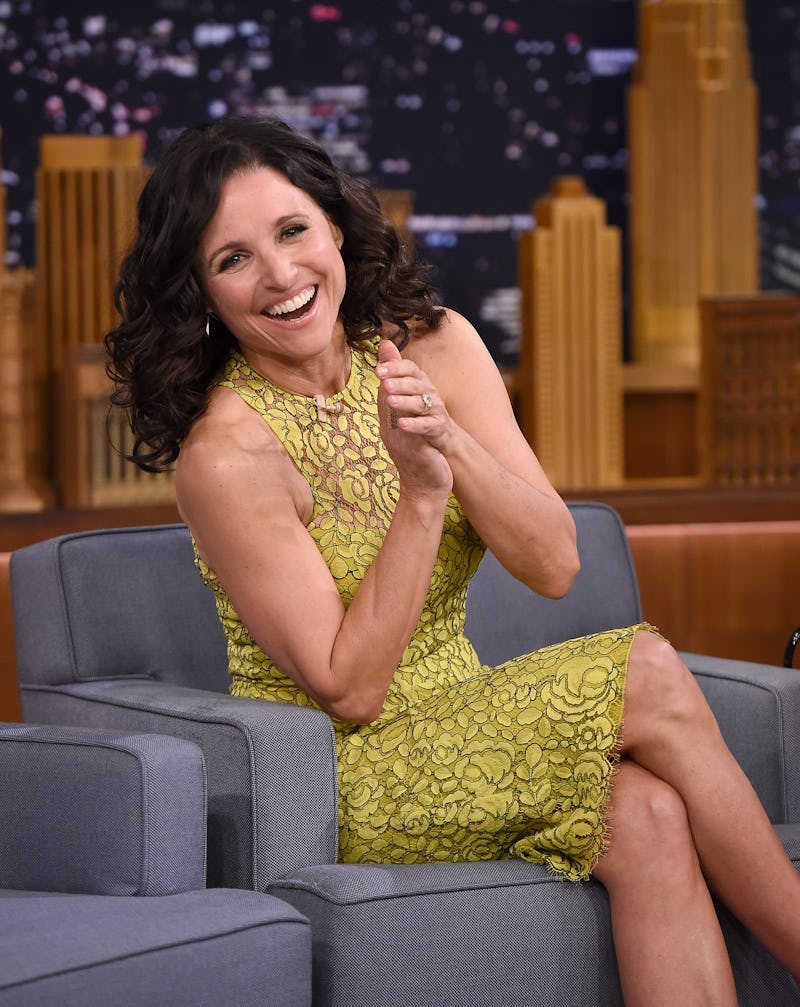 Jamie McCarthy/NBC/Getty Images Entertainment/Getty Images
When she isn't busy being a super talented comedian, stealing every show she's ever starred on, and winning all of the awards, Julia Louis-Dreyfus is cheering on her son at his college basketball games. Based on video footage of her watching her son, Charlie Hall, getting to play for Northwestern against Rutgers during the Big Ten Tournament Thursday, she is the cutest mom ever.
I'm sure there is nothing quite like seeing your children succeed and doing something that they love, but what made Hall's moment better is that he doesn't play that much since he is a walk-on, someone who tries out for a team without being recruited or awarded a scholarship.
So when Hall entered the game with only a little over a minute to go, Louis-Dreyfus and her husband, Brad Hall, couldn't help but stand up and cheer. The Veep star also acted like a typical mom by pulling out her phone, where I assume she was snapping photos and videos of her son.
In January, Louis-Dreyfus told the Chicago Tribune how much she loves watching her son play. "We think he is outstanding in every regard. We're his biggest fans." She also said, "We do not miss a game — either physically or on TV — and we have BTN2GO on our phones. It's just a matter of our production schedule. If we can be there, we are." What makes them even prouder is that Hall is going to Northwestern, their alma-mater.
The way his parents react to seeing him put in the game is definitely understandable. It's also always nice to see celebrities outside of TV or a red carpet event in an everyday environment. You may think the former Seinfeld actor is pure comedy 100 percent of the time, but she's definitely not. She's also a proud mom.
According to the Chicago Tribune, Hall has not scored for Northwestern in two years and that didn't change during Thursday's game; although, he did get two rebounds during his short amount of time on the court. His team also beat Rutgers, but the win didn't go without some judgment. At the end of the game, rather than passing the ball to Hall for him to try and score, his teammate, Nate Taphorn, got the ball, shot, and scored a 3-pointer.
This resulted in a hilarious interview from Hall in the locker room after the game. He interviewed Taphorn and didn't ignore his final move. "Taphorn, after the game we heard a lot of people calling you 'selfish' for a play that happened near the end. Can you describe what was going on?" Hall jokingly asked. Taphorn replied, "Well, I want to deeply apologize for what happened." Hall then jabbed, "Do you think that a sorry makes it OK?"
Just take my word for it that the interview will make you laugh and is proof that Hall definitely inherited his mom's personality. You just really need to watch the entire thing, in addition to the second part, which you can watch here. I'm pretty sure he also has a future in front of the camera in some capacity.
As you may have already guessed, Louis-Dreyfus has retweeted several tweets of her son's post-game interview proving once again that she is and will forever be a proud mom.