Julia Roberts Just Revealed Whether She'll Ever Cameo Alongside Her Niece Emma In 'AHS'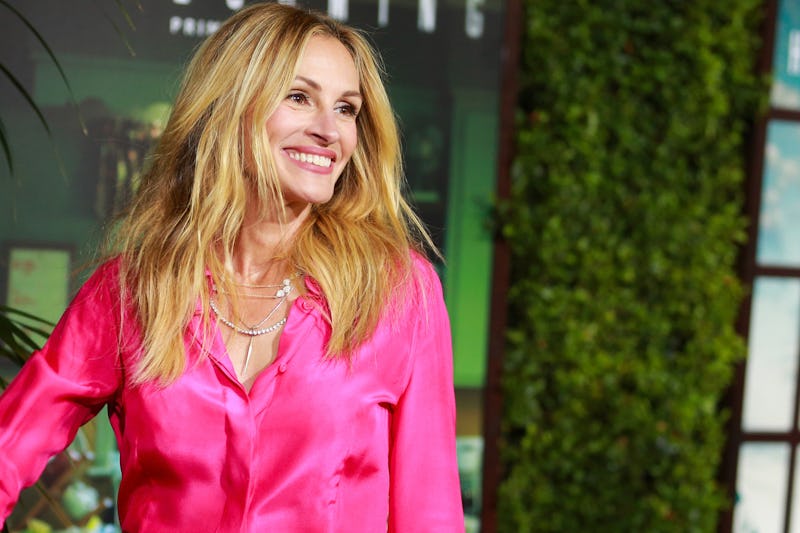 Rich Fury/Getty Images Entertainment/Getty Images
Her good friend Ryan Murphy is the brains behind the acclaimed series and her own niece stars in it. Still, Julia Roberts doesn't want to be in American Horror Story. Her reasoning, both hilarious and relatable, may not be what you think. The Oscar-winning actor explained to Entertainment Weekly on Oct. 30 why the hit FX series just isn't in the cards for her... not now, not ever.
As Roberts sees it, there are two types of people in the world: "people that like to be scared and people who don't like to be scared." And as she explained to EW, she knowingly falls in the latter group. While Roberts has proved she's a jack of all trades over the span of her 30-year career, the horror genre is simply not for her. In fact, she's been kind of scared of the series ever since it premiered in 2011.
She explained, "The first season of American Horror Story came out and the way that I took my kids to school then, there was a traffic light that I always hit red and there was a poster for American Horror Story right at that traffic light." She immediately called co-creator Ryan Murphy, who also directed her in Eat Pray Love (2010) and The Normal Heart (2014), and got a pretty amazing response from him.
"I said, 'I'm just going to tell you right now — I don't think I can watch your show. I can't support you. I don't think I can do it,'" she recalled. Murphy not only understood, but reinforced her worry. "He goes, 'Lady, you won't get through the commercial.'" But of course, there were no hard feelings. "Okay, that's a good friend. Someone who really knows me and so of course I would never watch that," she said.
Roberts, who's close with her 27-year-old niece Emma, is there to support her role in the show as well. But only in spirit, of course. "I say, 'Emma, sweetheart, I don't think I can watch this show that you're in,'" she recalled. "She goes, 'Auntie, I was in this toy box at the end of this bed and they pulled my arm off.' I go, 'Okay. You just have to stop talking. I can't handle it.'"
She may love her niece and her dear friend, but yeah, it sounds like she definitely doesn't love their show. "That is off the table for me," she told EW. And the actor stands by her word. Roberts' repertoire is practically immeasurable, but from the 60+ projects she's appeared in, none are truly of the horror genre. Perhaps some of the closest in tone are films like the 1991 thriller Sleeping With the Enemy and 2015's crime drama Secret in Their Eyes.
Still, she's done just fine. Roberts has portrayed iconic roles in dramas like Steel Magnolias (1989) and Stepmom (1998) and romantic-comedies like Pretty Woman (1990) and My Best Friend's Wedding (1997). In 2011, she won the Oscar and Golden Globe for Best Actress for her leading role in Erin Brockovich. It's good to be Julia Roberts. Just not when there's an AHS billboard nearby.