Here's Why People Are Frustrated With Disney Over The Casting Of Its First Major Gay Character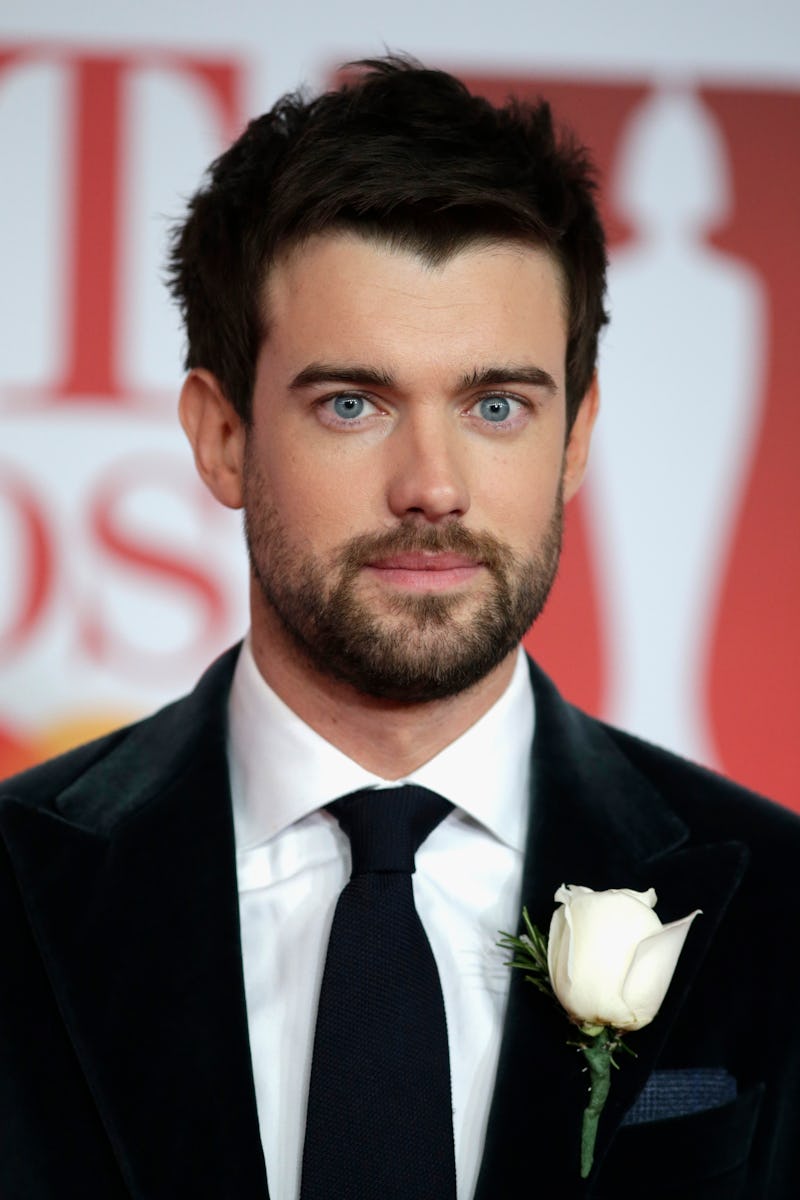 John Phillips/Getty Images Entertainment/Getty Images
In a milestone that defines the term bittersweet, Disney cast a straight actor as its first openly gay character in Jungle Cruise, according to a new report. As reported by The Sun, British comedian Jack Whitehall has been cast to play an openly gay man in the upcoming film. The only problem? Whitehall reportedly identifies as straight, meaning this announcement can feel to some like only half a victory. Bustle reached out to Whitehall for comment, but had not received a reply at time of publication.
According to the blurb already up on IMDb, Jungle Cruise is based on the Disneyland ride of the same name, "where a small riverboat takes a group of travelers through a jungle filled with dangerous animals and reptiles, but with a supernatural element." Dwayne "The Rock" Johnson and Emily Blunt have long been cast in the feature — they've even already started promoting it — and while Whitehall's character name has yet to be revealed, he'll reportedly play the brother to Blunt. Whitehall has confirmed his involvement in the film, but the details of his character have yet to be confirmed by either the actor or Disney.
According to an anonymous source who spoke to UK paper The Sun, Whitehall will be "playing a gay man," his character will be "hugely effete, very camp and very funny." ("Effete," by the way, has an archaic definition as "effeminate," but these days is more commonly used to mean "affected, overrefined, and ineffectual" — just in case you didn't have your dictionary handy.) In a lot of ways, these adjectives make Whitehall sound uniquely suited to the role — as a comic, he'll have no trouble bringing levity to the character.
But when it comes to the element of his sexuality, the 30-year-old will reportedly have significantly less to draw on. Though it's unclear whether Whitehall has ever explicitly stated his sexual orientation, reports have tied him to actor Gemma Chan and singer Dua Lipa, and many media sites reporting this recent casting news have identified him as straight. And as The Independent points out, actors play roles outside their own experience all the time, so why should this situation be any different? However, many fans, even those who enjoy Whitehall's work, see the casting as a missed opportunity — one that they have no problem pointing out on social media.
Most fans online seem to agree that it's wonderful that Disney is reportedly finally — finally! — using their platform to give some visibility to a queer character. That's an opportunity taken. But, if the report is true, it seems the opportunity to give the visibility to a gay actor in addition to a gay character did unfortunately slip through their fingers. And that part is a real bummer, no matter how well-suited Whitehall is for the role. And to be clear, no one is challenging that aspect. People aren't upset by Whitehall's casting, so much as the over-arching inequality it reflects in terms of what roles LGBTQ actors are limited to, and straight actors are not.
Amidst all the important conversations that are being had over this casting decision, it's hard to find a tweet that better expresses the bittersweet nature of this casting better than this one from James Barr. The actor and podcaster wrote, in part:
"It's not that it's a problem to cast a fantastic straight ally to play a gay role, it's that there are so many gay actors that are under represented in all sorts of roles across the board... and so I think that this is, fantastic, but also a bit sad."
Yup. That's exactly it. So much of this report is incredibly exciting, but fans' enjoyment is tempered by the casting. Not because of Whitehall, but because of Disney. If The Sun's report is accurate, it seems inevitable that there will be some dissent among fans about whether this is good news or just OK news.
The reality is that it falls somewhere in between, so let's take this as an encouragement to do better in the future, and don't let up on the pressure to keep elevating diverse voices.