'black-ish' Exposed An Uncomfortable Truth About Racism & Modern Education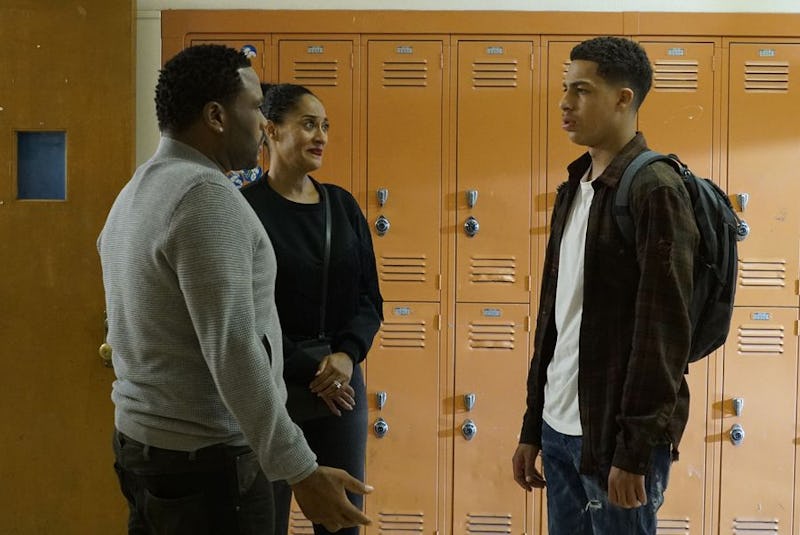 ABC
Every so often, black-ish turns its sights on the privilege of the Johnson family, and the way Bow and Dre have, perhaps, made their kids a little bit spoiled and sheltered in hopes of spurring them to succeed and have everything that they missed out on growing up. Junior is expelled from private school on black-ish, for getting into a fight about a missing chain that gave him the edge he desperately needed to fit in with his classmates. Dre and Pops tell Junior to get his chain back at any cost, but when Junior actually gets in a serious enough fight to justify his expulsion — he breaks a kid's jaw — he has to face the consequences. Unable to get admitted to another fancy private school, Junior has to go to public school. And that gives black-ish a chance to educate its audience about racially charged social issue: school segregation.
After the opening scenes, the episode relies on a higher-than-normal amount of voiceover from Dre, who helps explain how the Johnsons go from trying to find another private school that will accept their son to realizing that sending him to public school might be their only option. Private institutions don't have to give any student a chance, let alone one who got violent with another student. As the Johnsons wonder about what they should do for their son, one of black-ish's signature animated lessons gives a short explanation of public school history in the United States, how discrimination has impacted the education of black students, and how the current level of segregation in American public schools is actually greater than in 1968 — something that some of the show's "bubble"-dwelling viewers might not have known before the handy Dre voiceover breaks it down.
A half-hour comedy can only give a relatively short, and therefore not-totally-thorough take on the subject matter, but black-ish does manage to introduce several big, important points, mainly about how segregation in education is a modern problem, even though it was the life's work of Supreme Court Justice Thurgood Marshall, who began serving in the '60s. Journalist Nikole Hannah Jones recently won a MacArthur Genius Grant in part because of her outstanding New York Times Magazine story "Choosing a School for My Daughter in a Segregated City," which used very thorough reporting to help explain the story of Jones' conflict deciding what school — and what type of school — would be best for her daughter while knowing, as a result of her own work, that "bad" schools are often filled disproportionately with black students like her daughter.
And while the narration explains how "white flight" has led to schools being abandoned after "too many" black families move to an area, Pops yells at Bow and Dre for their "black flight," choosing to send their kids to private school even though they also choose to live in a mostly-white neighborhood where they experience daily microaggressions. What is the sense in moving somewhere they're frequently told that they are different, without taking full advantage of the heavily-resourced local school?
Ultimately, the Johnsons' ethical quandry comes to an end thanks to Junior's effervescent, nerdy personality: while he comes in contact with lots of scary stereotypes (a joke about a teenage girl having five kids arguably goes too far for a weak punchline), he also meets other kids who are just like him. His first encounter at his new school is with other black nerds whose parents take them to Harry Potter World. Ultimately, for a kid who's so academically adept but socially inept, Junior will have a chance at this public school to connect with more kids like him. For his parents, though, the larger issue is how their own choices for their kids can contribute to a decades-old problem.