These 'Jurassic World 2' Set Photos Look Epic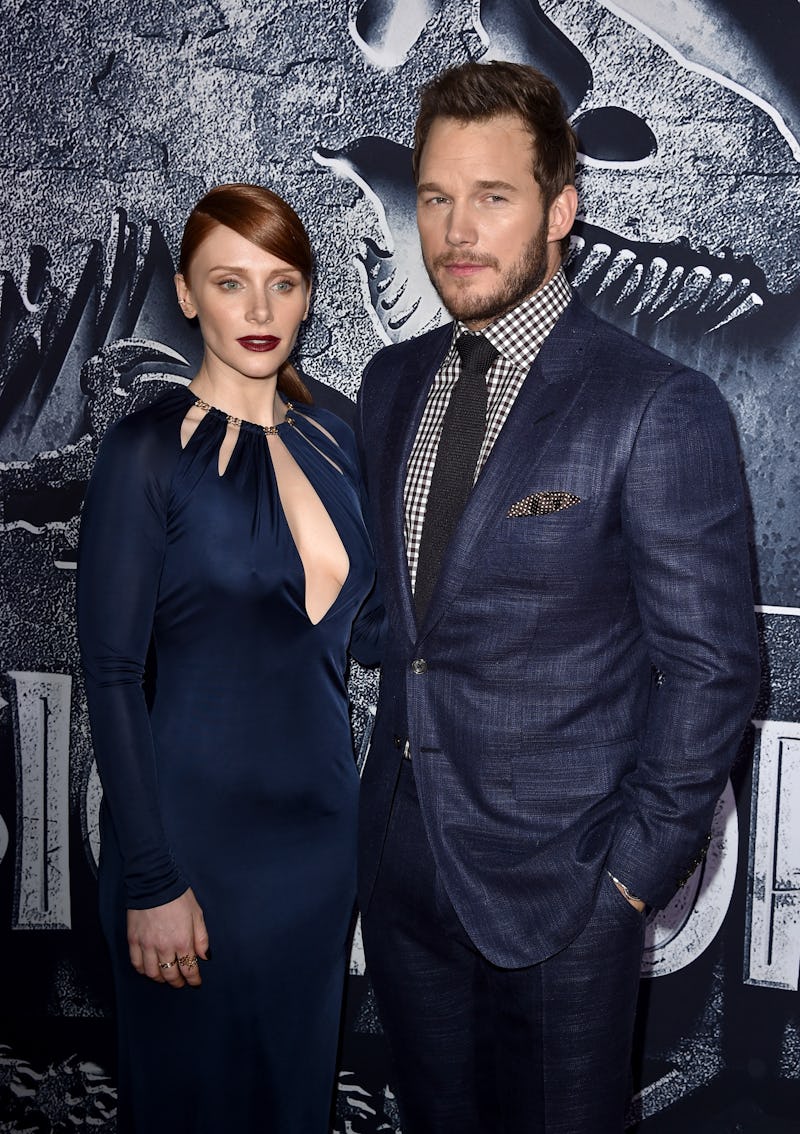 Kevin Winter/Getty Images Entertainment/Getty Images
You know the drill — if you want to attend the opening night of a big blockbuster, you've got to buy your tickets in advance. And the sequel to the mega-popular Jurassic World, the title of which was recently revealed to be Jurassic World: Fallen Kingdom, will likely be one of those movies. Although not much is currently known about the upcoming film, new Jurassic World 2 set photos of Chris Pratt and Bryce Dallas Howard shooting a scene on a beach look all kinds of epic. They'll probably make you wish you could secure your movie tickets already.
The photos were snapped in Oahu, Hawaii, on Friday, July 7, according to the Daily Mail, and the shots have gotten fans of the Jurassic Park films quite excited. It's been rumored that Fallen Kingdom will feature an underwater action sequence that involves a dinosaur attacking a submarine. According to ScreenRant, actor Kevin Lane spilled the news during an interview with Management in Stage and Film. "I read for two parts," Lane explained, "and ended up getting the role of 'submarine pilot', which was the role I wanted as it is quite an epic scene."
Not only do the photos of Pratt and Howard look like they're shooting a pretty awesome beach scene, but if they're indicative of anything related to an underwater scene involving a dino and a submarine, then Fallen Kingdom is absolutely shaping up to be next summer's biggest hit.
Just wow — there aren't enough words to express how intense Pratt's face looks in the picture above.
And in a different photo, you can see Pratt and Howard climbing onto the beach while holding hands, which suggests the chemistry between their two characters is still going strong.
But it isn't all serious work, in another photo Pratt and Howard seem to be making each other laugh. So cute!
Sadly, Jurassic World: Fallen Kingdom doesn't hit theaters until June 22, 2018. However, it's been reported that the filmmakers might release a preview trailer at San Diego Comic-Con later this month. Either way, Fallen Kingdom already looks like a movie fans won't want to miss.