People Are Pissed About This New Character's Tragic Fate On 'Stranger Things' & It's Totally Justified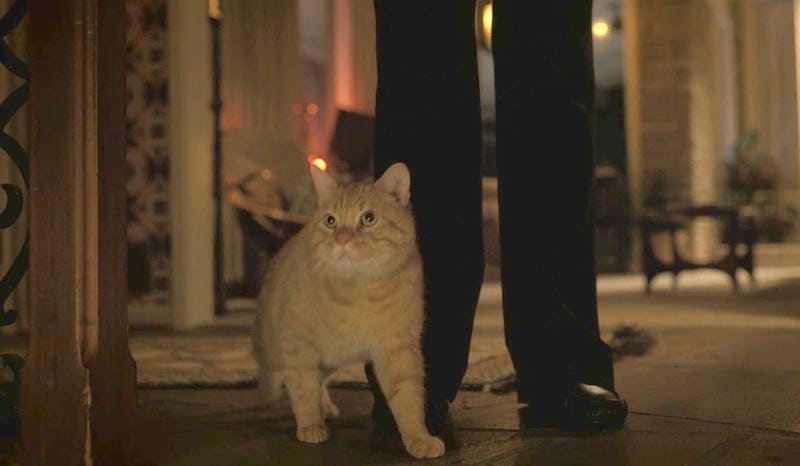 Netflix
Hawkins, Indiana is not kind to its residents. The influence of The Upside Down over the town has been a threat to the safety of the men, women, and children of Hawkins. Spoilers for Season 2. And even cats aren't safe in Stranger Things Season 2. Fans knew after Season 1 that Hawkins was unsafe for mankind, but Season 2 proved that even house pets don't stand a chance against the creatures of The Upside Down. After the sacrifice of Dustin's beloved cat at the hands of Dustin's mysterious new pet, Twitter is calling for "Justice For Mews," hoping that this mammal's death will not be in vain.
Season 2 of Stranger Things provides a more in-depth look into Dustin's home life than ever before. He's an only child raised by a single mother, but these two are far from alone. The Hendersons seems to be a popular pet spot, as the cat Mews and a turtle by the name of Yertle both live in the household with Dustin and his very proud mother. However, when Dustin decides to house a trashcan beast he finds on Halloween night, he soon discovers that his mysterious creature isn't very friendly towards others. The creature eventually decides to make Mews its meal, and fans of the cat aren't happy. Tweets in the wake of Mews' death have ranged from disgusted to angry to downright sad. Here's a sampling:
RIP Mews
If you tuned into Stranger Things Season 2 and thought, "Boy, oh boy, I sure hope I don't have to watch a cat get eaten this season or anything," then you were likely disappointed with at least one plot point. Mews isn't just killed — Mews is seen being feasted upon by Dart, Dustin's newest pet. It's bloody, it's grotesque... it's a little more violence than audiences are comfortable seeing inflicted on animals.
Barb 2.0
Many people on Twitter are pointing out that Stranger Things has a penchant for killing off beloved characters early in the season. In Season 1, Barb's death shook the Stranger Things fanbase but barely registered with the citizens of Hawkins. Similarly, Mews' death will likely go unnoticed by the world. But it is deeply felt in the hearts of Stranger Things fans everywhere.
#NationalCatDay
It's almost an insult that Stranger Things Season 2 released the weekend of National Cat Day. There's nothing worth celebrating about Mews' death.
Thinkin' About That Cat
Randy Havens, who plays Stranger Things science teacher Mr. Clarke, understands the biology of death, but may never understand the senseless tragedy that befell "his boy" Mews. Maybe if Mike hadn't kept Dustin from showing off his new friend to Mr. Clarke, all of this could've been avoided.
No Replacement
While Mrs. Henderson seems to have moved one from Mews' death by the end of the series, some fans aren't happy with the replacement. While Tews can never be exactly what Mews was, that doesn't mean that this new kitty won't be good for the Henderson family. Sure, sometimes the sequel isn't as good as the original, but it can still be great in its own way. It may just be time to give Tews a chance. That's what Mews would've wanted.
What About Yertle?
While Mews' death was graphic and explicit, the season never addresses if Mews' housemate, Yertle The Turtle, suffers a similar fate. The turtle's shell may have protected it from the many sharp teeth of Dart, but even a hard shell might not be enough to fend off a demodog.
The tragedy of Mews is that this cat never really stood a chance. An intruder was brought into its home, and no one realized that this intruder was a threat until it was far too late. In a way, Mews is the ultimate hero of Season 2, sacrificing itself so that Dustin and the gang could know that Dart was capable of killing others. Mews was the superhero of Stranger Things Season 2 all along.