Clues Justin Bieber & Selena Gomez Really Are Back Together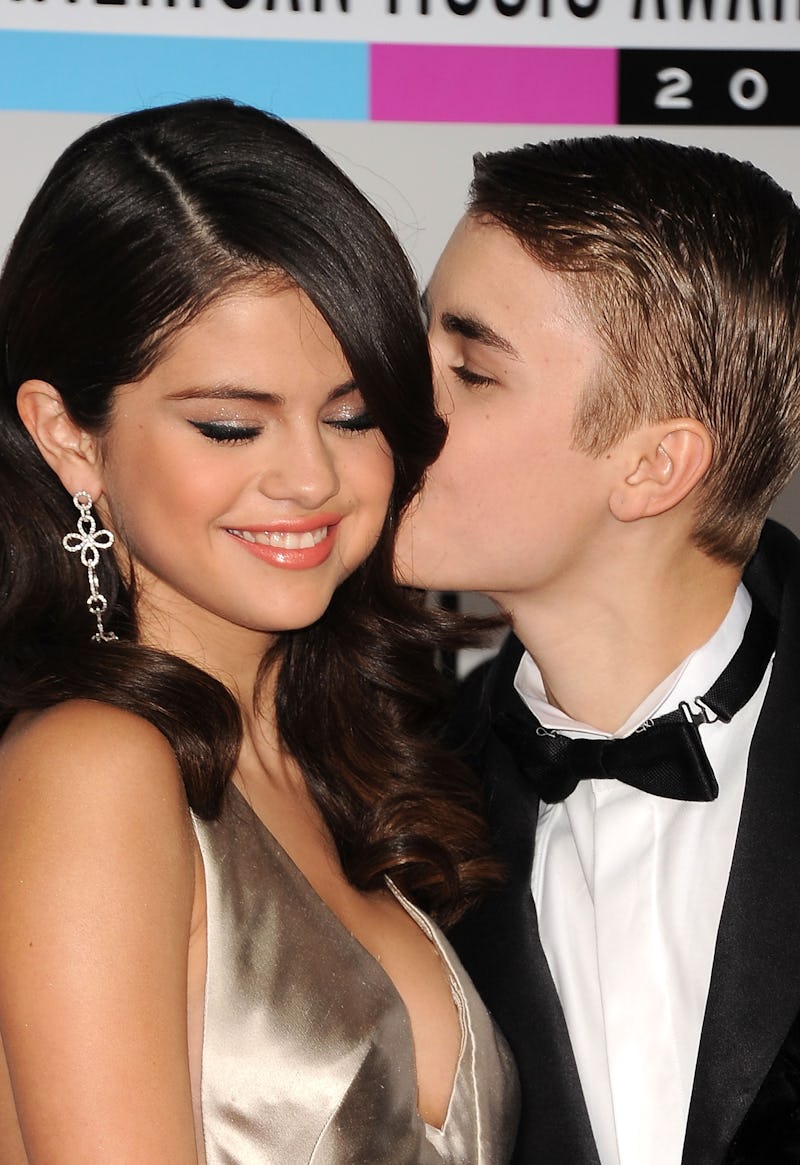 Jason Merritt/TERM/Getty Images Entertainment/Getty Images
It seemed like these two former lovebirds were finally done for good, but now it looks like that's all changing. Justin Bieber and Selena Gomez are officially back together, according to Us Weekly. A source at the publication said that Jelena is back on and that, "Selena and The Weeknd just fizzled and ended amicably — it wasn't dramatic and it wasn't about Justin." TMZ also reports that Gomez and Bieber are "full on back together."
E! News reports a slightly different story. Their source said that the pair "haven't described it as an official couple" and that they're "figuring out" if things will even work. It still sounds as though things are at the very least heading towards a potentially renewed relationship, because even before reports that they are back together came out, the clues were already there that outlined a potential romantic reunion between the pair. (Bustle previously reached out to reps for Gomez and Bieber for comment on dating reports, but did not receive a response.)
So, what are those clues that show that this Jelena reunion was destined to happen? Well, as of late, the pair have given out many signs that they would once again be an official couple.
They Started Talking Again
On Oct. 25, it was reported by Us Weekly that Gomez and Bieber were in touch again following the former Disney actor's recent kidney transplant. A source told the publication, "Justin and Selena recently started speaking ... They realized it was time to grow past their history and move on." Their reconnection was a good clue that there was some kind of reunion in the works for these two, even if it might have been just a friendship-based reunion.
They Grabbed Breakfast & Went To Church Together
Gomez and Bieber were seen grabbing breakfast and attending church together recently. It was definitely a sign that things were going well for the pair's reunion.
Selena & The Weeknd Broke Up
Gomez and Bieber were hanging out even before the split between Gomez and The Weeknd was confirmed, on Oct. 30. When it was announced that these two split, it caused some to wonder whether Gomez's renewed connection with Bieber had anything to do with it. But a source told E!, Bieber "did not play a factor" in Gomez and The Weeknd breaking up. Still, Gomez being once again single would leave room for her to make things official with Bieber, if that is the case.
They Rode Bikes Together
On Nov. 1, it looked as though the two had an especially fun day. They were photographed chatting and riding bikes.
Judging by the photos, they were definitely enjoying being in each other's company.
She Wore His Hockey Jersey
Before there were reports that Jelena was officially back on, the pair was spotted together once again. If you weren't convinced by the other clues that the pair may be back on, these photos are pretty telling. Bieber was playing in a hockey game and Gomez was there to cheer him on. When the pair was seen leaving the game, Gomez was wearing what looks to be the same jersey that Bieber was wearing while he was playing.
The pair still could just be friends, and Bieber could have offered his jersey to Gomez because she was cold, but wearing his jersey definitely seemed like a sign that things were getting romantic between them again.
Bieber Kept The Hope of Jelena Alive
Before any of these more recent signs that the pair was destined to be back together, Bieber spoke out about a reunion way back in November 2015. On The Ellen DeGeneres Show, DeGeneres asked Bieber if he thought that they would ever get back together. Bieber replied, "Maybe. We have a lot of history together so I'm sure the prospect of it could happen." So, he never ruled out the possibility that sparks could once again fly with Gomez. That was one of the best signs that a reunion between the singers would never be totally out of the realm of possibility. It certainly looks like the "prospect" of them getting back together is actually turning out to be a real thing.
Bieber and Gomez really do look happy, as all of the photos that show them hanging out again suggest. And if it is the case that they're more than friends, congrats to them for finding happiness.