How Justin Timberlake Reacted To Learning He Would Be A Father Is Beyond Emotional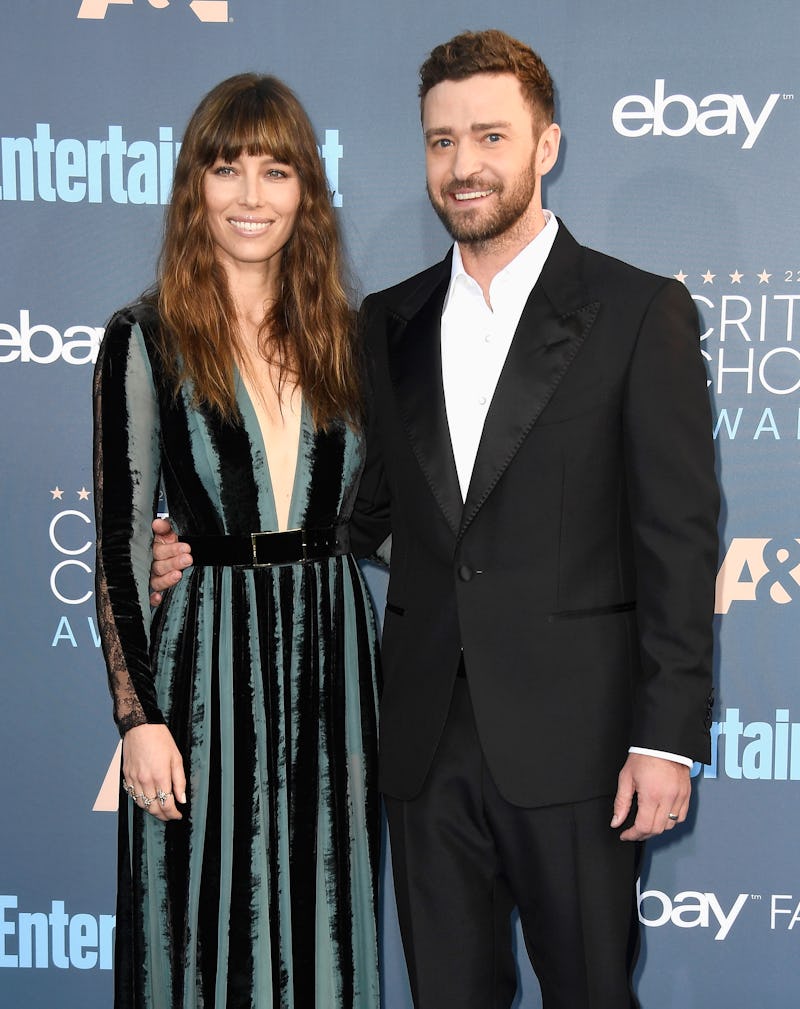 Frazer Harrison/Getty Images Entertainment/Getty Images
Well, this story will probably bring a tear to your eye. Just wait until you hear how Justin Timberlake reacted to Jessica Biel's pregnancy with their now 3-year-old son, Silas. According to E! News, in the singer's new book, Hindsight & All the Things I Can't See in Front of Me, Timberlake opened up about learning he was going to be a father for the first time and what it means to be a dad to Silas. As you can probably imagine, he wrote the sweetest words ever.
As shared by E! News, Timberlake revealed about the first time Biel told him she was pregnant,
"I was on the 20/20 Experience Tour when my life changed forever. I was in Detroit and pulling a week or two by myself because my wife was in Los Angeles, but was coming to visit me in a few days. I had just finished a show, and I go into my car and took my phone out. There was a text from Jess, in all capital letters. It read 'Call Me Now.' I FaceTimed her back immediately."
This is the part that just might make you cry. Timberlake said as soon Biel picked up his call, he knew what she was about to tell him. As he wrote, "She answered with this look on her face, and I knew exactly what she was going to say."
Timberlake continued,
"Instead, she just held up the pregnancy test, and we both started bawling. I ended the tour early so I could be at home and take care of my family."
"My last show was in Las Vegas, on January 2, 2015," he wrote. "Three months later, I was a father." How sweet is that? The Man of the Woods artist was clearly excited to finally become a father.
In the copy of his book obtained by E! News, Timberlake also dived into exactly what it means to him to call Silas his son. Yes, it's affected him in ways he never could've imagined.
"The things I have learned from being a father have been profound," he wrote. "It's made me look at relationships in a new way. It's made me think about who my parents are as people, and how that affected me then and has contributed to who I am now — and how all that might affect my child. It makes me wonder how my son will see me when he grows up. It makes me want to be more thoughtful."
Timberlake's never been shy in sharing how much he loves fatherhood. As you can see in the both Instagrams above shared by the singer and Biel on Father's Day 2017, Timberlake looks at Silas with pure joy and can't help but smile when holding his baby boy.
In June, part of his Instagram about being a dad and celebrating his special day read:
"The last 3 years of my life have brought more joy than I could ever imagine. Being a father is such a trip... an amazing discovery every day. My son: it is my honor to be your Daddy. You make me feel a love that I didn't know existed. I will ALWAYS be there... to pick you up when you fall, to lift you up when you are ready to soar, and to remind you that your humility will be your guide through this thing called life."
It's safe to say Timberlake couldn't be happier than he is right now as Silas' father.