Justin Trudeau Even Kayaks Against Climate Change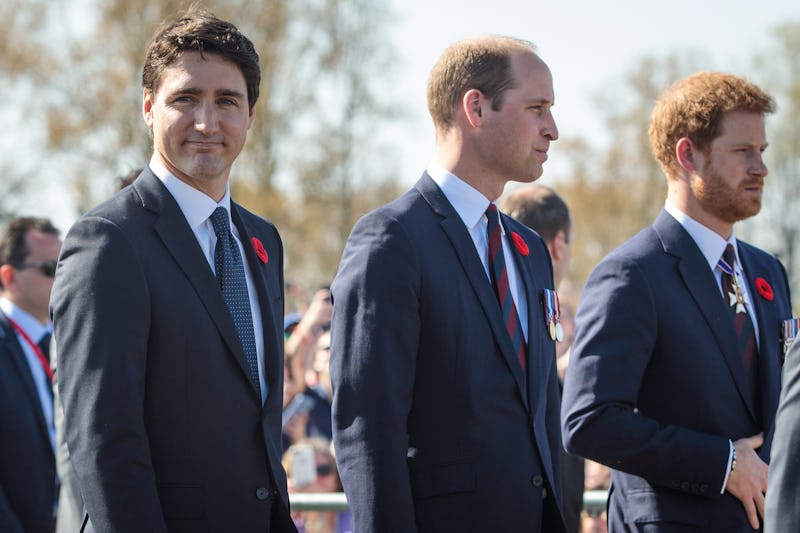 Jack Taylor/Getty Images News/Getty Images
If you're feeling a little blue about the current state of U.S. politics and the climate science-denying hotelier who currently heads the federal government, look no further than to America's northern neighbor for some cheering up. On Monday, in celebration of World Environment Day, Canadian Prime Minister Justin Trudeau visited a family while kayaking on the Niagara River.
Making a seemingly unplanned visit, Trudeau appeared on the doorstep of the family's house, his paddle still in hand, to chat with them. According to the BBC, they discussed rising water levels. "It was certainly a surprise when he turned and kayaked right over to us for a chat," Anne Robinson, whose family has lived by the Niagara River for five years, told the BBC. "Prime Minister Trudeau is very engaging and easy to talk with."
Carrie Robinson, her 17-year-old daughter, shared a video of the incident on Twitter later. "Justin Trudeau just kayaked up to my house and talked to my parents?" she wrote. "[C]lassic."
Along with French Prime Minister Emmanuel Macron, Trudeau has fashioned himself as the leading government head in the fight against climate change since President Donald Trump decided to withdraw from the Paris Accord. "We are deeply disappointed that the United States federal government has decided to withdraw from the Paris agreement," Trudeau said in the statement at the time. "Canada is unwavering in our commitment to fight climate change and support clean economic growth. Canadians know we need to take decisive and collective action to tackle the many harsh realities of our changing climate."
In a statement on the Canadian government website regarding Monday's environment-related holiday, Trudeau said: "World Environment Day reminds us that we have a global responsibility to safeguard our environment – and that each of us has a role to play to preserve and protect it. More than ever, Canada is committed to provide international leadership to fight climate change and support clean economic growth."
Macron, with whom Trudeau seems to have a budding bromance, has made a climate change slogan out of Trump's campaign branding: "Make Our Planet Great Again." Macron has even invited scientists to join France's fight against climate change. "To all scientists, engineers, engineers, entrepreneurs, responsible citizens who were disappointed by the decision of the United States, I want to say that they will find in France a second homeland," Macron said.
So, while the United States fades behind the rest of the free world on the climate change-fighting front, at least there are two options for environmentalists to through their support behind: the hospitable Macron, or the kayak-paddle-wielding Trudeau.