Justin Trudeau Will Address The U.S. National Governors Association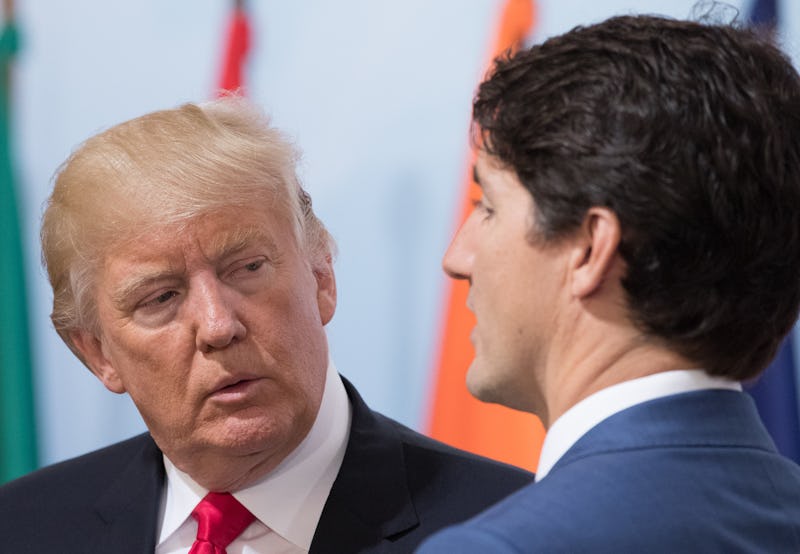 Matt Cardy/Getty Images News/Getty Images
Aiming to fortify diplomatic relations between the United States and Canada, Prime Minister Justin Trudeau will bypass Trump to meet instead with the National Governors Association at their Summer Meeting in Providence, Rhode Island, beginning July 13. In its own right, Trudeau's visit will be significant, as he'll become the first Canadian prime minister to address the NGA, which convenes twice a year and is made up of governors from various states around the country.
In a statement released to the public, Trudeau highlighted the enduring relationship between Canada and the United States.
No countries share a closer bond than Canada and the United States. Each day, hundreds of thousands of people cross the border to work, travel or visit loved ones. Ever more integrated supply chains draw our economies closer together, bringing jobs and prosperity to Canadians and Americans alike. I will continue to work with all orders of the U.S. government to create good, middle class jobs on both sides of the border, and to find solutions to the challenges we face together.
The Canadian prime minister's visit may interest those curious to find out whether Trump or Vice President Mike Pence will also meet with the NGA. Although Trump and Pence were both invited to the upcoming NGA meeting, both have yet to respond to the invitation so far.
Topics for discussion at the NGA meeting will include border security, immigration, economics, and climate change; climate change is one of the subjects over which the American and Canadian leaders differ to a considerable degree.
The Canadian PM has not shied away from sharing his thoughts on Trump's decision to pull out of the Paris climate accord. In his own words, Trudeau was "deeply disappointed" by Trump's opposition to the climate agreement.
Trudeau's confirmation to attend the association's gathering has been met with enthusiasm from locals in the United States. "I am thrilled and honored that Prime Minister Trudeau will join us in Rhode Island, where governors will gather to discuss some top innovations and best practices happening in our states," said Rhode Island Gov. Gina Raimondo, who will host the program.
The meeting will be held until July 17 and is expected to be attended by at least 30 governors. The main agenda for the association's convention is to emphasize the need to commit to the Paris climate accord and understand the effects of climate change on the environment.