Justin Trudeau Met His Young Syrian Namesake & It's Too Cute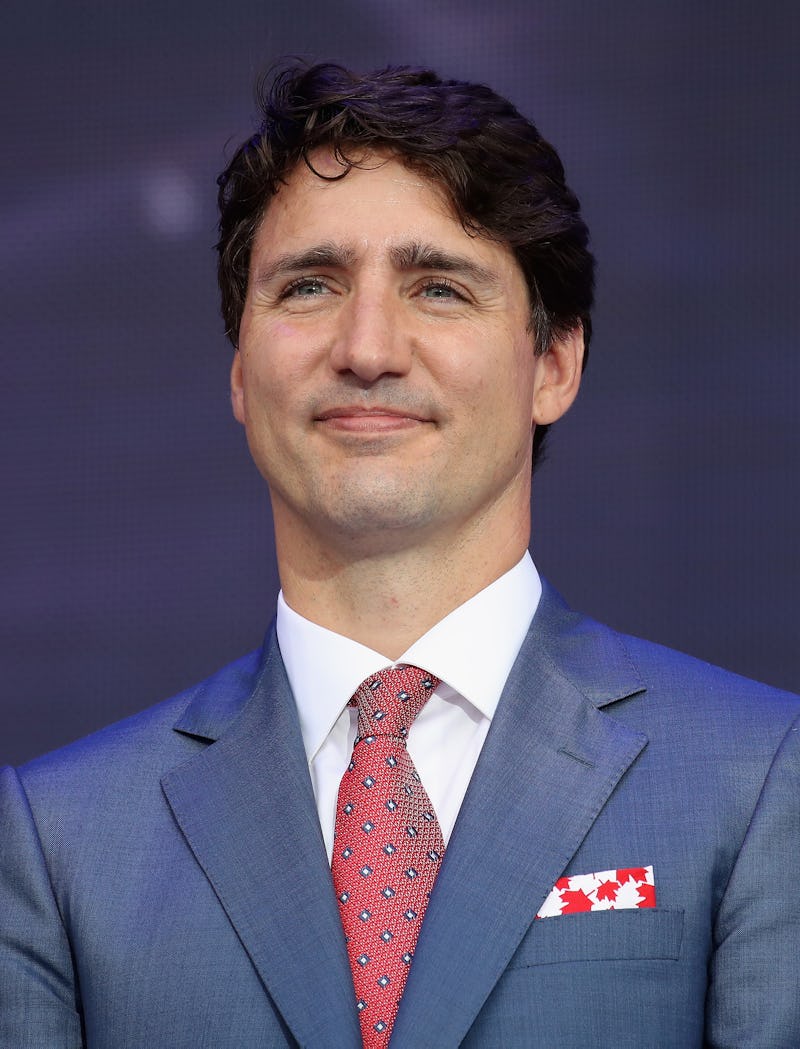 Chris Jackson/Getty Images Entertainment/Getty Images
Canada's prime minister managed to squeeze in an important, if not totally adorable, meeting during an annual rodeo festival in Calgary over the weekend. Justin Trudeau met his namesake, the two-month-old son of Syrian refugees, for the first time Saturday at the Calgary Stampede in Calgary, Alberta.
Although photos of the charming encounter show Prime Minister Trudeau happily snuggling his young namesake, baby Justin Trudeau seemed a bit less impressed with the meeting. In fact, it appears he may have slept right through it.
Two-month-old Justin Trudeau Adam Bilan was born to Muhammad Bilan and Afraa Hajj Hammoud in early May. The couple, who were forced to flee their home in Damascus due to the Syrian civil war, arrived in Canada in February 2016 with their two older children. When they learned Hammoud was pregnant with what would be the couple's third child, they decided to give the baby boy the first name of Justin Trudeau as a means of thanking the Canadian prime minister for implementing the refugee policy that had enabled them and their newborn son to have a better life.
At the time of his birth, BBC News reported that baby Justin Trudeau's parents had expressed a hope their son might one day meet the man he'd been named after. "He is a really nice man," Hammoud told BBC News of the Canadian prime minister. "He helped us a lot. This was a small thank you for bringing us to Canada. We want to thank him and all the Canadian people."
After just two months, that meeting became a reality when a last-minute opening in his schedule allowed Prime Minister Trudeau to attend the annual Calgary Stampede.
CBC News spoke to Hammoud about her family's face-to-face with the Canadian prime minister.
It was actually very good, it was amazing. I can't believe that I met the Prime Minster Justin Trudeau. ... He held [the baby] and he said, "This is Justin-Trudeau," and then he says, "I appreciate that you named him after my name."
Canada has reportedly welcomed more than 40,000 Syrian refugees since Trudeau became prime minister in late 2015.
Little Justin Trudeau Adam Bilan is reportedly not the only child to have been named after Canadian Prime Minister Trudeau. According to The Huffington Post, at least five other babies born to Syrian refugees in Canada were named Justin or Justine in honor of Trudeau prior to baby Justin Trudeau's birth — it's said to be a common Arabic tradition to name a child after someone known to be righteous or posses a strong character.