Justin Trudeau Shared The International Women's Day Message We All Needed To Hear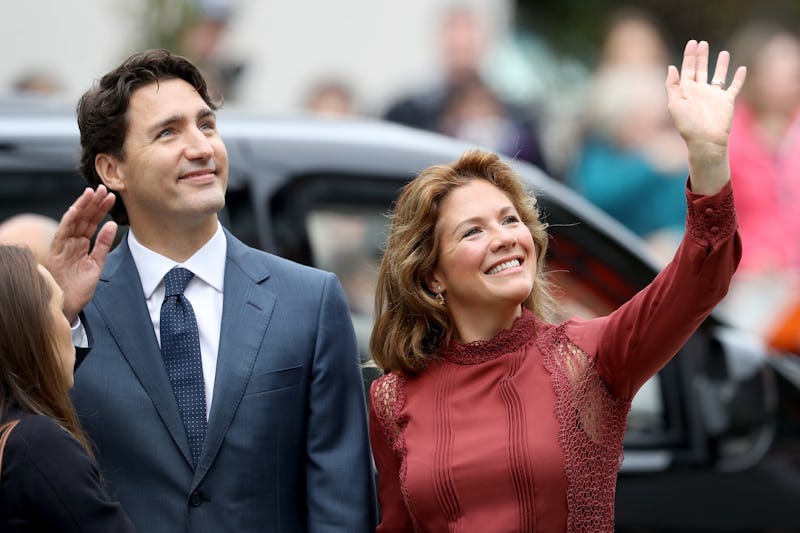 Chris Jackson/Getty Images Entertainment/Getty Images
Canadian Prime Minister Justin Trudeau celebrated International Women's Day 2017 with a bang, meeting with women from across Canada, paying tribute to the important women in his life, and documenting it all via social media. Then, to top it all off, he announced that Canada would double its funding of global reproductive justice efforts and increase access to contraceptives over the next few years.
This comes less than a month after he and Donald Trump announced the creation of the Canada-United States Council for Advancement of Women Entrepreneurs and Business Leaders. A self-proclaimed feminist, Trudeau seems to be trying to put his money where his mouth is when it comes to women's rights. And, unlike many world leaders, he released an IWD 2017 video to celebrate the day. That video, though, contrasts greatly with the statement his wife, Sophie Grégoire, Trudeau posted on Facebook on Women's Day eve.
To be clear, both Trudeaus used their huge platforms to speak out for gender equality and women's rights on International Women's Day. However, the contrast between two of their earlier statements on the celebration had many people talking. In a March 7 post, the Canadian first lady centered on men and boys when talking about IWD, something her husband rightly opted not to do.
Needless to say, critical reactions to the post were swift, with many people taking to social media to call out and ridicule her encouragement to use the week to "celebrate the boys and men in our lives." The Canadian first lady responded to the criticism later that day writing in a Facebook post, "Well, now we're having a conversation! Thanks to everyone for your feedback and pics! Love it." She went on to reiterate that gender equality requires the work of both women and their male allies.
The next day, Trudeau fans from all over the world proceeded to drool over the prime minister's IWD 2017 video honoring women and highlighting the many ways women are marginalized and oppressed today.
Grégoire Trudeau made a similar video that she posted to her Facebook page. However, it garnered much less support and recognition, having been eclipsed by her previous statements.
Though, publicly, the Trudeaus got on the same page eventually, Grégoire Trudeau's initial post led to her receiving much less praise on International Women's Day than her husband. No one can deny that allies are important in any fight for justice, but let's just hope next year Grégoire Trudeau takes a page out of Michelle Obama's book and uses the day to focus on women and girls over men and boys.