Kaitlyn & Shawn Have Been Together For Two Years Already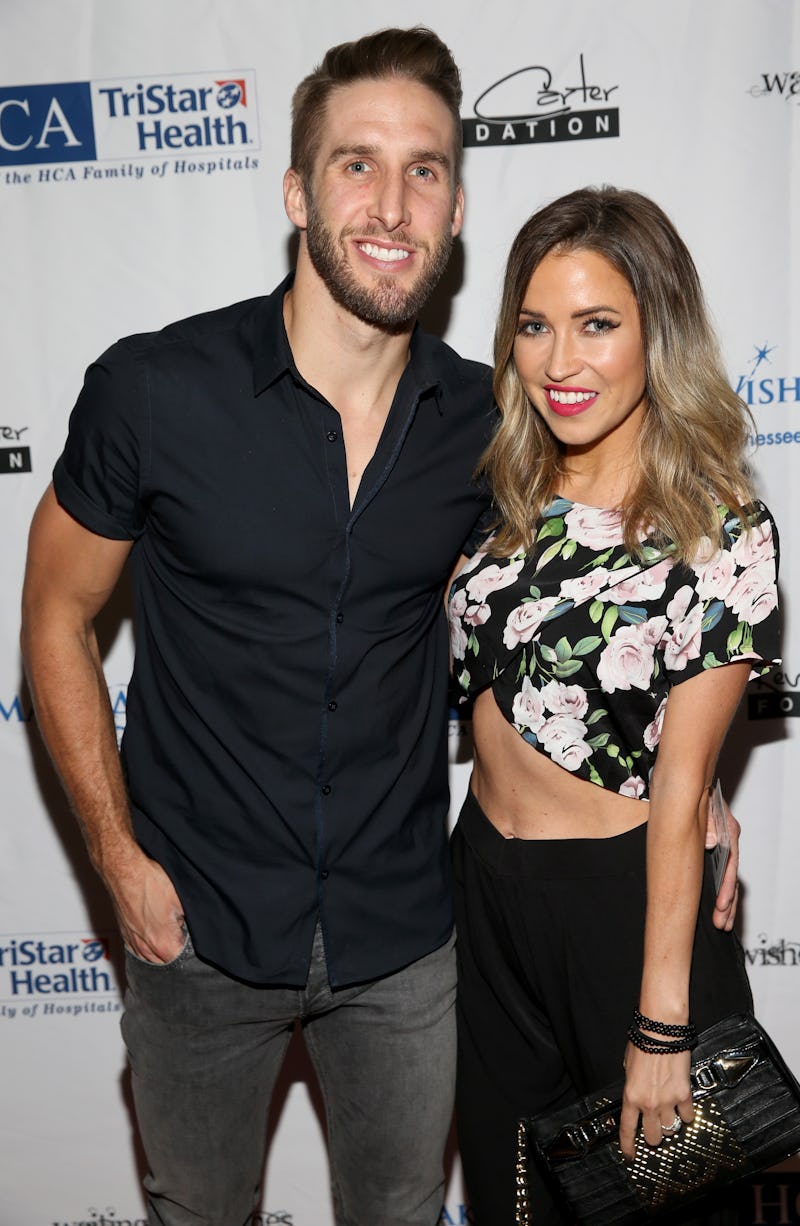 Terry Wyatt/Getty Images Entertainment/Getty Images
Watching The Bachelorette is one thing, but actually believing the couples that come out of the show will last is another. There's nothing better than settling in on a Monday night to see an actual love story take place in a hot air balloon, but people who meet and get engaged so quickly are bound to break up, right? Not always! Kaitlyn Bristowe and Shawn Booth have been engaged for two years, and with no wedding date in sight, it's proof that they're meant to be.
Kaitlyn has always been one of my favorite Bachelorette stars — she approached such an unusual situation in such a real way, and I've always loved her sense of humor. When she and Shawn got engaged in her season finale, I hoped they'd last, but after being let down by this franchise many times before, I didn't hold my breath. Now, two years later, I'm so glad that I was wrong.
On Thursday, Kaitlyn wished Shawn a happy anniversary on Instagram, showing off a few of her favorite photos in celebration of "the longest engagement ever." She seems to think that's the key to their success, and after seeing so many other Bachelor and Bachelorette romances crash and burn over the years, it's hard to argue with that.
In her post, she wrote:
Cheers to the longest engagement ever. I like that we don't feel pressure, I like that we have taken our time, I like that we still don't have a date set, and I kind of like you. Best 2 years ever. Happy Anniversary Shawn B. I love you!
It's been so much fun watching their relationship grow, especially in all the fun posts they share on social media. They always seem to be having adventures together, and when they're not, they're gushing over each other — but not in a way that they're trying to convince all of us that they're in love, in a way that shows they actually are in love.
And most importantly, they've brought Rick and Donna to life, which is a gift that keeps on giving.
While two years might seem like a long time to wait between an engagement and a wedding for a lot of couples, two years isn't just how long they've been engaged — it's also how long they've known each other. After the whirlwind that is The Bachelorette, which doesn't exactly offer them a ton of alone time to get to know each other, it seems smart to take their time when it comes to taking such a huge next step.
It's awesome to hear that Kaitlyn and Shawn are doing what works for them, even though there's no way it's easy. Almost anytime they've been interviewed since The Bachelorette, they've been hounded about their wedding and their future together. That kind of constant public pressure would be enough to damage any relationship, so it's great to see that they've found a way to just let it roll off their backs.
I'm excited for their eventual wedding, but they should keep taking their time. Whenever it comes around, it'll be the right time for them — and who can deny that the photos will be gorgeous?