Kamala Harris Wants To To Address The Tragically High Black Maternal Mortality Rate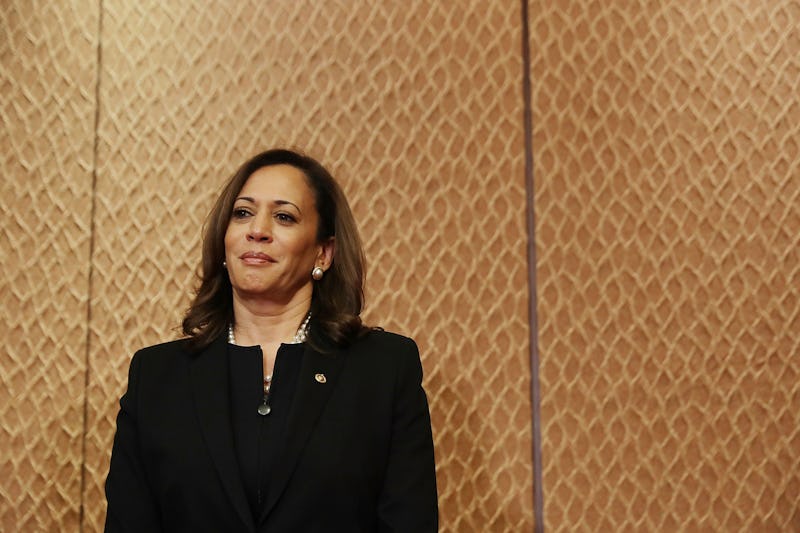 Chip Somodevilla/Getty Images News/Getty Images
Mothers are increasingly dying of pregnancy-related causes in the United States, and black mothers have it worst. On Wednesday, Aug. 22, California Senator Kamala Harris introduced a maternal mortality bill to address the problem. Her legislation would confront the implicit racial bias in the medical community that appears to be at least partially responsible for increasing the disparity between the death rates of black and white mothers.
"Health equity for Black women can only happen if we recognize and address persistent biases in our health system," Harris said in a press release from her office obtained by Bustle. "This bill is a step towards ensuring that all women have access to culturally competent, holistic care, and to address the implicit biases in our system."
When introducing another bill on the topic in April, Harris called the rising maternal mortality rate a "public health crisis." In 2014, 18 out of every 100,000 new mothers died of pregnancy-related complications, according to the Center for Disease Control and Prevention. That's more than double what the rate was in 1987. Per the CDC, the death rate for black mothers are three to four times higher than that of white mothers.
"A large part of it is the biases that exist in the medical health professions that lead to these women not being taken seriously," Harris said on Wednesday, per the Los Angeles Times. "Frankly, there are a lot of biases that exist. [...] It's a truth, uncomfortable as it may be."
Harris' bill would compel the National Academy of Medicine to make recommendations for how medical schools can test for implicit bias in the clinical skills exams taken by prospective students, according to the press release. The bill also creates two grant programs: one to fund health professional training programs that incorporate bias training, and one for helping states implement pregnancy medical home programs, which screen pregnant women for risk factors before they give birth.
It's not overwhelmingly likely that the bill will become law, the Los Angeles Times notes, since Republicans currently control Congress and major legislation doesn't proceed quickly in election years. But even the act of introducing bills is important, in part because it draws attention to issues and contributes to conversations about policy solutions
Harris has sponsored 41 other bills so far in this session of Congress, according to ProPublica, including another one about maternal mortality. She introduced a resolution on April 11 that would designate a national "Black Maternal Health Week." That bill has been referred to a committee, per ProPublica.
Implicit bias's role in widening the disparity between white and black maternal mortality rates is especially clear when other demographic factors, like socioeconomic status, are examined simultaneously. In 2016, an analysis from the New York City Department of Health and Mental Hygiene found that black women with a college degree had higher rates of severe pregnancy complications than white women without a high school degree.
Many health organizations have endorsed Harris' bill, including the American College of Obstetricians and Gynecologists (ACOG). Lisa Hollier, ACOG's president, said in the press release, "We know that racial and ethnic disparities in women's health ... cannot be reversed without addressing racial bias; both implicit and explicit."
Elizabeth Gay of the Black Mamas Matter Alliance said that "addressing racial discrimination and implicit bias is an important but often overlooked part of improving maternal health in the United States," and added that "we are grateful for Sen. Harris' brave leadership."