What's At Stake In The 2018 Midterms, According To Kamala Harris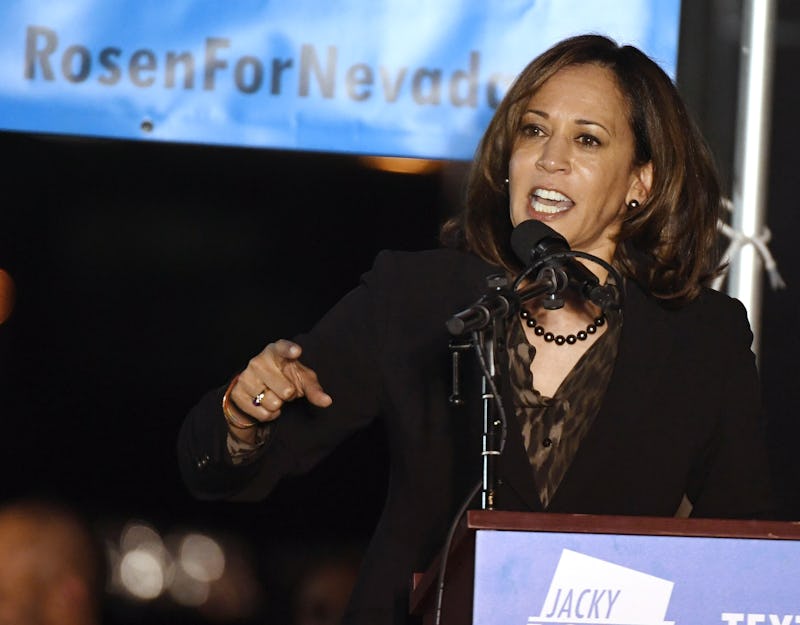 Ethan Miller/Getty Images News/Getty Images
She isn't on the ballot in this year's midterm elections, but Sen. Kamala Harris has been hitting the campaign trail on behalf of Democratic candidates, armed with reasons why Americans should vote on Tuesday.
"Elections matter," the California senator told reporters at one of her early campaign stops in Iowa last month. "Who holds the offices will matter in terms of what the policy will look like on a number of issues," she added, ranging from affordable child care to raising the minimum wage and rewriting the tax code.
Harris has been a mainstay on the campaign trail throughout the fall, traveling to Iowa, South Carolina, and within her home state of California to rally support for the down-ballot candidates that Democrats hope will win the party control of the House of Representatives. She's one of a number of high-profile Democratic lawmakers, including Sens. Bernie Sanders and Cory Booker, who have spent the fall criss-crossing the United States to draw crowds at rallies, town halls, and fundraisers for lesser-know politicians.
Bustle caught up with Harris on the trail in Ankeny, Iowa — her first stop in the politically-powerful state — to ask what's at stake for millennial women in this midterm election season.
"Everything's at stake for everyone," Harris tells Bustle. "For millennial women, one of the big issues here in Iowa and across the country is access to affordable health care." She points to congressional Republicans' efforts to repeal the Affordable Care Act (aka Obamacare), which has enshrined protections for people with pre-existing conditions seeking health insurance into law.
"Congressional Republicans have been pretty clear that after the midterms, if they win the majority, they're going to still try to take away pre-existing conditions, and that's going to be a big issue for women in particular," Harris says. "Women suffered the most and benefited the most when we changed the law so that pre-existing conditions were not a barrier to getting access to affordable health care."
Before President Barack Obama's signature health care law was passed in 2010, women were routinely charged more than men for the same health care coverage, according to The New York Times. In most states, the cost of buying individual health insurance ranged from four percent to 48 percent more than the cost of men's premiums, forcing women to pay hundreds of additional dollars a year out of pocket. Insurance companies got away with it because of evidence that women use the health care system more than men. In a system known as "gender rating," insurance companies charged women more than men even when they weren't seeking coverage for maternity care.
When Republicans took a crack at dismantling Obamacare in the months after President Donald Trump took office, the replacement bill they offered would have allowed states to waive protections or charge more for pre-existing conditions, including pregnancy, C-sections, and breast cancer diagnosis. Many pre-existing conditions, including a history of rape or domestic violence, are more prevalent among women. Likewise, more women than men say ensuring coverage for people with pre-existing conditions is "very important" to them, according to a June 2018 Kaiser Family Foundation study. It appears to be part of a wave that's powering a record number of female candidates for office and a rise in early-voting among women.
Asked for her advice to Democrats running for election or re-election, Harris says she'd focus on the economy "in terms of what's really happening," and not the "smoke and mirrors" that she says Republicans have created around their economic policies, like last December's tax overhaul.
While Harris's turn in the spotlight is stirring rumors of a 2020 presidential run, she hasn't given a clear answer on what lies ahead for her. Instead, she says she is focused on is getting people to vote and ensuring a Democratic majority for the rest of President Trump's term.