Kamala Harris' Motivational #ShePersisted Campaign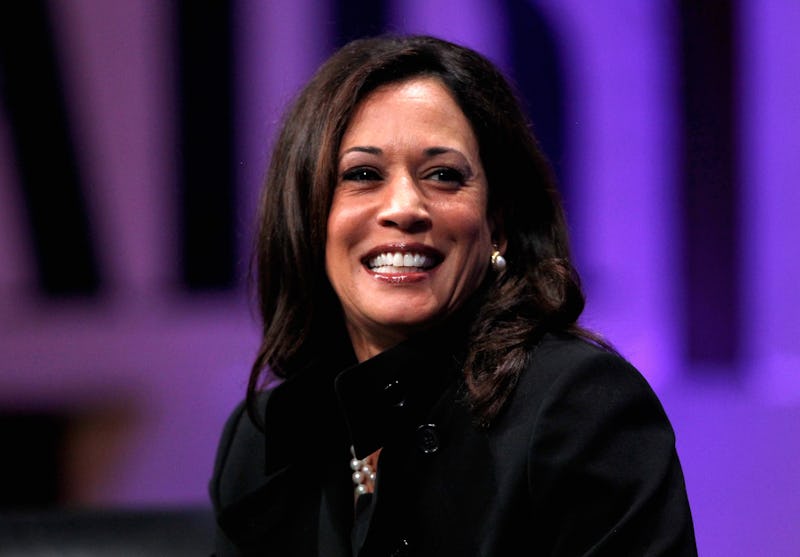 Kimberly White/Getty Images Entertainment/Getty Images
Overnight, the words "She persisted" have become a feminist mantra, thanks in part to Republican senator and majority leader Mitch McConnell. In explaining why the Senate voted to forbid Elizabeth Warren from participating in Jeff Sessions' confirmation hearing floor debates on Feb. 8, McConnell said, "She was warned. She was given an explanation. Nevertheless, she persisted." Now his words are being used with a much different meaning than McConnell intended. And even Senator Kamala Harris is getting in on the action. On Feb. 9, Harris began tweeting photos of women leaders, inscribed with the now-famous words.
Beginning with a photo of Senator Warren herself, Harris used images of protestor Iesha Evans, Supreme Court justice Ruth Bader Ginsberg, former U.S. Representative and first black major-party presidential candidate Shirley Chisholm; former Senator Wendy Davis, Supreme Court justice Sonia Sotomayor, Olympic athlete Ibtihaj Muhammad, and activist Coretta Scott King.
It was King's letter and Warren's attempt to read it on the Senate floor that led to the silencing. Harris' #ShePersisted social media campaign was a quick one that sent a clear message: Women's persistence in the pursuit of justice is a virtue — something for which women should be instead of punished and silenced.
Elizabeth Warren
Iesha Evans
Ruth Bader Ginsberg
Shirley Chisholm
Wendy Davis
Sonia Sotomayor
Ibtihaj Muhammad
Coretta Scott King
In addition to the photos, Harris also tweeted excerpts from King's 1986 letter and urged followers to call their senators ahead of the night's vote on Sessions' nomination. Harris' immediate goal is to make sure Sessions, whom King wrote "used the power of his office as United States Attorney to intimidate and chill the free exercise of the ballot by citizens." But as her photos imply, she is also fighting against the sexism inherent in the Senate's decision to silence Warren, as well as the indifference toward the rights of people of color suggested by Sessions' being considered for the job in the first place.
Harris, who spoke at the Women's March on Jan. 21, has long been a champion of women's and people of color's civil rights, having served as California's Attorney General before assuming her senatorship this year. And while she is new to Washington D.C., there is already speculation that she may run for president in 2020. She hasn't said yet whether or not she will run, but if she is considering it, she can already count Trump as an opponent.
It will be interesting to see how she and Warren team up going forward under Trump's presidency, but without a doubt, neither of them will accept being silenced without a fight. The two already know how to stand up to the powers that be like bosses. And for the rest of us, Harris is trying to light a fire under us with her "She Persisted" Twitter campaign.