Kandi From 'RHOA' Shut Down Pregnancy Rumors, But She's Not Ruling Out Future Kids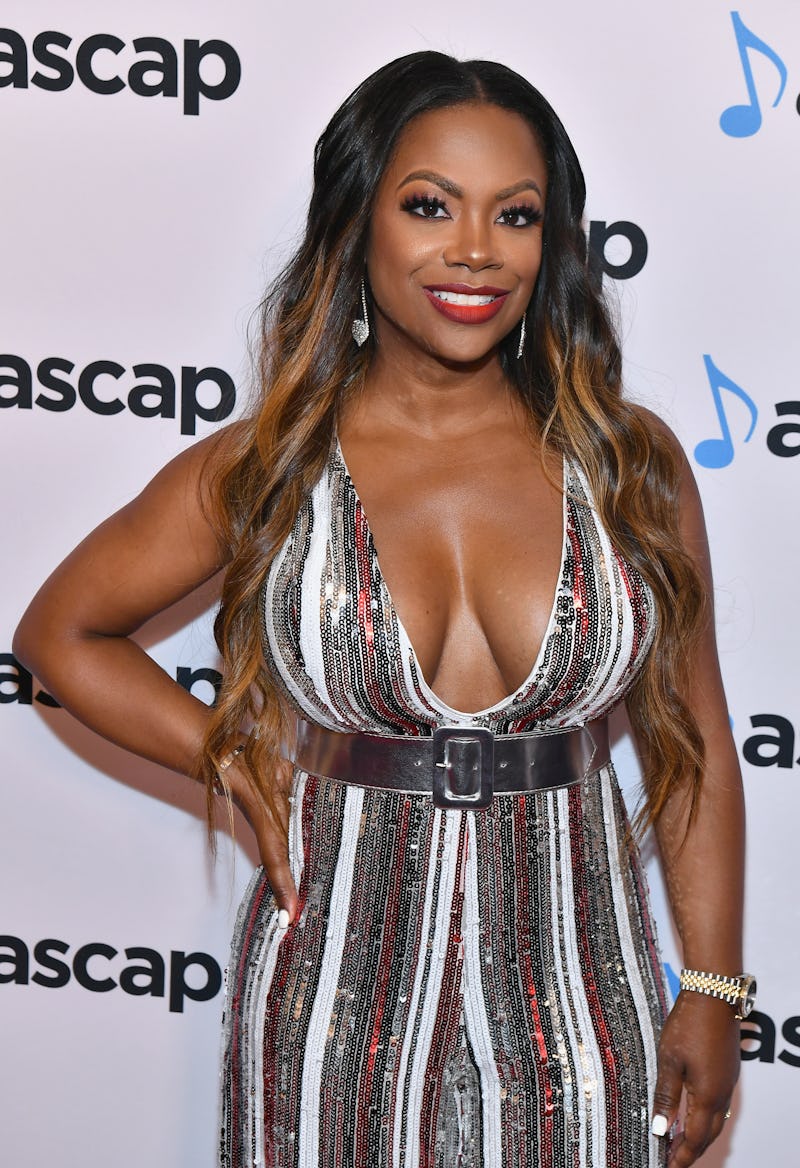 Paras Griffin/Getty Images Entertainment/Getty Images
Real Housewives of Atlanta star Kandi Burruss shut down pregnancy rumors, but admitted she's open to expanding her family in a new interview with Essence. Kandi said, "We're definitely trying to figure out ways to grow our family."
For context, Kandi explained,
"I know a lot of people thought that meant that I was pregnant. But I'm not pregnant. Let's be clear. I saw that floating around the internet."
Why do some fans suspect that the Real Housewife is pregnant? During the trailer for Season 11 of Real Housewives of Atlanta, Married to Medicine cast member Dr. Jackie Walters made a cameo appearance and asked Kandi, "Are you pregnant?"
In the clip, Kandi told her, "No." Then she is shown crying while she said, "It's weird to talk about it." In the next clip from the trailer, Kandi's daughter Riley Burruss told her, "No more babies. We don't need another." Based on that trailer, it does seem like Kandi and her husband Todd Tucker might be trying to add another child to their family.
Kandi's daughter Riley is from a previous relationship. Todd's daughter Kaela Tucker is from a previous relationship of his own. On Jan. 6, 2016, Kandi gave birth to the couple's only child together, their son Ace Wells Tucker. So maybe they want him to have another sibling closer to his age. At least that's what some Twitter users have assumed.
As exciting as it would be to add another baby to the Tucker family, Kandi insisted, "Unfortunately, it's not happening." She also confirmed that the Real Housewives of Atlanta viewers will see her fertility struggles on the upcoming season of the show; i.e. confirming that she is indeed interested in having another child.
Kandi explained to Essence, "So obviously we're just going to be talking about what that means for our family." She emphasized that she just as to focus on "being patient."
Even though Kandi will open up in the upcoming season, this doesn't seem like an obstacle that she expected to face. She remarked, "You know how we all just think it's easy? You're going to get pregnant whenever you feel like it?" She revealed, "For years and years, I was on birth control [and I] didn't even know that I didn't need it anymore."
Kandi maintains that she's not pregnant, but she would be happy if that happened. In an Oct. 5 video interview with Bravo's The Daily Dish, Kandi dished on the upcoming season. She shared,
"There's so much going on right now. For real, Todd and I are... Let's just say we're figuring out the possibilities of expanding our family."
She also said, "Of course, you're going to see Ace. He's growing up so much. I mean, he's doing everything." And maybe next season, the viewers will get to see Ace playing with a little brother or sister.
Now that Kandi and Todd have made it known that they want to have another baby, the pregnancy rumors are bound to continue. But considering how open Kandi has been with every aspect of her life ever since she joined the show, she's likely to share the news with her fans and followers if she does get pregnant. And until then, hopefully people aren't too quick to jump to conclusions.