Kanye Didn't Like Hillary Clinton's Campaign Slogan Because He Felt Emasculated By It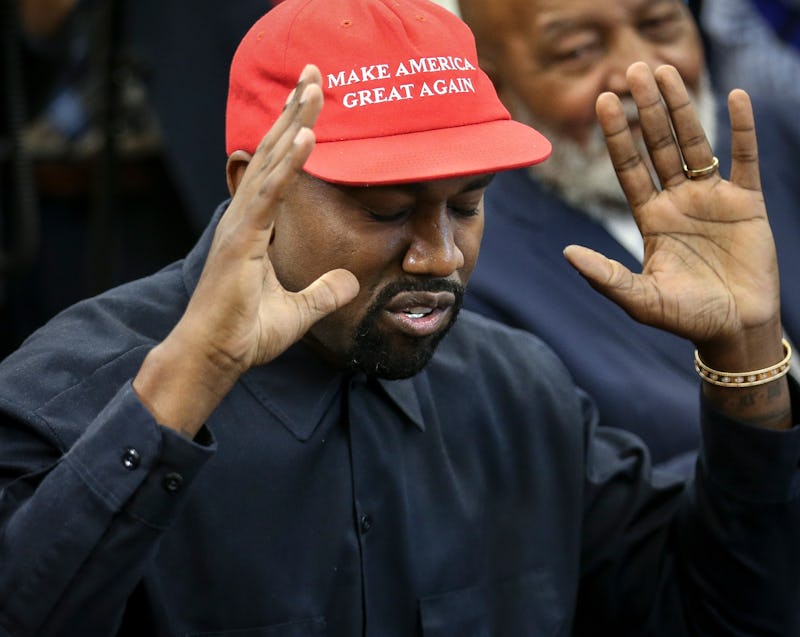 Pool/Getty Images News/Getty Images
After continuously reaffirming his support for Donald Trump, Kanye West was invited to the White House on Thursday to discuss gang violence and prison reform, among other issues. But while he was there, West delivered a 10-minute monologue in the Oval Office, during which he discussed his mental health, family, and political ambitions. According to Newsweek, West also suggested Hillary Clinton's slogan didn't empower men like him, whereas Trump's "Make America Great Again" slogan made him feel like a superhero.
"I love Hillary," West said on Thursday, sporting his red MAGA hat. "I love everyone, right? But the campaign 'I'm with her' just didn't make me feel as a guy, that didn't get to see my dad all the time, like a guy that could play catch with his son. There was something about putting this hat on that made me feel like Superman."
West cited his parents' divorce and his marriage to Kim Kardashian as contributing factors to this perspective.
"My dad and my mom separated," West explained, "so I didn't have a male energy in my home, and also, I'm married to a family that — you know — not a lot of male energy going on. It's beautiful, though.
Trump is rarely rendered speechless, as both CBS News and NPR pointed out, but after West was finished speaking, the president didn't seem to have much to add.
"I tell you what — that was pretty impressive," Trump told West. "That was quite something."
West was at the White House for a working lunch with Trump, Jared Kushner, Ivanka Trump, and former NFL star Jim Brown. Clinton's campaign was not the main subject of their meeting, though it constituted a section of West's statement. According to CBS News, West's primary purpose in attending Thursday's meeting was to address criminal justice reform. In light of that, West told the president that he had heard criticism of stop-and-frisk policies like those Trump has advocated for in Chicago.
"We feel stop-and-frisk does not help relationships in the city," West told Trump, citing his own roots in Chicago. The Washington Post reported that Chicago decided to curb stop-and-frisk practices in 2015 after reaching an agreement with Illinois' ACLU chapter.
Trump has routinely praised West and Brown both on Twitter and at campaign rallies, NPR reported, and has argued that their support has boosted his administration's relationship with the black community.
"I have a lot of African-American support," Trump told Fox News on Thursday, though he did not provide any evidence, "and a lot has developed over the last little while with Kanye coming out and Jim Brown's been there for a long time," Trump said.
West expressed a similar perspective, and in the past has suggested that black voters have been brainwashed into voting for Democrats.
West's visit to the White House comes just months after his wife convinced Trump to commute the sentence of a 63-year-old woman who was serving a life sentence for a nonviolent drug conviction. Kardashian met with the president earlier this year to make a case for Alice Marie Johnson, who was able to walk free after serving more than 20 years on her sentence.