Kanye West Will Never Do A 'KUWTK' Spin-Off & It's Time To Accept That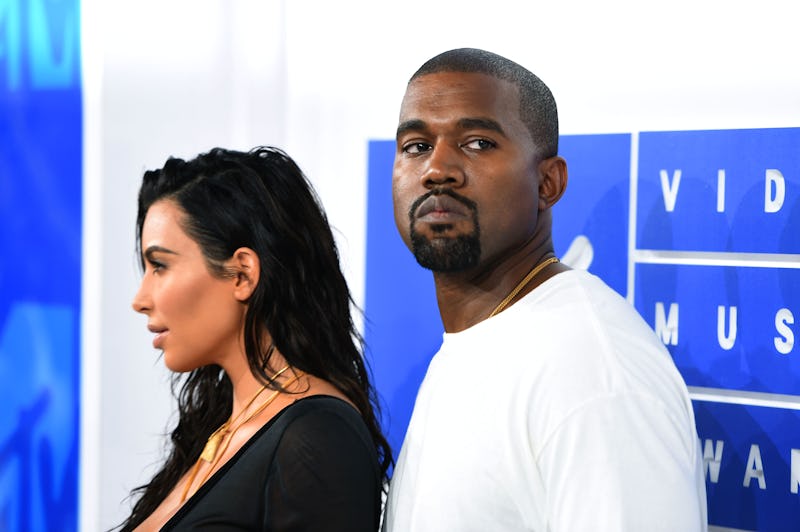 Larry Busacca/Getty Images Entertainment/Getty Images
Considering how open the Kardashian-Jenner clan is during filming, you'd think that there were no lines left to cross. However, Kanye West will never do a Keeping Up With The Kardashians spin-off, so the family does hold firm on some boundaries. The Hollywood Reporter published a retrospective on the family entitled "The Kardashian Decade" on Wednesday, where they talk about the incredible amount of success the Kardashians have seen through their startling nine spinoffs. Mid-interview, E! President Adam Stotsky even tries to feel out the possibility of a potential new spin-off centering around the 40-year-old rapper. But Stotsky is immediately and unequivocally shut down by Kris Jenner.
Kim Kardashian West opens up the line of questioning by talking about how difficult it is to keep aspects of your personal life separate from the show. Her husband, Kanye, has always been vocal about the fact that he's uncomfortable with appearing on KUWTK, going back to an interview he gave to the New York Times in 2013. As he told the outlet:
"It's hard when people read things in a lot of different ways. You know, the amount of backlash I got from [KUWTK] is when I decided to not be on the show anymore. And it's not that I have an issue with the show; I just have an issue with the amount of backlash that I get. Because I just see like, an amazing person that I'm in love with that I want to help."
He's referring, of course, to his now-wife, and how difficult it is to see her open herself up to public criticism the way she does. While he has made appearances on the show in the years since, he still largely keeps his distance from the franchise.
As Kardashian says in the THR interview, "Kanye was like, 'I'm not a part of the show. That's not what I do. I have my own career and life.' He'll really surprise you though. He'll be like, 'I'm not filming,' and then randomly show up." It sounds like he makes exceptions for Kardashian, because he knows how important the show is to her as a tool to document important moments in her life. As she says, "He knew I would love to have my engagement on camera so he filmed it."
But don't take that to mean that Kanye has wavered in his feelings at all. Stotsky hears what Kardashian has to say and lays in his own pitch, saying, "Kanye has been gracious enough to be on the show quite a bit. If he had a story that he wanted to tell through the lens of E!, we would be very open to hearing it, that's for sure." But Kris Jenner immediately says, "Kanye does not have time or have any desire that I know of to do a show like that."
This simultaneously answers the question of why we've seen Kanye as much as we have on the show, but also why we won't see him more. The family shows their fans a lot, but not everything. Don't waste your breath asking for a Keeping Up With The Kanyewestians spin-off, because it's not going to happen.