Kanye West's Relationship With Trump Vs. Obama Will Straight-Up Baffle You
by Priscilla Totiyapungprasert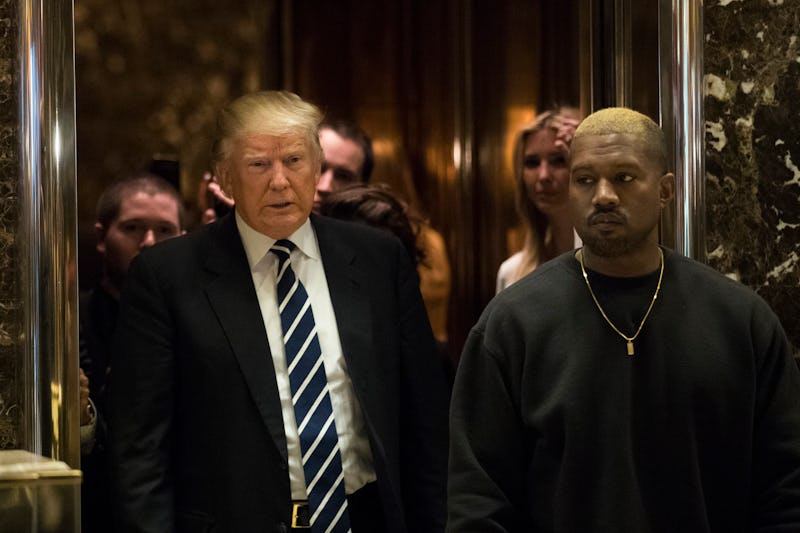 Drew Angerer/Getty Images News/Getty Images
He just tweeted up a storm praising Donald Trump, but Kanye West's relationship with Trump versus with Barack Obama is somewhat confusing. Kanye's flurry of recent Twitter activity came after the rapper told Hot 97 radio host Ebro Darden, "I do love Donald Trump." Kanye also criticized Obama and defended the time he complimented Candace Owens, a conservative YouTuber who claims racism is a thing of the past.
As a result of the divisive opinions, many of Kanye's fans became unhappy with him. For some, it seems baffling that the same Kanye who said "George Bush doesn't care about black people" is the same man who's now cheering for Trump, the man who called African nations "sh*thole countries." But at what point exactly did Kanye join Team Trump? And what's up with his supposed beef with Obama? Turns out, his history with the two politicians is not that straightforward.
Kanye told Darden he was disappointed with Obama because he had supposedly reached out to Obama for years and "couldn't get anything done." Trump, on the other hand, gave Kanye a meeting and the two were pictured together in Trump Tower in 2016. During the radio interview, Kanye also bemoaned the "thought police" trying to silence people's opinions and praised Owens for "challenging conventional black thought."
Kanye's comments on Trump and Obama go further back, however, like way before he was sporting a "Make America Great Again" cap.
Back when Trump was only a reality TV star and real estate mogul, and not leading the United States of America, Kanye made references to him in his lyrics. See below exhibits A, B, and C.
In a 2005 freestyle on the YouTube channel Tim Westwood TV:
I ain't no clown like Ronald
Uh, more like Donald
Trump, with the way I get it crunk
Then in a 2009 remix of "Flashing Lights:"
You fired mothaf*cka Donald Trump, (expletive)
And finally in 2010's "So Appalled" featuring JAY-Z, Pusha T, Swizz Beatz, RZA, and CyHi The Prynce:
Balding Donald Trump taking dollars from y'all
Baby, you're fired, your girlfriend hired
Kanye hasn't name-dropped Trump in any of his lyrics since Trump became a politician, but in the video for 2016's "Famous," Kanye did feature a nude Trump actor in that memorable lineup of naked celebrities sharing a bed.
As for Obama, Kanye gave the fellow Chicagoan one mention and it doesn't sound that effusive. In "Power," one of the hit singles from 2010's My Beautiful Dark Twisted Fantasy:
They say I was the abomination of Obama's nation
Well that's a pretty bad way to start the conversation
The song debuted a year after Obama was caught calling Kanye a "jack*ss." An ABC reporter had accidentally tweeted (and then deleted) the off-the-record portion of an interview with Obama. According to MTV, the original tweet said, "Pres. Obama just called Kanye West a 'jack*ss' for his outburst at VMAs when Taylor Swift won. Now THAT'S presidential."
Later in a 2012 interview with The Atlantic, Obama repeated his remark about Kanye. "He is a jack*ss," Obama told reporter David Samuels. "But he's talented." When it comes to music Obama prefers JAY-Z, but he still shared some nice words for Kanye: "...I like Kanye. He's a Chicago guy. Smart. He's very talented."
And despite talking about his failed attempts to meet up with Obama, Kanye and his family have been pictured smiling with the Obamas on several occasions. Even if they did have some pleasant interactions, his tweets make it clear he doesn't necessarily agree with everything anyone does.
At a San Jose concert during election year, Kanye said he would have voted for Trump. He tells the crowd in a video clip posted by ABC News:
I said something that was kind of politically correct. I told y'all I didn't vote, right? What I didn't tell you ... if I were to have voted I would have voted on Trump. That don't mean that I don't think that Black Lives Matter, that I don't mean that I don't think I believe in women's rights.
In his recent Twitter activity, amid his praise for Trump, Kanye turned his attention to Obama too. "Obama was in office for eight years and nothing in Chicago changed," the rapper said critically according to Complex.
His politically charged comments have raised concern among some followers, but as his wife Kim Kardashian West pointed out on Twitter, mental health shouldn't be a joke thrown around so casually. A Hillary Clinton supporter herself, Kim K came in defense of Kanye's remarks.
Kanye has always been one to speak his mind and isn't afraid to court controversy. That's why his off-the-cuff commentary shouldn't sound that far out of character. But just as his music has evolved over the years, his opinions on Trump and Obama may one day change too.